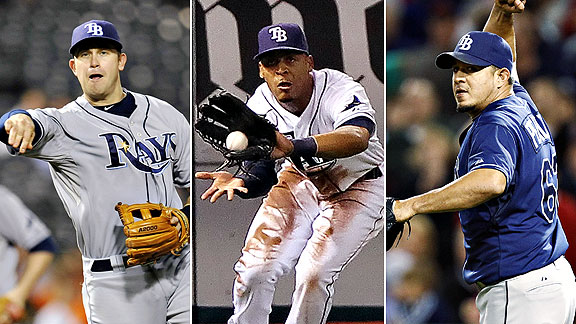 U.S. Presswire/AP Photo
Evan Longoria, Desmond Jennings, and Joel Peralta have all been vital to the Rays in September.What will it take for the Tampa Bay Rays to overtake the Boston Red Sox in the wild card chase?
It won't be easy, as the Rays have two series remaining with the New York Yankees, and the Red Sox have a pair with the Baltimore Orioles.
Let's examine three key factors that have helped the Rays down the stretch and will be vital to their success these last 10 days.
Evan Longoria's clutch hitting
Evan Longoria had an amazing series against the Red Sox last weekend, going 6-for-15 with two home runs, six RBI, and a stolen base.
Longoria's season batting average of .244 is not overwhelming, but he's had a knack for the timely hit. Of the last 10 home runs he's hit, nine have come with the score within two runs.
Over the two-week period from September 5-18, no American League player's plate appearances had more value than Longoria.
Longoria hit .324 with 13 RBI in that stretch, leading the league in Win Probability Added, which measures offensive contribution on a play-by-play basis, based on how much that player contributed to winning or losing.
Defense
The Rays showed why they lead the majors in Defensive Runs Saved on a few occasions in the Red Sox series, with fine glovework turned in by Longoria and Desmond Jennings.
The Rays rank second-best in the majors in No. 1 Web Gems this season with 11, and second in total Web Gem Points (a formula based on giving five points to Baseball Tonight's best gem of the day, one point to its No. 5 gem) to the Indians.
Rays Opponents' BABIP This Season
Tampa Bay's defense is predicated on being in the right spot at the right time and the payoff for that is shown in its opponents' batting average on balls in play -- .267, 15 points better than the next-closest team in the majors.
The chart on the right, inspired by an article in the blog DRays Bay, shows which areas the Rays have defended best this season.
The signing of reliever Joel Peralta for $900,000 was an afterthought to most in baseball circles, but the Rays right-hander has shown to be worth every penny.
After a year in which he dominated right-handed hitters, Peralta has converted his skills into success against lefties, who are hitting .152 with 33 strikeouts and six walks against him. Peralta ranks second in baseball in both opposing left-handers batting average and on-base percentage (.198).
Dating to July 9, Peralta has faced 40 left-handed hitters, giving up just two hits and one walk.
He'd retired 22 straight before allowing Jacoby Ellsbury's ninth-inning double Sunday, thanks largely to a dominant splitter. Since the All-Star break, Peralta has induced misses on nearly one-third of swings by lefties. That rates fifth-best among more than 100 AL right-handed pitchers.
Joel Peralta vs LHB Past 2 Seasons
What's also working for Peralta is that when a lefty hits a ball on the ground, the Rays defense makes it an automatic out. Of the 24 lefties to hit a ground ball against Peralta, only one has a base hit.
He's ground up opponents just as the Rays have, in pursuit of an unlikely postseason spot.