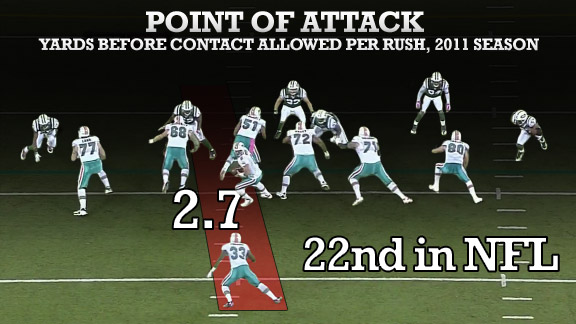 ESPN Stats & Information
The Jets have struggled defending the point of attack this season.
Under Rex Ryan, the New York Jets defense built a reputation as one of the best teams in defending the run. Last season, the Jets allowed the third-fewest yards per game on the ground (90.9) and the second-fewest rushing first downs (70).

However, this year the Jets have struggled against the run, allowing 126.9 rush yards per game, and will be really tested by a formidable Buffalo Bills' rushing attack on Sunday. The Bills average 5.1 yards per rush (fourth in NFL), and have nine rushes of at least 20 yards (fifth in NFL).
What's been the difference for the Jets? They have been stout in stopping rushers from gaining extra yardage, allowing only 1.5 yards after contact per rush, second-fewest in the league. However, actually getting to the ball carrier has been New York's Achilles' heel this season.
The Jets' front seven is in a state of flux, and has allowed 2.7 yards before contact per rush, ranked 22nd in the NFL. Rookie Muhammad Wilkerson replaced veteran Shaun Ellis, while a slew of relatively inexperienced faces have seen significant time like Jamaal Westerman, Ropati Pitoitua, and Marcus Dixon.
The Jets defensive linemen have struggled in losing point-of-attack battles with opposing offensive linemen. This has caused linebackers Bart Scott and David Harris to regularly be kept out of opponents' backfields. They combined for 9.5 tackles for loss in 2010, but have registered only one this season.
The Jets have also been especially susceptible to runs on the right side of their defense, where Westerman, Pitoitua and Bryan Thomas have made the majority of the starts. Four of the five runs of at least 20 yards the Jets have allowed this season have gone to the offense's left, targeting the right side of the Jets' rush defense.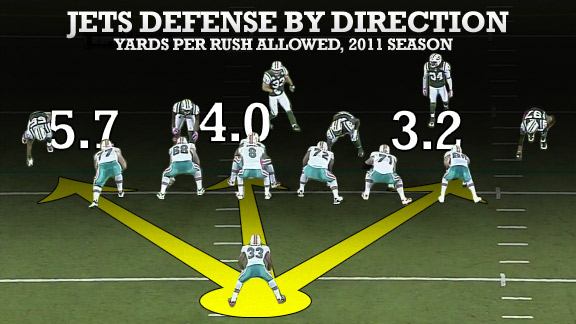 ESPN Stats & Information
The Jets have struggled at defending rushes to their right side this season.