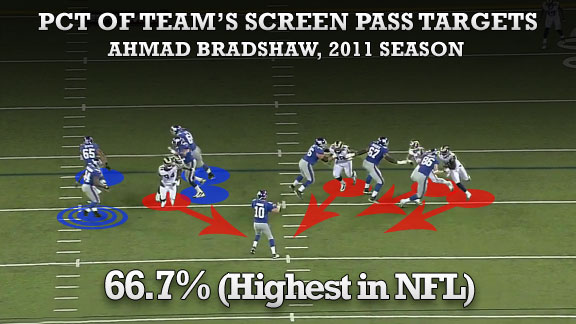 ESPN Stats & Information
Ahmad Bradshaw is the primary focus of the Giants' screen game. He's increased his receptions per game each of the past three seasons.Giants running back Ahmad Bradshaw has established himself this season as a legitimate dual threat. In addition to his ability to beat defenses running the football, Bradshaw has had the most prolific receiving season of his career.
But if his absence as a result of an injured foot continues Sunday, the Giants will once again be without the primary focus of their screen game.
Bradshaw's production in the passing game has steadily increased (1.4 receptions/game in 2009, 2.9 in 2010, 3.4 in 2011), and the Giants have benefitted from his versatility. In games this season where Bradshaw has at least four receptions, the Giants are 4-0 (2-3 otherwise).
Bradshaw does have a pair of drops this season and has seen his drop percentage rise from 5.3 percent in 2010 to 7.4 percent this year. However, he is still averaging 7.8 yards per target this season, a significant increase over last season (5.5).
Additionally, Bradshaw has improved after the catch, averaging 9.0 yards after a catch compared to a 6.6 average a year ago.
Bradshaw's impact is especially evident in the screen game.
Eli Manning has relied on Bradshaw for the highest percentage of a team's screen passes in the NFL (66.7 percent). Bradshaw and the Giants used a screen-heavy game plan in Week 3 against the Eagles to challenge Philadelphia's linebackers and counteract their aggressive defensive line.
Manning was 4-4 for 27 yards and a touchdown on screen passes to Bradshaw against the Eagles.
Ahmad Bradshaw on Screen Passes
By Opponent, 2011 Season
Meanwhile, the Eagles defense has shown a susceptibility to screen passes this season. Philadelphia has 7.7 yards per attempt on screen passes (seventh-worst in NFL). To beat the Giants Sunday night, the Eagles will have to contain Bradshaw not only on the ground, but through the air as well.