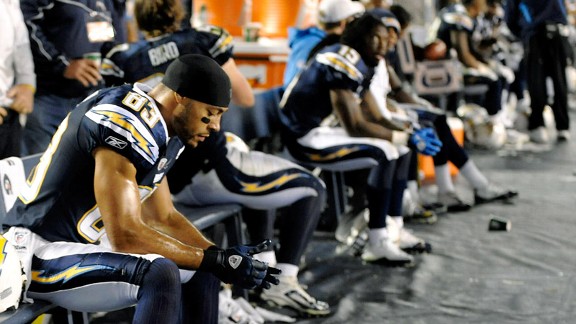 Denis Poroy/AP Photo
Vincent Jackson hasn't had the same connection with Philip Rivers that he had in previous seasons.Here's a quick look at a couple of things to watch for in Sunday's matchup between the Denver Broncos and San Diego Chargers in San Diego.
How the Broncos have gotten it done
The Broncos have been at their best this season when Tim Tebow has been lined up in shotgun. Of their 14 touchdowns scored with Tebow at quarterback this season, 12 have come in shotgun sets. They've averaged nearly seven yards per run in shotgun, with eight runs of 20 yards or longer. They've averaged four yards per run, with only two runs of 20-or-more yards when Tebow has been under center.
Tebow is averaging the most yards per rush before contact this season, with a minimum 30 attempts. Tebow has only 67 yards after contact on his 38 designed rushes this season, but his 4.7 yards per rush average is more than half-a-yard better than the next-best player, running back Darren Sproles (4.12).
One area for improvement, according to team president John Elway, is that the Broncos need to be better on third down. The Broncos have the worst third-down conversion percentage since Week 7, which was Tebow's first start of the season. They've converted on just one of every four third downs.
A big issue for the Chargers
Though wide receiver Vincent Jackson leads the NFL in receptions of at least 30 yards this season, quarterback Philip Rivers has had issues in making the quarterback-receiver duo the effective combination they've been in past seasons.
Rivers Targeting Jackson
Rivers has thrown seven of his interceptions this season when targeting Jackson, equaling his in total on such throws from 2008 to 2010. Rivers is getting picked once every 11.1 attempts to Jackson this season, the second-worst rate among any quarterback-receiver duo with at least 50 attempts.
Stats of the Day
The Broncos have won three straight games for the first time since starting 6-0 since 2009.
Tebow is 4-1 as starting quarterback this season since taking over a 1-4 Broncos team in Week 7. He has completed under 50 percent of his passes in each victory.
According to the Elias Sports Bureau, he's the second starting quarterback to do that in four wins in a season in the last 20 seasons, the first since Aaron Brooks in 2003. The last quarterback with more such wins was Phil Simms for the 1986 New York Giants. One of the others who have matched Tebow was Elway, who did it for the Broncos 20 years ago.