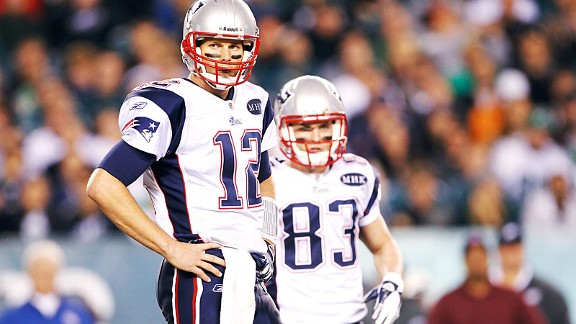 AP Photo
Tom Brady (left) had little to be upset with on Sunday.Sunday's efforts were the sort of thing that many have gotten used to for New England Patriots quarterback Tom Brady.
It's getting that way for Denver Broncos quarterback Tim Tebow too.
Both won their teams important games in Sunday's late-afternoon contests. Let's take a quick look at each:
Brady buries the Eagles
Brady was awesome over the middle, completing 20 of his 23 attempts for 266 yards and a pair of touchdowns on throws inside the numbers against the Philadelphia Eagles.
Brady completed all eight of his throws between the hash marks, including both touchdowns. Brady also completed four of his five passes thrown at least 15 yards downfield, for 144 yards and two touchdowns.
Brady Throws Inside the Numbers
2011 Season
His 80 percent completion percentage, two touchdowns, and 28.8 yards per pass attempt on throws of at least 15 yards are the highest single-game totals for Brady this year.
This was the eighth time in Tom Brady's career that he threw for at least 350 yards, with at least three touchdowns and no interceptions. Brady and Brett Favre have the most such games in NFL history, according to Elias.
Brady was responsible for nearly wiping out the Eagles postseason hopes. Of the 92 teams to have a 4-7 record from 1990 to 2010, only three made the playoffs (3.3 percent)- the 1995 San Diego Chargers, 1996 Jacksonville Jaguars and 2008 San Diego Chargers.
Tebow magic strikes again (with some help)
Sunday's win over the Chargers was the fourth game-winning drive in the fourth quarter or overtime for Tebow in nine career starts. Elias tells us, the only quarterback in NFL history with more such drives in his first nine starts was former New York Giant Scott Brunner with five.
Tebow showed improvement in one area. He was 5-for-10 on passes more than 10 yards downfield, including a touchdown pass to Eric Decker.
Entering Sunday, Tebow was completing only 26 percent of his passes on such throws, worst among quarterbacks with a minimum of 50 pass attempts.
This was a game that the Broncos won on the ground and with their defense.
Tebow's 22 rushes were the most by a quarterback in a game since the NFL and AFL merged in 1970. The most prior to this were 19 by Bobby Douglass in 1973.
Tebow's teammate Willis McGahee benefited greatly from the Broncos use of the option. He rushed for 92 yards on option plays for the game, including all 45 of his rushing yards in overtime. When McGehee ran out of the option on Sunday, he averaged 8.4 yards-per-carry. On the 12 runs he didn't, he averaged just 2.1.
The Broncos also put plenty of pressure on Chargers quarterback Philip Rivers, who completed only 7 of 19 attempts for 73 yards against five-or-more pass rushers.
His 3.8 yards per attempt against such pressure is his second lowest of the season. Coming into today, Rivers ranked fourth among qualified quarterbacks with 8.2 yards per attempt against five or more rushers.
Denver also received stellar play from its pass-rushing duo, Von Miller and Elvis Dumervil, who combined for three sacks (two in the fourth quarter) and four tackles for loss