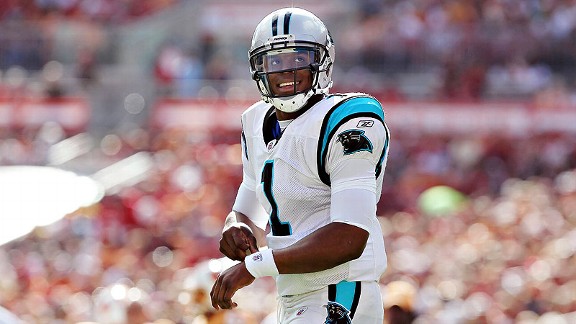 Kim Klement/US Presswire
Cam Newton can smile knowing he now holds an NFL record
Sunday's early-afternoon games were largely about the skill mastery of victorious quarterbacks. In some cases, this was nothing new, though in one significant instance, a quarterback found a new way to succeed.
Let's take a closer look at a few of those:
Tebow beats Vikings with long throws
Denver Broncos quarterback Tim Tebow continues to silence those who question his abilities to handle the position.
On Sunday he did so with the deep throw in the Broncos comeback win over the Minnesota Vikings.
Tim Tebow
Passes of 21+ Yards This Season
Tebow completed three of his four pass attempts of more than 20 yards, netting 103 yards and a touchdown on those throws.
It was Tebow's first game with multiple completions of that pass length and was far better than his season-long performance in this area, as noted in the chart on the right.
He was even good when the Vikings looked for him to throw, going 7-for-10 for 102 yards when the Vikings played with five defensive backs.
Tebow has improved his completion percentage in each of his last three starts, though this game, in which he completed 67 percent of his throws, was the first in which he completed more than half of his passes.
Newton runs to record
For Carolina Panthers quarterback Cam Newton, his success was all about his running game.
Most Rush TD by QB
In Single Season (NFL History)
Newton ran for three scores and broke Steve Grogan's record for most rushing touchdowns by a quarterback in a single season.
Newton is the first quarterback with three rushing touchdowns in a game since Daunte Culpepper had three for the Oakland Raiders in Week 4 of the 2007 season in a 35-17 win over the Miami Dolphins.
Roethlisberger wins in way he usually does
For Pittsburgh Steelers quarterback Ben Roethlisberger, Sunday's success was about working in the right formation, with a good short passing game.
Roethlisberger, who entered the game having completed 71 percent of his throws in multiple tight end sets, with eight touchdown throws, completed 10-of-11 such passes for 106 yards and a touchdown in Sunday's win over the Cincinnati Bengals.
Roethlisberger also completed 14 of 19 passes (73.9 percent) traveling fewer than 15 yards downfield Sunday, including both of his touchdowns. Roethlisberger entered the day having completing 70.1 percent of his passes on throws of that distance, fourth-highest rate in the league.
The other notable statistical achievement from this game was that Steelers running back Rashard Mendenhall scored two touchdowns. He now has 28 rushing touchdowns, tying Franco Harris for the most by a Steelers player in his first four seasons.
Brady moves up record lists, helps teammate tie mark
Tom Brady moved up a pair of record lists in quarterbacking the New England Patriots past the Indianapolis Colts. His 120th win passed Johnny Unitas for sixth-most all-time by a starter. He also passed Unitas and tied Warren Moon for sixth place on the all-time touchdown passes list.
Brady's teammate, tight end Rob Gronkowski, tied Antonio Gates (2004) and Vernon Davis (2009) for most touchdown catches by a tight end in a season with 13.
Brady was 16-for-20 with two touchdowns when throwing inside the numbers and 16-for-20 in situation in which he was working with an empty backfield, including one of his two scores.