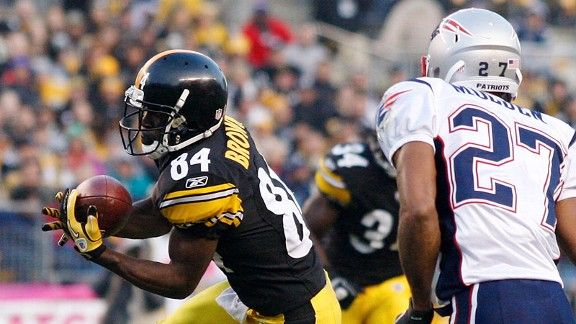 Jared Wickerham/Getty Images
Antonio Brown has been a top performer for the Steelers on intermediate and long-range throws.
It's a rare kind of Monday Night Football matchup taking place this evening between two of the best teams in the NFL, a game in which each team's defense figures to play a significant role.
Here are a few of the statistical keys to watch in this contest:
Expect a Low-Scoring Game
Don't expect a lot of points in this game. The San Francisco 49ers and Pittsburgh Steelers are first and second in the league in scoring defense.
They are also in the top five in fewest yards allowed, but have quite a disparity in forced turnovers.
The 49ers are second in the league with 31 forced turnovers. The Steelers are 29th in the league with just 14.
The Steelers have allowed a total of 19 points in their last three games. Over that span, their opponents possessions have resulted in 16 punts, eight turnovers, four field goals, a blocked field goal, a turnover on downs, and one touchdown.
Playing to Their Strengths
Steelers' Pass Defense
Outside the Numbers
The Steelers have been clamping down on passes toward the sidelines in recent weeks. The Steelers have recorded at least one interception on throws outside the painted field numbers in each of their last three games after recording none prior.
The 49ers haven't allowed a rushing touchdown this season. Every other team has allowed at least five. San Francisco is only allowing 70.5 rush yards per game, significantly better than other team in the NFL.
The 49ers' rush defense has yielded the fewest rush yards after contact this season. San Francisco is the only team to allow less than one yard after contact per rush outside the tackles.
Player to Watch: Antonio Brown
Brown, a sixth-round pick in the 2010 draft, has emerged as a serious threat in the Steelers offense. In Week 14, he had a career-high 151 yards against the Cleveland Browns.
Brown entered the week ranked second in the NFL with 25 receptions on throws of at least 15 air yards this season, 13 more than teammate Mike Wallace. Despite the extra receptions, Brown has yet to score on such a throw. Wallace has five of the Steelers' six touchdowns on throws of this distance.
Home-Field Advantage
Quarterback Alex Smith is glad to be playing at home tonight. This season, he's got 11 touchdowns in seven home games and only four touchdowns in six road games. His 26 sacks on the road are twice as many as he has at home.
Elias Sports Bureau's Stats of the Day
This week's Monday Night Football game is only the fourth ever between teams with 10 wins and a winning percentage of at least .750. All four of them have been in San Francisco and the 49ers have won the previous three, beating the Broncos most recently in 1997.
Mike Tomlin is 6–0 as a head coach on Monday Night Football. With a win tonight, he would equal the longest Monday Night start-of-career winning streak.
Don Shula, Tom Flores and Steve Mariucci won their first seven games as a head coach on Monday Night (Bill Cowher won his first six).
Pittsburgh's last loss on Monday Night came in 2006, a 9–0 loss in Jacksonville, in Bill Cowher's last appearance on Monday Night Football.
For more on this game, check out our Chalkboard Stats feature from last week.