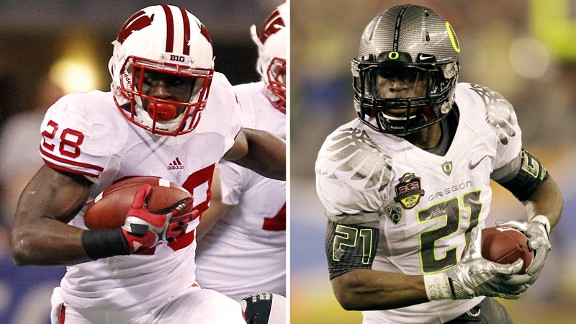 AP Photo
Wisconsin's Montee Ball and Oregon's LaMichael James lead two high-powered offenses into Monday's Rose Bowl Game presented by Vizio.
There are only three FBS teams that have a quarterback ranked in the top 15 of passing efficiency and a running back ranked in the top 15 of rushing yards per game. Two are in the Rose Bowl-- the Oregon Ducks and Wisconsin Badgers on ESPN at 5 PM Monday (the other is Baylor).
Although both offenses are high scoring and balanced, they employ drastically different styles of play highlighted by speed, power and efficiency.
Oregon Offense
Oregon spreads the field and beats opponents with speed and big plays. The Ducks average just over two minutes per touchdown drive and over the past two seasons have scored 86 touchdowns on drives of less than two minutes, most in FBS.
Most Rushes of 30+ Yards
Since the Start of 2004
The Ducks average 296 rushing yards per game, but it is their ability to break long rushes that makes them so dangerous.
Entering the bowl season, Oregon led the country with 20 rushes of 30-or-more yards and is a perfect 20-0 over the past two seasons when breaking at least one run of 30-plus yards.
LaMichael James leads the nation in rushing yards per game, but Kenjon Barner and De'Anthony Thomas have also been reliable ground options for Oregon. The trio of running backs has combined for 2,995 rushing yards and 33 rushing touchdowns. They are most effective rushing outside the tackles, where the trio averages 9 yards per rush.
Quarterback Darron Thomas adds another element to Oregon's explosive attack. He has excelled throwing downfield this season, completing about 50 percent of his passes thrown 15-or-more yards in the air, with 12 of those passes going for touchdowns. Wisconsin has allowed only 24 completions of at least 20 yards this season (tied for fourth in FBS), but two of those completions were last-second passes that ruined the Badgers' national title hopes.
Wisconsin Offense
Montee Ball enters the Rose Bowl as FBS's top individual scorer with 38 total touchdowns this season. He has accounted for at least two touchdowns in every game and is one touchdown shy of tying Barry Sanders' record for touchdowns in a season.
He'll be a key to Wisconsin's offense, which mixes speed and power behind a bruising offensive line. The Badgers move the ball down the field at a slower pace than Oregon, averaging 2:53 per touchdown drive, but find the end zone at a similar rate to the Ducks.
The Badgers have one of the most efficient quarterbacks in the nation in Russell Wilson, who has thrown a touchdown in an NCAA-record 37 straight games. Wilson and Baylor's Robert Griffin III are both on pace to break the single-season passing efficiency record held by Hawaii's Colt Brennan.
Darron Thomas vs Russell Wilson
Throws of 15+ Yards, 2011 Season
Wilson has been effective with both his arm and his legs. He keeps plays alive for the Badgers, averaging 9.5 yards per scramble. Like Thomas, Wilson is completing close to 50 percent of his passes 15 or more yards downfield.
Wilson is a huge factor in Wisconsin's success, but the heart of Wisconsin's offense lies in its run game. Look for Wisconsin's offense to make use of two tight-end formations to get Ball in the end zone. All 32 of his rushing touchdowns came in multiple tight-end sets.
Stats of the Game
In 2009 and 2010, Oregon has averaged 143 fewer rushing yards, 127 fewer total yards and 26 fewer points in their bowl games than their regular-season games.
The Big Ten is 1-7 in its last eight Rose Bowl games with it only win coming when Ohio State beat Oregon two years ago.