Defense was all the rage during the 2009-10 off-season, and from Mark Buehrle's Opening Day between-the-legs flip to Austin Jackson's perfect-game-saving sprint after a warning-track fly ball, we haven't been disappointed.

But as the season wears on, legs get tired and the sun shines brighter, so logic would dictate that defense would suffer as the dog days drag on. But does it? Let's find out.
On average, 73.9 percent of ground balls are converted to outs; in other words, the league has batted .261 on ground balls. Let's take a look at the percentage of ground balls that are converted for outs over the past several seasons: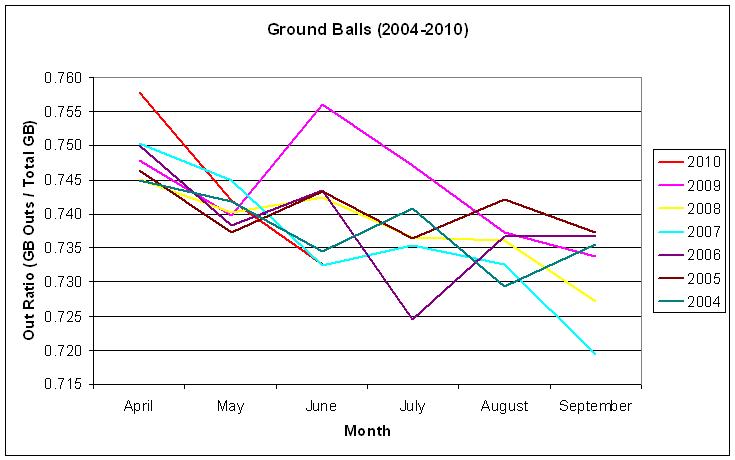 As you can see, the worst ground ball out ratio in April (.745) is still much higher than the best out ratio in September (.737). Here are the results by month:
April: .749
May: .743
June: .744
July: .740
August: .739
September: .734
The average season finishes the season about 1.5 percentage points lower than it started. Though 1.5 percent might not seem like much, there are roughly 10,000 ground balls in a full month, roughly a 150-play difference between April and September.
Looking at the day-by-day graph with a three-day moving average, the trend remains clear. While the graph tops the 75 percent mark in the first few weeks of the season, it dips below the 73 percent mark for most of the last two.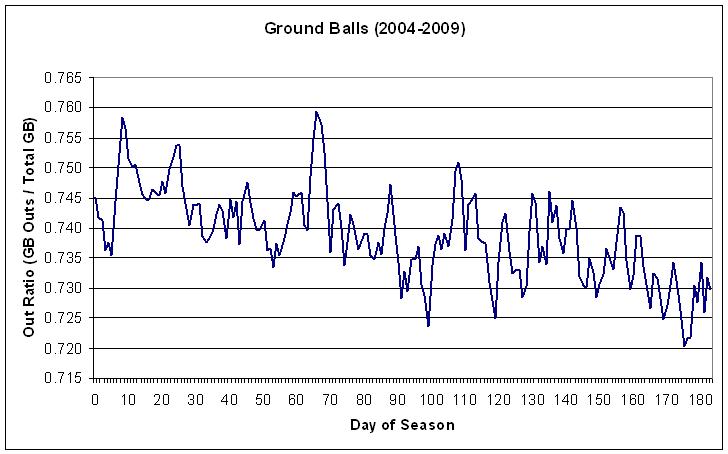 We know that the length of the season is taking a toll on fielders (at least on ground balls), and so do long stretches without off days. Again applying a three-day moving average, we can see the gradual decline beginning after a week of consecutive games without a day off. The effect is small, but existent.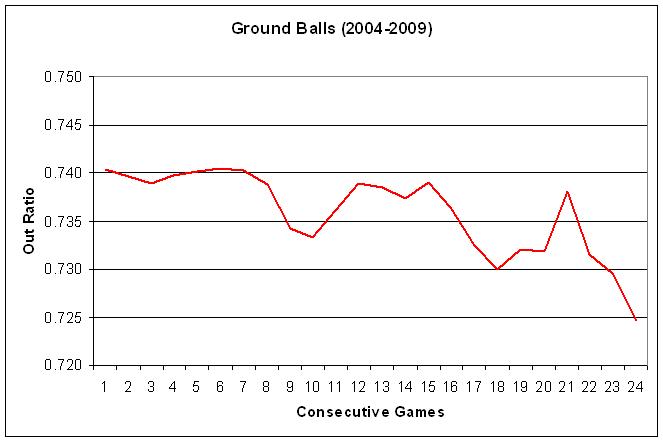 As we approach the dog days of summer, keep an eye on which managers juggle their lineups to give their regular starters plenty of rest. Though the effect is seemingly small, playoff berths have been decided by much less!
Ben Jedlovec is a researcher for Baseball Info Solutions.