Last night, Stephen Strasburg lost his first game as a major league pitcher, though not through much fault of his own, as his team fell to the Kansas City Royals, 1-0. Meanwhile, in Queens, N.Y., R.A. Dickey threw eight shutout innings for the New York Mets, continuing to offer his team a much-needed boost in their rotation. What do these two guys have in common?
Absolutely nothing.
Strasburg's fastball averages 97.7 MPH, and he throws it 58 percent of the time. Dickey's fastball averages 84.3 MPH, and he throws it 18 percent of the time. Dickey, of course, relies on a knuckleball to dance around and get outs. Strasburg just overpowers hitters with an assortment of pitches that is usually reserved for video games. But despite their disparate approaches, both have found success in getting big league hitters out this year. We thought it would be fun to compare how they're doing it.

For Strasburg, it's not that complicated. His plan is to get ahead in the count (67 percent first-pitch strikes), usually with his high-velocity fastball. Then, he makes hitters chase an assortment of pitches they can't hit. Opponents have swung at 35.5 percent of the pitches he has thrown out of the strike zone, but made contact just 34.6 percent of the time. For comparison, the next-lowest contact rate on pitches outside the zone by a starter is 48.1 percent, by Jorge de la Rosa. When he gets hitters to chase, they come up empty, and he racks up the strikeouts.
Dickey can't do that. Hitters are chasing his pitches slightly less often (29.3 percent), but are making contact twice as frequently -- 70.2 percent of the pitches that opponents swing at outside of the strike zone they put the bat on, a pedestrian number that doesn't explain how Dickey is striking out nearly seven batters per nine innings. The key for him is not to get hitters to fish, but to swing through pitches that they think they can whack.
Where Dickey has actually excelled this year has been on missing bats in the strike zone, where his 80.3 percent contact rate puts him just behind the league leader in that category, Clayton Kershaw. Yes, that's right, hitters have an easier time making contact with a strike thrown from Stephen Strasburg than they do from R.A. Dickey, despite the Grand Canyon-sized difference in velocity. Here is a chart showing Dickey's dominance in the zone. The red squares indicate a high percentage of pitches in that zone, blue is a low percentage.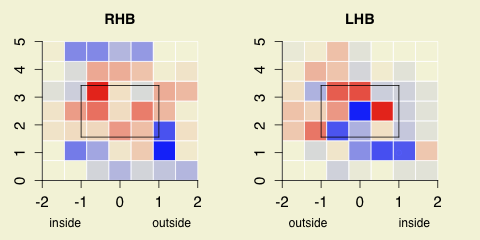 As you can see, despite the erratic nature of the knuckler, Dickey is living right around the strike zone. And considering how hard of a time hitters have hitting it when it is in the zone, that's good thing. He's putting the knuckler in the zone, and yet, opposing hitters have not been able to catch up to it.
These two guys could not be any more different, but both are giving their teams a chance to win on a nightly basis.
Dave Cameron is a writer for FanGraphs.