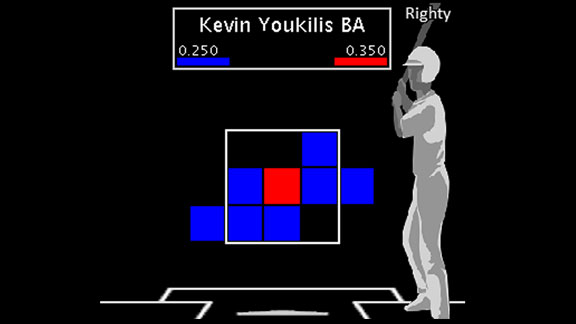 ESPN Stats & Info
Kevin Youkilis is struggling against pitches in all areas this season, other than those right over the middle of the plate.

Kevin Youkilis has traded his red stockings for pale hose and will make his debut with the Chicago White Sox tonight in Minnesota. He is a career .313 hitter against the Minnesota Twins, his third-highest average vs any AL team. Red Sox fans won't have to wait long to see him again, as the White Sox visit Fenway for a four-game series July 16-19.

Red Sox Legacy
Youkilis, who was drafted by the Boston Red Sox in the 2001 Draft, leaves a lasting legacy in Beantown where he played eight seasons and won two World Series titles. Youkilis' departure leaves David Ortiz as the only remaining member of the 2004 World Series-winning team.
Youkilis finished his Red Sox career with 29.5 WAR, 19th on the franchise list, and sandwiched between Bosox legends Dom DiMaggio and Johnny Pesky. He also ranks 11th in OPS, 12th in on-base percentage and 13th in slugging percentage in the Red Sox record books.
2012 Struggles
However, Youkilis has been in a steep decline over the past two seasons. His batting average, on-base percentage, slugging percentage and OPS are each at career-worst levels this year, and most notably his walk rate has dropped below 10 percent for the first time ever.
Kevin Youkilis in 3-Ball Counts
Last 2 Seasons
Known as the "Greek God of Walks" because of his terrific batting eye, he is really struggling to recognize pitches in three-ball counts this year.
He is swinging at more pitches out of the strike zone and taking more pitches for strikes when getting into a three-ball count, despite the fact that pitchers are throwing him more pitches in the zone than in previous years.
Youkilis' power is also down considerably this year, with a .377 slugging percentage compared to his career mark of .487. One issue is that he is pounding the ball into the ground. His groundball rate has increased from 41 percent in 2011 to 51 percent this year.
His ability to pull the ball for power has fallen sharply this year. Just four of his 12 (33 percent) extra-base hits have been to his pull side this year, compared to 29 of 51 (57 percent) in 2011, and his slugging on balls hit to left field has plummeted from .730 in 2011 to .370 in 2012.
A New Home
Even though Youkilis is a shell of his former self, he will be an upgrade at third base for the first-place White Sox. Chicago's third baseman this year have produced a collective line of .168/.243/.224, ranking dead last in the majors in every offensive statistic.
White Sox 3B This Season
How bad are the White Sox third baseman? Their .467 OPS is more than 30 points worse than the .499 OPS from the Nationals pitchers! In fact no other team has a worse OPS at any position this year.
Chicago third basemen also have a league-worst one homer. That's a far cry from their team-record 37 home runs by third basemen in 1996. The primary third baseman that season? Current manager Robin Ventura, who had 32 while playing the hot corner.
--Katie Sharp contributed to this post