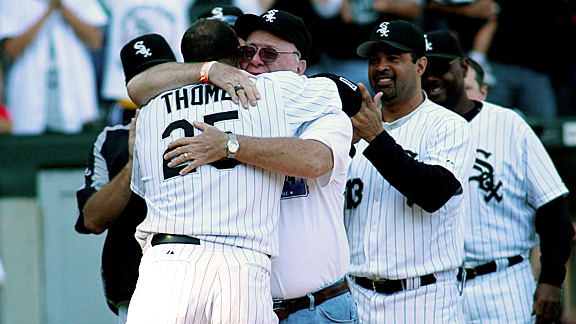 Chuck Rydlewski/Icon SMI
It was congratulations all around for Jim Thome when his walk-off home run beat the Angels in September, 2007. The home run was the 500th of his major league career.
If you're an Angels fan, you're all too familiar with Jim Thome and walk-off home runs.
Thome tied the all-time record for walk-off home runs with his 12th earlier this week against the White Sox. The Angels have helped him to this mark in a big way -- of those dozen walk-offs, four have come against the Angels.
Most Walk-Off HR
All-Time
The most notable of Thome's walk-off home runs against the Angels came on September 16, 2007. Not only did it win a game, but it allowed Thome to reach a major milestone-- 500 career home runs.
Also of note, pertaining to Thome and his walk-off homers against the Angels: The first two of those came against closer Troy Percival in 1998 and 2000, the second, a come-from-behind walk-off home run on August 4, 2000.
Thome has four "come-from-behind" walk-off home runs, one shy of the all-time mark shared by Ruth, Frank Robinson and Fred McGriff.
No other player in baseball has hit more than a pair of walk-off home runs against that team. Thome's four are tied for the second-most by any player vs any team -- Babe Ruth had five against the White Sox. Perhaps Thome will get a chance to match that on Sunday Night Baseball at 8 ET on ESPN and ESPN Radio, tonight.
Other notes and nuggets related to tonight's game ...
Thome has never homered against tonight's starter, Jered Weaver, but has homered against 382 other pitchers (Rick Reed the most, 9 times). When Thome does homer against the Angels, his teams are 19-6 ... they haven't lost since 2006, and they've actually won 19 of the last 22 games in which he's homered vs LAA.
Weaver is 4-1 vs the Twins. The only AL team against whom he has a better winning percentage is the Blue Jays (6-1, .857).
Weaver is trying to become the first Angels pitcher to lead the American League in strikeouts since 1979. My Stats and Info colleague Katie Sharp ran the Inside Edge video scouting data numbers on Weaver and found that he's significantly increased his ability to finish hitters with his fastball and curveball.
K/PA Pct With Two Strikes
Sharp also found three areas in which Weaver has excelled this season -- performance vs left-handed hitters, performance with runners in scoring position, and performance against hitters leading off an inning. Weaver ranks among the best in baseball in all three areas, most notably the latter (.151 opponents batting average, .185 opponents on-base percentage, lowest in the majors).
This would seem to be a good day for Weaver to rack up a win. His mound foe, Twins starter Scott Baker is 0-5 with a 5.82 ERA vs the Angels (eight starts). That's the most starts of any active pitcher without a win vs the Angels (Ryan Rowland-Smith ranks second with five).