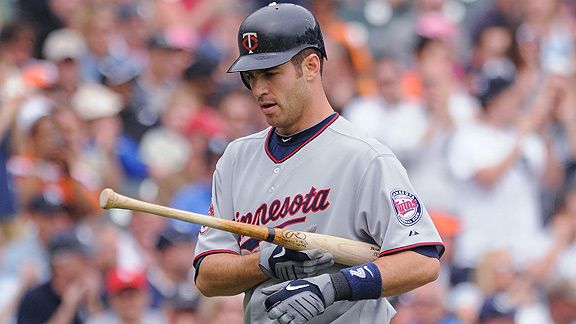 Mark Cunningham/Getty Images
Joe Mauer has had his share of frustrating at-bats against left-handed pitchers in 2010, including C.J. Wilson, whom he faces tonight.
The Rangers and Twins face off in the Texas heat tonight on Wednesday Night Baseball, and the fact it's two first-place teams should be reason enough to watch, right?
But if it's not, we've got five other reasons to make sure your television is tuned to ESPN2 at eight o'clock eastern time.
1. Hello, Joe Mauer. Meet C.J. Wilson, your personal kryptonite
Mauer has been tearing the cover off the ball since the All-Star break, leading all American League hitters in batting average, on-base percentage and OPS. But hidden in those numbers is a .208/.296/.271 line in 54 plate appearances vs lefties. Mauer's struggles vs southpaws aren't just a second-half trend either, as he hit .261 against them before the break.
He'll be really challenged to improve on that mark tonight with C.J. Wilson on the mound for the Rangers. Wilson has been a left-handed batters' nightmare this season, holding them a ridiculous .103 batting average and .308 OPS. He hasn't allowed a homer to any of the 129 lefty batters he has faced and only three times has a lefty managed an extra-base hit against Wilson this season.
C.J. Wilson Vs LHB, AL Ranks
But its not just Wilson's season-long dominance against lefties that could make Mauer look human tonight. Mauer has just one hit - a single more than two years ago - in 14 career at-bats versus Wilson. That's his worst performance against any pitcher he has faced more than 10 times.
2. Root, root, root for Michael Young
Young is arguably the face of the Rangers franchise, having played his entire career for the team, and ranking in the Rangers all-time top 10 in nearly every offensive category. But he has really bad timing…
Most Games Played Without Postseason Appearance
Active Players
The Rangers last made the postseason in 1999, while Young made his debut for the team in a two-game cup of coffee at the end of the 2000 season. Young has played the second-most games without a postseason appearance among active players, behind the Cardinals' Randy Winn.
So even if you no allegiances to the Rangers or Twins, at least you can root for the Rangers to hold on to their lead in the AL West so that Young can finally play a meaningful game in October.
3. There is a new M&M boy in Minnesota
Justin Morneau carried the Twins in the first three months of the season, hitting .345 and launching 18 home runs before going on the disabled list July 8. But the team hasn't missed a beat without him, going 27-15, while leapfrogging the White Sox and Tigers to take a 3½-game lead in the division.
Michael Cuddyer has taken over the duties at first base, and while he hasn't exactly matched Morneau's hot bat, he's still hitting over .300 there. And that is nearly 40 points better than he did as the team's everyday right-fielder prior to Morneau's concussion.
Cuddyer actually pulled off a similar performance last September when Morneau was shut down for the final three weeks of the season with a back injury. Cuddyer had 29 RBI in 32 games in September and October to end the season, leading the Twins in Win Probability Added in that time period. And in the final two weeks, when every game was critical to Minnesota's postseason hopes, he had the fourth-best WPA in the American League.
4. Elvis is in the building
Elvis Andrus' name has been written at the top of the lineup card nearly every game since mid-April and he has thrived there, ranking third in the AL in on-base percentage among leadoff batters. But, as you can see in the accompanying chart, he has actually hit better when NOT setting the table for others, while he has really struggled when coming to the plate with the bases clean.
Elvis Andrus
BA, AL Ranks
Based on these stats alone, a good debate could be had over whether Ron Washington should move Elvis down in the order, to take advantage of his ability to step up his game with runners in scoring position.
5. Love for the Glove
Don't be shocked if you see at least one Web Gem tonight, because both teams have shown a propensity for strong defensive play in 2010.
Rightfielder Nelson Cruz and centerfielder Julio Borbon lead the way for a Rangers outfield that leads the American League in the Baseball Info Solutions-generated metric Runs Saved, which measures all aspects of a players defensive contribution.
The Twins middle infield combination ranks third in the American League in Runs Saved, buoyed by perennial Gold Glove candidate Orlando Hudson. The Twins second baseman ranks atop the American League at his position in Plus/Minus, turning significantly more balls hit his way into outs than the average second baseman.
It's a shame that Nick Punto, who strained his left hamstring last week, won't be playing. Punto, nicknamed "The Human Web Gem" by Baseball Tonight's Karl Ravech, ranks among the leaders in Plus-Minus at both shortstop and third base.
Brian Duensing is thankful for this defensive help. His .252 batting average on balls in play ranks third-best in the majors, and his 2.49 ERA is the best of any Twins pitcher through his first 15 career starts since the Twins moved to Minnesota in 1961.