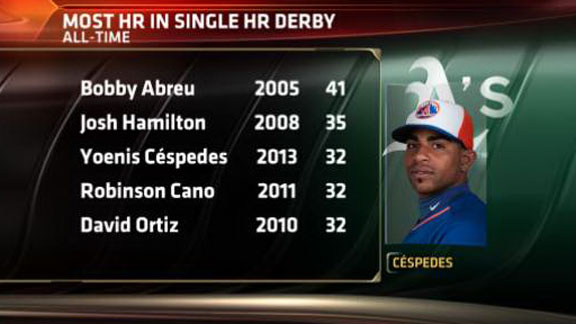 Yoenis Cespedes was the best home run hitter from start to finish in this season's Home Run Derby.
Cespedes, the first non-All-Star to win the Derby, finished with 32 home runs and beat out Bryce Harper in the finals 9-8.
Here's a look at some of the statistical highlights from Monday's competition.
Hot at the right time
Cespedes' 32 homers tied for third-most in Derby history. His 17 homers in the first round were more than twice as many as any other Derby competitor this year and tied for third-most by anyone in a single round all time. He had more home runs in the first round than any other player did in the first two rounds combined.
Past 5 HR Derby Champions
Cespedes entered the All-Star break with no home runs in his past 19 games and only two home runs in his past 31 games (both came June 21 against the Seattle Mariners). He's homered in only three of the past 46 games he's played since May 22. Cespedes' current drought is 71 at-bats, which the Elias Sports Bureau notes is the second longest of his career and the longest current drought of any of the contestants this season.
Cespedes was the fourth straight AL player to win and ninth in the past 12 seasons. He's the first right-handed hitter to win the Derby since Vladimir Guerrero in 2007.
Harper consistent as runner-up
The 20-year-old Harper, the second-youngest entrant ever into the Derby (trailing only Ken Griffey Jr, by 42 days), was trying to become the competition's youngest winner. Elias tells us that mark is still held by Juan Gonzalez, who won in 1993 at age 23.
Harper hit eight home runs in each of the three rounds, hitting cutters thrown by his father, Ron. Harper is 12-for-29 in at-bats ending with cutters in regular-season games, with a pair of home runs.
No repeat title for Fielder
Prince Fielder was knocked out in the first round after hitting only five home runs, leaving Griffey Jr. as the only player to win the competition in back-to-back years (1998 and 1999). Fielder's 68 lifetime home runs in the Derby rank third-most all time, trailing Griffey's 74 and David Ortiz's 77.
Citi Field no deterrent
If there were concerns that Citi Field was going to keep the home run total down, they proved to be unfounded. The 103 home runs hit in the Derby were 21 more than were hit last year and the most in any Derby since 2008 (105).