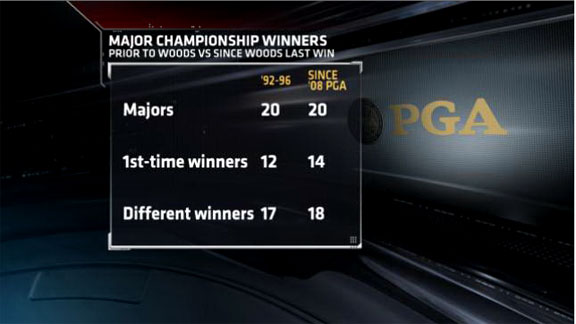 If you're curious for the top Tiger Woods storylines heading into the PGA Championship, click here.
But let's use this space to look at the other notable statistical storylines.
Unpredictability factor
The last 20 majors (since the 2008 PGA) have been won by 18 different players. The only players to win multiple majors in that span are Phil Mickelson and Rory McIlroy, with two apiece.
Young man's game
The average age of the last three PGA Champions is 24.3. Compare that to the Open Championship, which has had three straight winners age 42 or older.
The PGA Championship has been won each of the last three years by players age 25 and younger. This is the first time that has happened at a major since the inception of the Masters in 1934.
The defending champ
Two-time major champion McIlroy has two more majors to play before turning 25. In the last century, only four players have won three majors before their 25th birthday: Tiger Woods, Jack Nicklaus, Bobby Jones and Gene Sarazen.
Rory McIlroy
PGA Tour ranks last two years
McIlroy famously signed a lucrative endorsement deal with Nike before the 2013 season.
The numbers say there could be some validity in the theory that he's still struggling with his new equipment. His scoring average dropped from best among all golfers in 2012 to 33rd in 2013.
In the last nine majors, McIlroy has one top-20 finish: his win at the 2012 PGA Championship.
Phil the thrill
Phil Mickelson will try to win back-to-back majors for the second time in his career (2005 PGA, 2006 Masters). He has now won five majors since 2004, second most in the sport in that span (behind only Woods, who has six).
Only three other players have won five or more majors since 1980: Tom Watson, Nick Faldo and Woods.
Looking for consistency? Try Adam Scott
Only three players have made the cut in each of the last seven major championships: Adam Scott, Woods and Jason Dufner.
Scott has shot even par -- 14 shots better than Woods, 22 better than Dufner.
Comeback Sunday
Since the 2008 PGA Championship, there have been as many eventual major winners who were fifth or worse entering the final round as 54-hole leaders (five each).
Nine of the 21 winners entered Sunday trailing by at least 3 shots.