How do you pitch to Freddie Freeman?
October, 3, 2013
10/03/13
2:00
AM ET
By
Jacob Nitzberg
| ESPN.com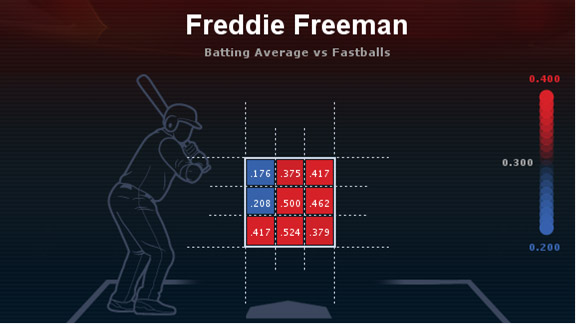 For each of the eight remaining postseason teams, the Stats & Information team will offer a look at a key hitter and use Next-Level data to analyze how he might best be approached by opposing pitchers.
Freddie Freeman
has emerged as an MVP candidate in the National League this season, pacing the first-place Braves with 176 hits, an .897 OPS and 109 RBI.
Here's a look at how Freeman has put together such a great season, and how his NLDS opponent should attempt to get him out.
Jump Start
Don't give Freeman anything to hit early in the count. He hit .446 within the first two pitches of an at-bat this season, second-best in the major leagues (
Joey Votto
- .449).
Freeman swung at the first pitch 46 percent of the time this season, the second-highest rate in the majors.
When the first pitch was in the strike zone he swung 77 percent of the time, easily the highest rate in the majors. He led the majors with 44 first-pitch hits.
As a result, Freeman saw a lower percentage of pitches in the strike zone (42 percent) than almost any hitter in baseball. Only
Pablo Sandoval
and Josh Hamilton, two of the seven most frequent swingers in the game, saw a lower percentage of pitches in the zone this season among hitters who qualified for the batting title.
Even that has not worked, as Freeman hit .272 against pitches out of the strike zone, the fourth-highest average in the majors.
Fast and Furious

Freeman mashed fastballs this season, hitting .367 in at-bats ending with the pitch.
When he faces Clayton Kershaw in Game 1, it will be interesting to see if Kershaw works to Freeman's weakness-- inside fastballs.
Freeman hit .156 against fastballs on the inner-third of the strike zone, or off the inside corner. But Kershaw rarely works there. If he throws 15 fastballs to lefties in a game, he'll only put two to three in that spot. He likes to work the middle and outer part of the plate with that pitch.
That plays into something Freeman does very well.
Against fastballs over the middle and outer third of the plate, he hit .415 with 15 home runs. Only Votto (.425) had a higher average on pitches to that area in 2013.
Don't Sweat the Soft Stuff

Freeman's batting average against offspeed pitches was .248, slightly above league average, but that doesn't necessarily mean that offspeed stuff is the way to go.
Freeman's line-drive rate against those pitches was 27 percent, the highest in the NL.
He's All Right
Right-handed pitchers had trouble getting Freeman out this season; he hit .334 against them, the fourth-best rate in the major leagues.
Freeman's one weakness was dealing with righties with good sliders (he'll face one in Game 2-- Zack Greinke). Freeman missed on 44 percent of the swings he took against right-handers' sliders, and his issues were the same whether he was in a two-strike hole or not.
Freeman made 41 outs and had only six hits against the pitch.
Getting Defensive
Freeman is not an ideal candidate for a defensive shift. He pulled 78 of his 165 ground balls this season (47 percent). The league average for left-handed hitters was 54 percent this season.
Freeman pulls his fly balls slightly more than league average, so outfielders may want to play slightly towards the lines, but a significant defensive adjustment is probably not warranted by the numbers.