What's to know about the kooky and amazing game between the Philadelphia 76ers and Orlando Magic on Tuesday night?
Plenty.
The triple-doubles
According to the Elias Sports Bureau, Michael Carter-Williams and Victor Oladipo are the first pair of rookies to each record a triple-double in the same game in NBA history.
It also marked the first time opposing players had a triple-double in the same game since Nov. 23, 2007, when Baron Davis of the Golden State Warriors and Caron Butler of the Washington Wizards each recorded one.
The 21-year-old Oladipo became the youngest Magic player to record a triple-double, edging out Shaquille O'Neal (who got his first at age 21 in 1993) by 46 days and Anfernee Hardaway (1994) by 58 days.
Oladipo finished with 26 points, 10 rebounds, 10 assists and three steals. He's the only Magic player in team history to hit all of those benchmarks in a game.
Carter-Williams' box score combo was 27 points, 12 rebounds, 10 assists and three steals. The last 76ers player to reach all of those numbers in one game was Charles Barkley against the Nets on March 19, 1990.
The 76ers have now gotten triple-doubles from a pair of players age 22 or younger (Carter-Williams and Tony Wroten) within the last month.
Afflalo scoring in large doses
Arron Afflalo scored a career-best 43 points in defeat for the Magic.
Afflalo is averaging 25 points per game over his last 10 games, and as the shot chart below shows, he's found a nice comfort zone from the left side of the floor.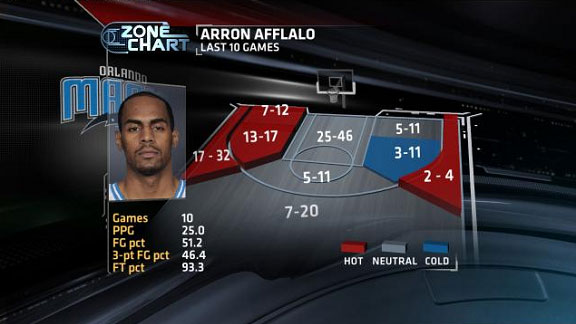 Afflalo was 5 for 8 from those two left-side hot spots from inside the arc on Tuesday, 2 for 6 in the one behind the 3-point line.
Key for 76ers: Rebounding Margin
The 76ers outrebounded the Magic, 56-34. It was their largest rebounding margin in a game in nearly four full years. Their last game with a bigger margin was December 14, 2009, when they outrebounded the Warriors by 33.
The 76ers also held a big edge in the paint. They had nearly as many makes in the paint (29) as the Magic took shots in the paint (30).
Stat of the Night
Lastly, for those who remember the NBA from way back when, Elias offers up one more triple-double nugget: The last time two players recorded their first triple-double in the same game was when Pistons Donnie Butcher and Ray Scott did it on March 14, 1964.