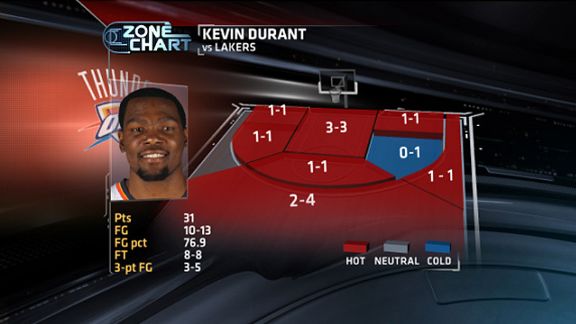 It was a red-hot night for Kevin Durant.Kevin Durant made sure this one was non-competitive from the start.
The Oklahoma City Thunder rolled to an easy 122-97 win Friday over the Los Angeles Lakers on the strength of Durant's 10-for-13 shooting effort.
Durant was 3-for-3 from inside 5 feet, 6-for-7 from 10 to 24 feet, and 1-for-3 from 25 feet and beyond.
You might notice that we skipped over his effort on shots ranging from 5 to 9 feet. There's a reason for that: He didn't take any … for good reason. Durant entered the night shooting 27 percent on shots from that distance this season (10-for-37).
This was the 232nd time that Durant made at least 10 shots from the field in a regular-season or playoff game.
But he's only had one game in his career in which he made at least 10 shots and shot better than his 10-for-13 on Friday, a 14-for-18 performance in a win over the Miami Heat on Jan. 16, 2010.
Durant's play was one reason why the Thunder averaged 1.18 points per possession in this game. It is the Thunder's third-highest offensive efficiency rating in a game this season.