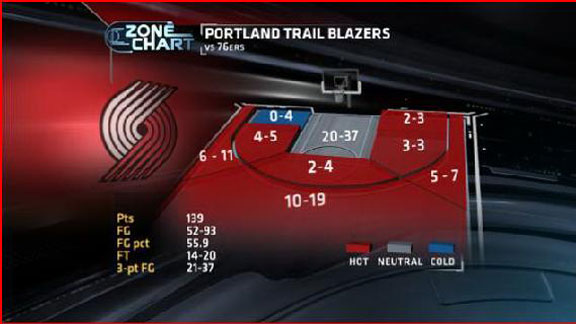 The Portland Trail Blazers had the most prolific scoring night of the season.The Portland Trail Blazers got what could be a tough road trip off to a very good start.
Portland improved to 20-4, its best start since it was 22-2 in the first 24 games of the 1990-91 season, with a 139-105 rout of the Philadelphia 76ers on Saturday.
This marked the first of four road games in a five-game stretch for Portland. The Elias Sports Bureau noted that the Trail Blazers actually have three stretches of four road games in five days. The only other team with more than one such stretch is the Phoenix Suns.
The Trail Blazers' 139 points are the most by any team in a game this season. They are the most the Trail Blazers have scored in regulation since they had 143 against the Golden State Warriors on Jan. 26, 1993.
How they won
Portland finished with more baskets from beyond the 3-point line (21) than in the paint (20). Their 21 3-pointers are a franchise record.
Even Dorell Wright, whose 3-point shot has been well off the mark of late, chimed in, making five straight 3-pointers in his 11 minutes off the bench. Wright was 13-for-48 (27 percent) from long distance in his past 15 games entering Saturday.
Of the Blazers' 3-pointers, only three of them came from the easiest spot on the floor to make them -- the corners.
Sixteen of the 3-pointers came from the wings. Portland made five from the left wing in the first quarter, and that set it up for success on the opposite side later. The Trail Blazers were 6-for-7 on 3-pointers taking from the right wing.
The Trail Blazers' 41 assists are their most in a game since Nov. 17, 1990, when they had 45 against the Denver Nuggets.
Lest we forget, LaMarcus Aldridge had 20 points, 16 rebounds and five assists. It was his second career 20-15-5 game.
Elias Sports Bureau Stat of the Night
The Trail Blazers are 9-0 against the Eastern Conference. That's their second-best start against the Eastern Conference, surpassed only by their 10-0 start during the 1990-91 season.