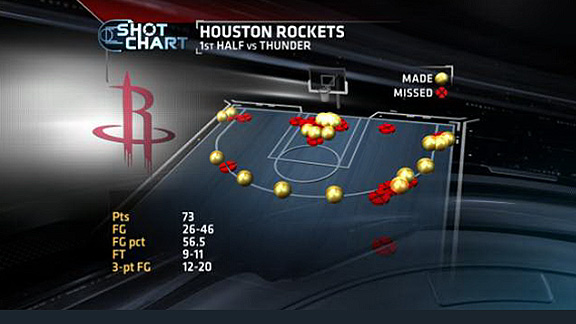 The Houston Rockets' 73 points were their most in any half this season.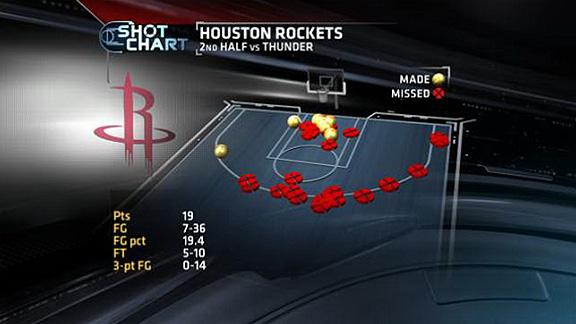 But they couldn't buy a basket in the second half.The best of halves and the worst of halves for the Houston Rockets happened on the same night.
The Rockets set an NBA record for the largest point drop from first half to second half in their loss to the Oklahoma City Thunder.
The Rockets scored 73 points in opening half, but managed only 19 in the second half.
Rockets Offense vs Thunder
The Elias Sports Bureau also noted that the Rockets became the first team to score at least 70 points in the first half, but score fewer than 100 points for the game. They also became the first team to score 40 or more points in a quarter, then follow that up with consecutive quarters in which they scored 10 points or fewer.
They scored more points in the first three minutes (11) of the game than they did the entire third quarter against the Thunder.
The 19 points were the fewest by any team in a half this season and tied for the second-fewest by a team in a half in the shot-clock era, surpassed only by the 16 points the New Orleans/Oklahoma City Hornets scored against the Los Angeles Clippers on March 1, 2006.
Of lesser historical significance, but also of note from this game:
• Kevin Durant extended his streak of consecutive 30 point games to five, four games shy of his career high.
• Serge Ibaka made at least 10 field goals in a game for the sixth time in his career. His 10-for-13 from the field was the second-best shooting performance in those games, trailing only an 11-for-13 against the Rockets last season.
• Reggie Jackson scored 23 points. He has scored at least that many in three games this season. In the past two seasons, he scored only 23 or more points once.