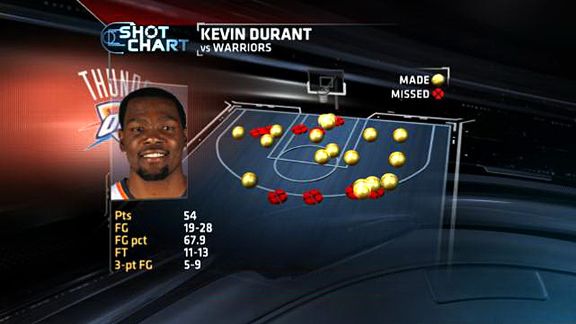 ESPN Stats & Information
Kevin Durant missed just nine shots from the field in scoring a career-high 54 points Friday night.
Almost a year to the day that he scored 52 points on Jan. 18, 2013 (at that point a career high), Kevin Durant put up 54 as the Oklahoma City Thunder knocked off the Golden State Warriors 127-121.
In the past two weeks, Durant has put up the three highest-scoring games in the NBA this season. In addition to his 54 points Friday, he has two 48-point games -- against the Minnesota Timberwolves on Jan. 4 and against the Utah Jazz on Jan. 7.
Kevin Durant This Season
With and Without Westbrook
According to the Elias Sports Bureau, Durant has been the first player to score 50 points in a game in each of the past three seasons. In that three-year span, the rest of the NBA has combined for four 50-point games, while no player has more than one.
Filling the void
Durant has really picked up his scoring in Russell Westbrook's absence. With Westbrook in the lineup, Durant averaged 28.6 points per game. Without him in 15 games this season, Durant is averaging 33.9 points per game.
Drive for success
Durant scored 11 points and had four assists on 10 drives Friday. Entering Friday, he averaged only 5.7 drives per game, accounting for 7.8 of his team's points per game, according to player-tracking data on NBA.com.
Kevin Durant by Defender
Friday
Green means go
The Warriors used multiple defenders against Durant to no avail. The league's leading scorer found particular success Friday against Draymond Green, scoring 19 of his 25 second-half points on Green. Durant shot 81.8 percent against Green and 58.8 percent against all other defenders.