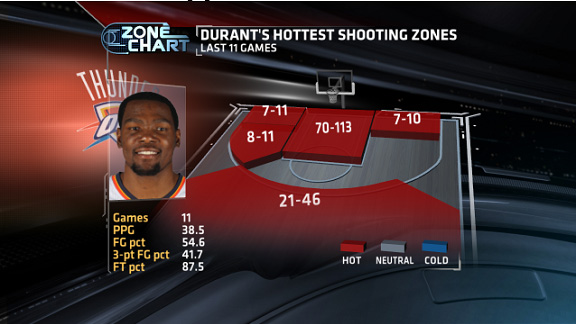 Kevin Durant has dominated in a number of spots during his hot streak.
When comparing the two most dominant basketball players currently on the planet, you have to consider that LeBron James has won 13 of 16 head-to-head meetings against Kevin Durant.
But Durant is the hotter player right now. He's scored at least 30 points in 11 straight games, the longest streak in the NBA since Tracy McGrady's 14-game run in 2002-2003.
What are some of the statistical storylines for this epic matchup (7 PM ET, ESPN)?
Durant has no trouble scoring vs. the Heat
Durant has more 30-point games against the Miami Heat (seven) than anyone else in the NBA since he joined the league in the 2007-2008 season. He's tallied one more than Carmelo Anthony and James, who both have six.
According to the Elias Sports Bureau, Durant's career scoring average of 29.3 points per game vs the Heat is the second-highest all-time behind Michael Jordan's 30.1 (minimum 10 games).
Durant With & Without Westbrook
This Season
The biggest difference in this hot streak is Durant's shooting efficiency in isolation – he was shooting only 41 percent from the field in isolation situations in his first 34 games, but is 23 for 41 (57 percent) in his last 11 games.
The Heat excel at limiting the pick-and-roll ballhandler (34 percent shooting against them is the lowest field-goal percent against any NBA team) and at defending isolation (opponents shooting only 34 percent, third-lowest in the league). But they have struggled in transition defense: Opponents are shooting 59 percent against Miami in transition this season (the second-highest field-goal percentage allowed in the NBA). That could be an area for Oklahoma City and Durant to exploit.
Is Durant headed towards an all-time best season? He could be.
Durant is averaging over 30 points and shooting over 40 percent from the 3-point line. The only other player to average 30 points while shooting 40 percent from 3-point range over a full season is Michael Jordan (1995-96).
Durant has a 31.1 PER (Player Efficiency Rating) entering the day. If maintained, that would be the ninth-highest in a single season since the 1953-54 season (the first for PER tracking). Only three players have finished a season with a higher PER-- Jordan and Wilt Chamberlain three times each, and James twice. For more on Durant's PER, check out this video piece from Tom Haberstroh.
Durant's D
Consider that Durant is doing all of this scoring while simultaneously playing high-level defense.
In fact, over his last 10 games, his defense has been great too. Players he's defended shot 38 percent with him as the on-the-ball defender in the first 34 games of the season. In his last 11 games, that number has dipped to 29 percent shooting (32 for 112) when he's been the on-the-ball defender.
Don't forget about LeBron
Head-to-Head
Including Postseason
Although James is averaging a career-low 37 minutes per game and field goal attempts per game, he still has had his opportunity to maintain an MVP level of play.
James has posted comparable numbers to Durant this season. James and Durant are tied for the league-lead in points per shot attempt, but James has the edge in both assist and rebound percentage (Assist percentage is the percentage of teammate field goals a player assisted when he was on the floor. Rebound percentage is the percentage of available rebounds a player recorded while he was on the floor).
James has also kept busier than Durant. According to NBA.com's player-tracking data, James is averaging eight more touches per game (74.5 vs. 66.3). and possesses the ball about a minute-and-a-half more than Durant per game.
James enters the day shooting 58 percent from the field this season, boosted by shooting nearly 74 percent from in the paint.
However, he's in a little bit of a slump in one regard-- he's 6 for 26 from 3-point range in his last seven games.
If there's one player to watch besides those two ...
James' top sidekick on Wednesday should be Chris Bosh, who is averaging 24 points on 61 percent shooting over his last seven games, fueled by a recent run of success on mid-range shots.
Over the last seven games, Bosh is 28 for 44 on mid-range shots, including 15 of 18 from the right side of the floor.