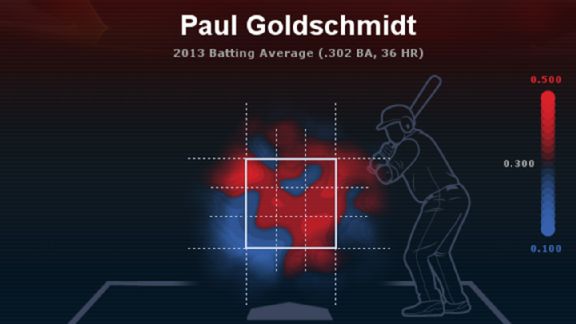 Paul Goldschmidt was a very tough hitter to get out in 2013.The Los Angeles Dodgers and Arizona Diamondbacks will open the 2014 baseball season at 4 a.m. eastern in the first major league baseball game played in Australia. This weekend's game dates of March 22 and 23 are the earliest in MLB history, beating the 2008 Tokyo series
There are plenty of intriguing statistical storylines for this contest. Let's run down a few of them.
For openers
The Diamondbacks have won seven straight Opening Day Games, tied with the Seattle Mariners for baseball's longest current Opening Day winning streak.
The Dodgers have won three straight season openers, winning last year in memorable fashion when Clayton Kershaw pitched a shutout and hit a go-ahead home run in eighth inning to snap a scoreless tie against the San Francisco Giants.
Kershaw will be making his fourth straight Opening Day start for the Dodgers. The only pitcher in franchise history with a longer streak is Don Sutton, who started on Opening Day seven years in a row for the Dodgers from 1972-78.
Kershaw is 2-0 in three Opening Day starts, with 19 innings pitched and no runs allowed. He is coming off a rough spring training, however, going 0-3 with a 9.20 ERA in 14⅔ innings pitched.
Kershaw has pitched well against the Diamondbacks the last two seasons, but with little to show for it. He's made seven starts against them in that span, but is 1-4, albeit with a 2.31 ERA.
Wade Miley will get the start for the Diamondbacks in place of injured lefty Patrick Corbin. Miley will be only the second lefty to start a season opener for the Diamondbacks, joining Randy Johnson, who started six.
Miley is 3-1 with a 3.59 ERA in eight career appearances (seven starts) against the Dodgers.
Matchup to Watch: Goldschmidt versus Kershaw
Diamondbacks first baseman Paul Goldschmidt emerged as a star last season, ranking among the National League's best hitters.
But Kershaw has given Goldschmidt a lot of trouble.
Goldschmidt is 2 for 20 with nine strikeouts against Kershaw, though he did homer against the Dodgers ace last season. The pitch that gives Goldschmidt trouble is Kershaw's slider. Seven of his nine strikeouts have come against that pitch.
Kershaw will try to keep the ball down against Goldschmidt, whose hot spot is the upper-third of the strike zone and above.
Goldschmidt hit 17 home runs against pitches to that area. No one else in the majors had more than 11.
What can Puig do for an encore?
Dodgers rightfielder Yasiel Puig made a huge impact in his rookie season, hitting .319 with 19 home runs and 11 stolen bases in 104 games.
Yasiel Puig 2013 Season
The Dodgers fortunes turned with the recall of Puig from the minor leagues last season. They went 64-32 in his 96 starts, 28-38 in all other games.
Whether Puig goes through a sophomore slump may depend on if he cuts down on his swings and misses. His 35 percent miss rate ranked sixth-highest among those with at least 300 plate appearances last season.
Did You Know?
Australia has produced 28 major league players. Among the most notable are current Tampa Bay Rays closer Grant Balfour and former Milwaukee Brewers infielder Dave Nilsson, who hit 105 home runs in eight seasons from 1992 to 1999.
Four native Australians played in the majors last season: Peter Moylan, Liam Hendricks, Travis Blackley and Balfour.