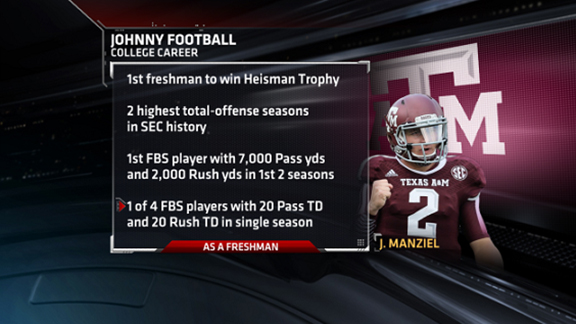 ESPN Stats & Info
There is no denying that Johnny Manziel was among the nation's elite college quarterbacks over the past two seasons.
Yet many experts are torn over his pro potential; depending upon the analyst, opinions range from Manziel being a top-five pick to not being worthy of a pick on the first two days.
In preparation for Jon Gruden's QB Camp show with Manziel (airing Thursday at 7 p.m. ET on ESPN) and his pro day Thursday, below is an in-depth breakdown of Manziel's greatest strength, his main area of improvement in 2013 and a cause for concern.
Greatest strength: improvisation
Manziel's highlight reel is filled with plays in which he is forced to improvise. Whether he is scrambling for a first down on third-and-long or running around the backfield before completing a deep pass, Manziel has a knack for making plays when things break down.
Johnny Manziel on scrambles
Last 2 seasons
In fact, over the past two seasons, Texas A&M gained 2,546 yards as a result of Manziel's scrambling. If you subtracted those yards from Texas A&M's total, the Aggies would have gone from the third-most yards in the nation to 26th.
On third down specifically, Manziel scrambled for 30 first downs over the past two seasons, 14 more than any other AQ player. He also converted 55 percent of his third-down passing plays when forced out of the pocket, which is more than twice the rate of the AQ average (25 percent).
As a result, Manziel led the Football Bowl Subdivision with a 97.0 third-down Total QBR since the start of last season.
Biggest improvement: pocket passing
Entering the 2013 season, Todd McShay broke down Manziel's film and noted that he needed to "upgrade his accuracy" and "become more disciplined as a pocket passer."
Manziel passing inside pocket
Last 2 seasons
In 2013, Manziel increased his completion percentage by almost 2 full percentage points (to 69.9 percent) despite increasing his average pass distance from 8.4 yards per attempt to 9.1 yards per attempt. Only three FBS quarterbacks had a higher completion percentage than Manziel's last season.
Looking just at passes from inside the pocket, Manziel led all AQ quarterbacks with a 73.5 percent completion percentage. While his interceptions were up last season, so too were his passing touchdowns and 20-yard completions from inside the pocket.
Largest concern: handling pressure
Some analysts have stated that drafting Manziel is a risk because many of the habits that he formed in college will not translate to the NFL.
Manziel has a unique ability to escape pressure with his legs, but at times he was too quick to run when he saw pressure in his face (see Merril Hoge's breakdown).
Manziel left the pocket on 76 percent of the plays in which he was under pressure last season, by far the highest percentage of any AQ quarterback and more than twice the rate of the AQ average (36 percent). Further, when under duress, Manziel completed just 44 percent of his passes, which is almost 10 percentage points lower than fellow draft prospect Teddy Bridgewater.
When opponents sent extra pass-rushers, Manziel had a hard time identifying and adapting to the blitz; he completed 60 percent of his passes when opponents blitzed, which was 14 percentage points lower than when they dropped seven or more players into coverage. To put that in perspective, every FBS quarterback rated in the top 150 by Scouts Inc. had a higher completion percentage against the blitz than Manziel last season.
On Thursday night, keep an eye out for these areas as Gruden breaks down the tape with Manziel.