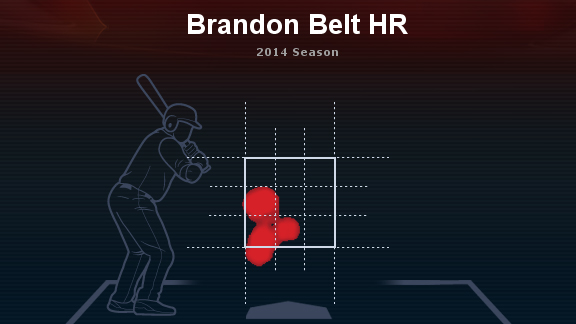 Brandon Belt is crushing inside pitches.In the first week of the season, it looks like Brandon Belt has made the adjustment necessary to be an elite player.
Belt hit his fifth homer in eight games to lift the San Francisco Giants to a win in their home opener on Tuesday. The Giants have now won six straight home openers, tied for their longest streak in franchise history.
Belt became the first player to hit five home runs in the Giants' first eight team games since Jose Cruz Jr. in 2003.
Most HR, 1st 8 Team Games
Since Giants Moved to SF in 1958
The home runs share a common bond. Four of them have come on inside pitches (pitches on the inner-third of the plate or closer to the hitter). Over the previous two seasons, Belt totaled only four home runs on those pitches.
Belt also showed himself not to be intimidated by AT&T Park, a venue in which he hit only six of his 17 home runs last season.
Belt closed 2013 strong, hitting .326 with seven home runs in 61 games after the All-Star Break.
His 2013 slashline (.289/.360/.481) was a near-mirror for another player in the ballpark on Tuesday-- Paul Goldschmidt's-- numbers in 2012 (.286/.359/490). Goldschmidt has been someone who has crushed inside pitches over the course of his career. Belt can now say he does as well.