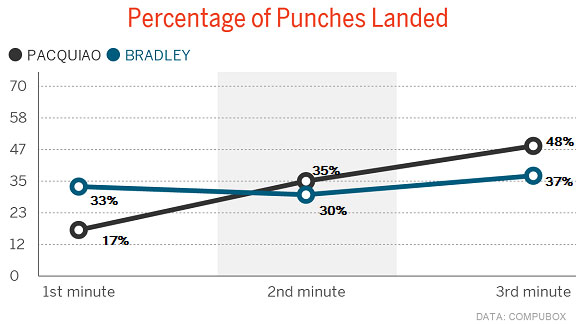 Manny Pacquiao came on at the end of the rounds against Timothy Bradley Jr. in their first meeting.The rematch between Timothy Bradley Jr. and Manny Pacquiao will take place Saturday night. And if the rematch is anything like the first meeting, there will be no shortage of drama.
The first fight
Pacquiao vs. Bradley I
Bradley defeated Pacquiao by split decision (115-113, 115-113, 113-115) on June 9, 2012. Many boxing analysts and journalists, however, believed Pacquiao had won the fight decisively based on Pacquiao's out-landing Bradley in 10 of 12 rounds.
The loss to Bradley ended Pacquiao's 15-fight winning streak.
In his next fight, against rival Juan Manuel Marquez in December 2012, Pacquiao was knocked out in the sixth round. It was Pacquiao's first defeat by knockout since 1999. Pacquiao rebounded against Brandon Rios, earning a unanimous decision victory in November.
Since then ...
Bradley has made two defenses of his WBO welterweight title since defeating Pacquiao.
Pound-For-Pound Rankings
His first defense was against Ruslan Provodnikov in a matchup named 2013 Fight of the Year by Ring Magazine. This past October, Bradley defeated Marquez by split decision. Bradley is ranked No. 3 on the ESPN.com and Ring Magazine pound-for-pound lists.
Pacquiao's two straight losses were the first back-to-back defeats of Pacquiao's career.
Power punching
Pacquiao is one of the most powerful punchers pound-for-pound in boxing. He landed 39 percent against Bradley in their first fight and ranks second among active fighters in average power punches landed per round (20).
In the first fight, Pacquiao out-landed Bradley 253-159, including 190-108 in power punches. Bradley was hit to the right side of the head 111 times, 44 percent of Pacquiao's offense.
On the other hand, Bradley attempted more jabs (1,275) than power punches (1,126) in his past three fights.
Statistical support provided by Compubox