The New York Yankees visit Fenway Park to take on the Boston Red Sox Wednesday night at 7 p.m. ET on ESPN.
This matchup features one of the league's hottest pitchers (Michael Pineda) against one that has struggled mightily (John Lackey).
Pineda has been great
Pineda has allowed two runs in 18 innings in his three starts this season, including a win over the Red Sox on April 10, in which he allowed one run in six innings.
Pineda is the first pitcher to allow one run or fewer and pitch at least six innings in each of his first three games with the Yankees since Kevin Brown in 2004. The only pitcher in the last 100 years to do so in his first four starts with the Yankees was Tommy John in 1979.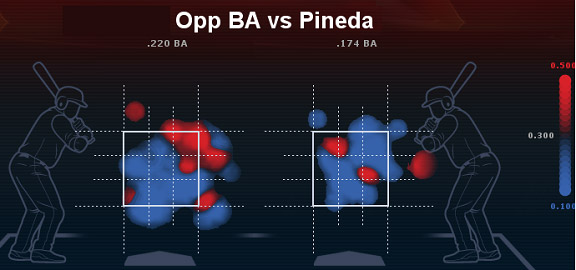 Pineda is succeeding because of an effective slider, a pitch that has netted nine of his 15 strikeouts. He's thrown the pitch for strikes at a 73 percent rate.
Pineda has a 6.97 ERA in two career starts vs Red Sox, his highest ERA versus any team he's faced more than once.
Lackey struggling
Lackey has a 5.25 ERA through 4 starts this season after posting a 3.52 ERA in 29 starts last year.
So what's happened?
John Lackey On Pitches Away
Past 2 Seasons
For starters, hitters have crushed his pitches on the outer-third or further of the plate this season, an area where Lackey thrived last year. The difference is noted in the chart on the right.
He's given up two opposite field home runs so far this year. He gave up four such home runs all of last season.
He's also really struggled to get righties out this season. They're hitting .368 and slugging .526 against him in 2014 after hitting .258 with a .463 slugging percentage in 2013.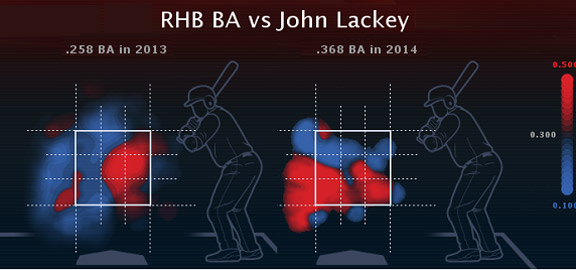 Defensive struggle for the Captain
Derek Jeter has not fared well according to defensive runs saved. He's got -6 defensive runs saved since the start of last season.
Jeter has posted negative defensive runs saved in 11 of the 12 seasons the stat has been kept, starting in 2003.
In eight of those 11 seasons he has cost his team more than 10 runs defensively. In fact, since the stat was first kept in 2003, only two players have cost their teams more runs defensively than Jeter has.
Should the Sox be worried?
The Red Sox sit at 9-12 this season. The Elias Sports Bureau tells us that Boston has never made the playoffs when starting under .500 in their first 20 games.
One area of concern for Boston has been in the leadoff spot. Red Sox leadoff hitters are batting .182, ranked 29th in the league. The Red Sox have had five different players start in the top spot in the order. Grady Sizemore has had the most leadoff plate appearances for Boston, but is hitting just .088 in that spot.
Last season the Red Sox were one of the best clutch teams in baseball. But it's been a different story so far this year.
Boston is batting .226 with runners on, ranked 25th in baseball. With runners in scoring position, the Red Sox are batting .207, ranked 27th. Last season Boston ranked 3rd in both of those categories.