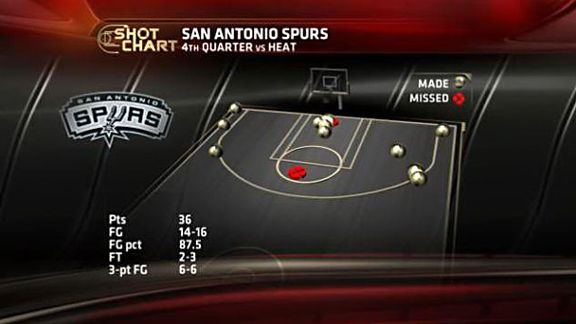 ESPN Stats & Info
The Spurs shot 87.5 percent from the field in the fourth quarter.
The Spurs win extended their NBA record to eight straight home playoff wins by at least 15 points. It was San Antonio's 11th straight Game 1 win, which ties an NBA record according to the Elias Sports Bureau (Celtics, 1985-87 and Bulls, 1996-98).
The Spurs 24.6 turnover percentage was the highest by a winning team in an NBA Finals game since 1996-97. San Antonio's 23 turnovers were its second most in any game this season.
Fourth Quarter Dominance
After three quarters, when Miami led 78-74, it seemed like they would pull out the win on the road.
But the Spurs dominated the Heat in the fourth quarter, outscoring Miami by 19 points. They ended the game on a 31-9 run.
The Spurs went 6-of-6 from 3-point range in the fourth quarter. Of those six attempts, five were uncontested.
The Spurs outscored the Heat 14-6 in the paint in the fourth quarter. The Spurs went 7-of-8 on those attempts.
The Heat failed to record a single point in transition in the fourth quarter after scoring 23 transition points in the first three quarters.
LeBron James in Game 1
2014 NBA Finals
LeBron James was far less aggressive attacking the basket in the second half. His average field goal distance in the first half was 5.2 feet. It dropped to 15.6 feet in the second half.
Dwyane Wade and James were a combined 2-6 in the paint in the second half. They went 9-13 in the first half.
Looking Ahead
Series Record After Losing Game 1
Notable Players
Don't count out LeBron and the Heat.
His teams are 6-4 in series in which they lose Game 1. That stacks up favorably to the records of the players with which he is most often compared.
But if James and the Heat want to continue that success, they will have to slow down San Antonio's shooting in Game 2.
The Spurs shot 66.7 percent (12-of-18) on catch-and-shoot jump shots in Game 1, tied for their best this postseason. The Heat were slow to close out on those attempts as 14 of the 18 were uncontested, with the Spurs going 10-of-14.