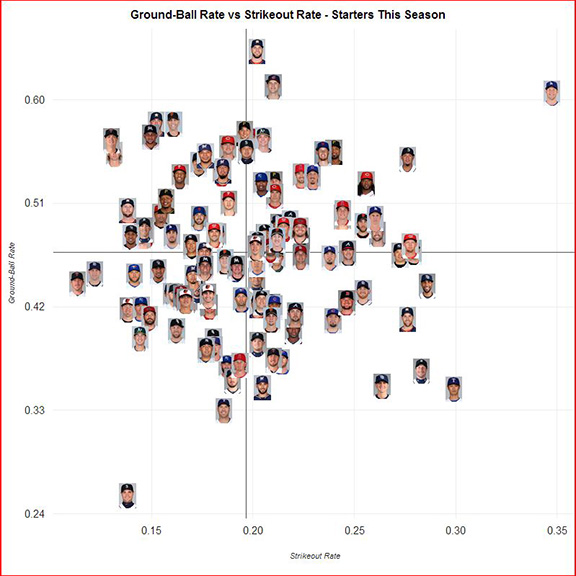 ESPN Stats & Information
Clayton Kershaw (top right) is in a league of his own this season.
Clayton Kershaw carries a career-best 28-inning scoreless streak into his start Friday against the Rockies, the longest single-season streak by a Dodgers pitcher since Orel Hershiser's MLB-record 59-straight scoreless innings in 1988.
While Kershaw has been arguably baseball's best pitcher for years, he's taken his game to another level so far this season, as Buster Olney noted in his column Thursday.
Kershaw entered this season as one of only three pitchers in National League history to win at least three consecutive ERA titles (Sandy Koufax, Greg Maddux).
While it's hard to fathom we hadn't seen Kershaw's best yet, Kershaw has substantially improved nearly every aspect of his game so far this season. Consider:
Clayton Kershaw
Possible Career Bests This Season
• He has struck out 34.7 percent of the batters he's faced this season (1st in MLB), compared to a career high is 27.2 percent in 2011.
• Kershaw has walked only 3.6 percent of the batters he's faced (6th in MLB), well below his career best is 5.7 percent in 2013.
• He is throwing 70.8 percent first-pitch strikes (2nd in MLB), nearly six percentage points above his career high of 64.9 percent in 2013.
• 59.8 percent of the balls in play against Kershaw have been ground balls (2nd in MLB); his career high is 48 percent in 2008.
• He has induced whiffs on 30.3 percent of the swings against him (2nd in MLB), versus a career high of 25.8 in 2012 and 2013.
• And Kershaw has induced hitters to chase on 37.1 percent of his pitches outside the strike zone (2nd in MLB), six percentage points above his career high 31.1 percent in 2013.
Perhaps most notable among Kershaw's development is the increase in ground balls. From 2008-13, Kershaw ranked 86th among 145 qualified starters in ground-ball rate (43.9 percent).
Among pitchers with 70 innings this season, he ranks second. His current combination of high strikeouts, low walks and lots of ground balls is unlike anything we've seen in recent years.
Since batted-ball data became available in 2002, there have been 1,138 individual seasons by qualified pitchers. He's currently just eight innings short of qualifying due to his early-season injury, but Kershaw's strikeout rate (34.7 percent) would rank first, his walk rate (3.6 percent) tied for 28th and his ground-ball rate (59.8 percent) 28th among those 1,138 pitcher seasons.
The highest strikeout rate by a pitcher with a ground-ball rate as high as Kershaw is 22.9 percent (Brandon Webb in 2003). See the scatter chart at the top of the article to see how unusual his season has been.
While some regression is likely, if Kershaw finishes near these totals we'll be witnessing a level of performance unlike anything we've ever seen.