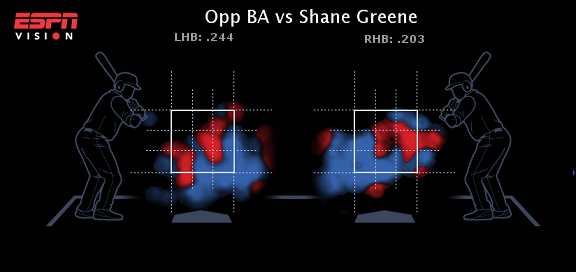 Shane Greene has been very effective when keeping the ball down.
The New York Yankees have the ability to make a trade for another starting pitcher if they wish to do so.
But the way Shane Greene has pitched for them, that might not be necessary.
Greene threw eight scoreless innings in a 1-0 win over the Detroit Tigers to cap a series in which the Yankees took three of four games.
Greene isn't an overpowering pitcher. He's struck out 29 in 37 innings after a five-whiff, three-walk game on Thursday, but he's found ways to get the job done.
That's meant getting ground balls and Greene has done so in bulk. He allowed three ground-ball hits to the Tigers, but also got 13 outs on the other 11 grounders (two of which resulted in double plays).
Greene has gotten a ground-ball rate of 60 percent or better in three of his six starts. In two of those, he held the opposition scoreless (the other, he allowed four runs in 5 2/3 innings against the Texas Rangers). In Greene's other three starts, he allowed eight runs in 16 innings.
Greene has located his pitches in a highly effective manner for inducing grounders and limiting solid contact. Opponents have an 11.5 percent hard-hit rate against him (based on judging of each batted ball as hard, medium or soft on video review), a nearly identical mark to impressive Mets rookie Jacob deGrom over the last month.
Greene has thrown 65 percent to the lower-third of the strike zone or below the knees. For reference, the American League leaders in that stat among those qualified for the ERA title are Felix Hernandez and Hisashi Iwakuma of the Seattle Mariners at 58 percent.
Thursday, his location was key in another respect. Greene got called strikes on 39 percent of the pitches Tigers hitters took (22 of 57), the best rate he's had in his six starts.
Looking ahead
It will be interesting to see if Greene stays in the Yankees rotation for the rest of the season.
If he doesn't, there may be room for him in the bullpen as a situational right-handed reliever.
Right-handed hitters are 12 for 59 (.203) with 20 strikeouts against Greene. He's induced misses on 35 percent of swings from righties, compared to a 12 percent miss rate (and a .244 batting average) from left-handed hitters.