Wednesday, April 21, 2010
FanGraphs: A different side of Kazmir

---
By Dave Cameron, FanGraphs

The Los Angeles Angels have a lot riding on the left arm of Scott Kazmir, as they try to win what is expected to be a very competitive AL West race this year. His first start of the season was a disaster, giving up six runs in four innings against the Yankees, but he was much more impressive against the Tigers last night. What made this performance noteworthy is that he succeeded by scrapping the pitch that helped make him a star.

As you can see in the graph below (from the indispensable Brooks Baseball), Kazmir was essentially a two-pitch guy last night. The Pitch f/x system, which tracks the ball from the mound to the plate with three high speed cameras, recorded 95 pitches from Kazmir, of which 74 were fastballs and 19 were change-ups. His famous slider, of which he threw 20 percent of the time last year, was left in the dugout.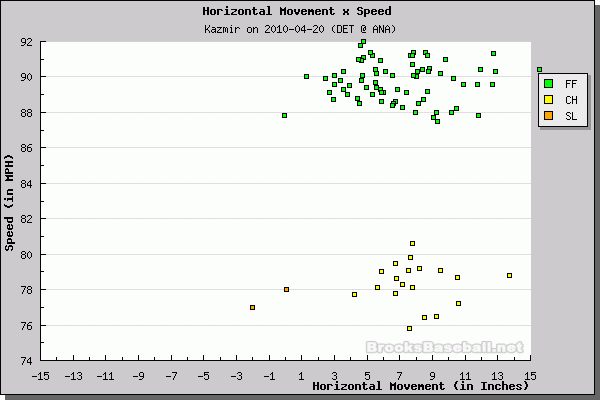 As Dave Allen showed in a study he did last year, sliders have an extreme platoon split, meaning that they are highly effective against same-handed hitters but nearly worthless against opposite-handed hitters. The Tigers threw a line-up of eight right-handed bats at Kazmir last night, so he was facing a steady dose of hitters against whom his slider would not have been effective.

He responded by featuring his fastball and change-up in lieu of the breaking ball, and was able to keep Detroit off-balance by changing speeds with two pitches that look pretty similar coming out of his hand. While he only got one swinging strike with the change-up, he recorded 15 misses with his fastball. Given that his velocity is
likely never returning to where it used to be -- he averaged just 89.7 MPH on his fastball last night -- Kazmir will need to rely on deception to make his fastball work, and he did that well last night.

Dave Cameron is a writer for FanGraphs.


---