Friday, November 18, 2011
Beamer's won many games, but no title

---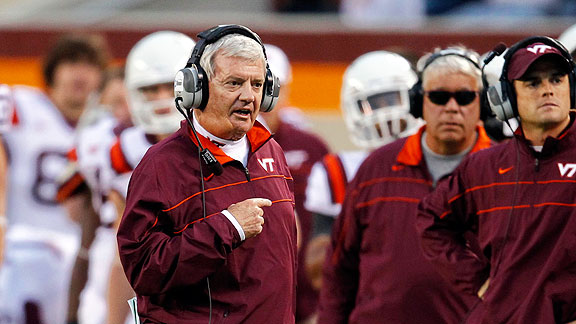 Bob Donnan/U.S. PresswireFrank Beamer (center) holds a noteworthy college football distinction.


Every Friday during college football season, we're taking fans' questions and answering them on our blog. You can send questions to our Twitter account @ESPNStatsInfo. Be sure to follow so you can tweet us your questions (facts, not opinions) and we'll answer the best of the best.

Which active FBS or FCS coach has the most wins without winning a National Championship? -- asked by @matthewvh14

Virginia Tech Hokies coach Frank Beamer is the winningest active FBS coach, with 250 career wins after Thursday's victory over North Carolina, but he's never won a national title.

The Hokies lost to Florida State in the national title game, the Sugar Bowl in 1999, under Beamer.

When was the last time Michigan had two 1,000-yard rushers in the same season? -- asked by @joemichigan9



The only time Michigan has had two 1,000-yard rushers in the same season was 1975. Gordon Bell rushed for 1,390 yards and Rob Lytle rushed for 1,040 yards. This season, Denard Robinson has 910 yards and Fitz Toussaint has 753.

When was the last time Penn State won a football game without Joe Paterno as the head coach? Who did they beat? -- asked by @derek_kim

Penn State's last win without Joe Paterno as its head coach was a 19-7 win over Maryland on Dec. 4, 1965.

What's the oldest trophy game in the country? -- asked by @sean_weaver57

It's hard to tell which trophies are actually the oldest. For example, Minnesota and Wisconsin play for Paul Bunyan's axe. The series began in 1890, but the trophy didn't come along until the 1940s.

As for the oldest rivalry by two teams to play for a trophy, that distinction goes to Miami of Ohio vs Cincinnati, who play for the Victory Bell in a series that dates back to 1888.


---