Monday, December 19, 2011
Is Rollins on a defensive decline?

---
By Mark Simon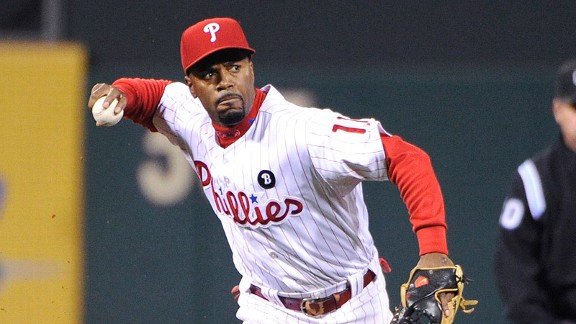 Howard Smith/US PresswireJimmy Rollins doesn't rate as well as he used to in advanced defensive metrics, but ranks highly by systems of video review.


It was not just Jimmy Rollins offensive decline that may have scared some teams off from signing him to a long-term deal.

Statistically speaking, he's had some issues on the defensive side as well.

Rollins signed a three-year, $33 million contract with the Philadelphia Phillies over the weekend after being unable to secure a better deal in free agency.

Rollins hasn't fared well in advanced defensive metrics in the last three seasons.

Let's take a closer look.

Since 2009, Rollins has been credited with three Defensive Runs Saved. He averaged 11 Defensive Runs Saved per season from 2003 to 2008.

In 2011, Rollins finished with -2 Runs Saved, meaning his defense cost the Phillies two runs while he was in the field.

Baseball Info Solutions (BIS) charted Rollins as being well below average at fielding balls hit up the middle and to the shortstop-third base hole.

In fact, combining those two areas, Rollins ranked -15 last season, meaning he gave up 15 more hits than the average shortstop would have against the same combination of batted balls hit with him on the field.

However, Rollins still has some positive defensive attributes.

Rollins had the second highest rating among shortstops in fielding balls in the areas in which shortstops turn at least 50 percent of batted balls into outs.

Rollins turned nearly 86 percent of batted balls into those areas into outs, considerably better than the major league average of 82 percent.

His surehandedness also comes through in video review. Phillies general manager Ruben Amaro has been quoted as saying he prefers the eye test to statistical analysis. Rollins still passes the eye test in a number of ways.

BIS provides ESPN Stats & Information with data compiled by its video scouts throughout each season.

Their group watches every play of every game, tags plays into more than 80 categories- approximately 30 types of Good Fielding Plays (GFPs) and 50 types of Defensive Misplays & Errors (DM&E).

Good Plays (GFP) would mostly be Web Gem-nominee type, along with things such as double play turns with the baserunner barreling in to the relay man.

Defensive Misplays & Errors (DM&E) are plays in which a fielder makes a mistake, one that has a consequence for his team. One example would be failing to complete a double play due to an unforced bobble (a fielder wouldn't get an error).

Rollins may not be a league leader in some of the things he used to be, but he led all shortstops in terms of playing mistake-free baseball.

Rollins had only 23 Defensive Misplays & Errors last season. He averaged a DM&E every 52.5 innings, the best rate among shortstops in 2011, considerably better than fellow free agents Rafael Furcal (one every 22.7) and Jose Reyes (27.8).

Rollins also was credited with 39 GFPs. His ratio of Good Plays/Misplays was 1.7-to-1, good for fifth-best among all major league shortstops.


---