Sunday, January 15, 2012
MLB roundup: Scott, Maholm, Wood

---
By Mark Simon and Katie Sharp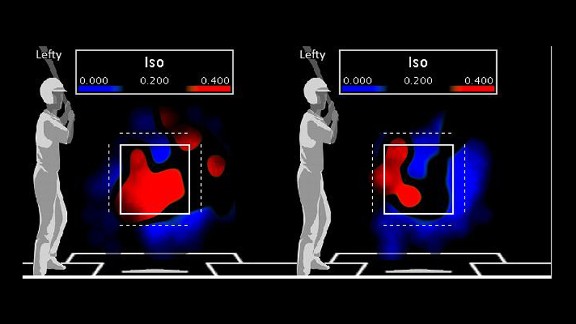 Left: Luke Scott's power hot/cold zones vs right-handers (2010)
Right: Scott's power hot/cold zones vs right-handers (2011)
Click here to create your own Scott heat maps

Luke Scott: Signs one-year deal with Tampa Bay Rays
The player that the Rays hope they signed is the Scott of 2010, the one who prior to shoulder surgery in 2011, was one of the best power hitters in baseball against right-handed pitching.

That season, Scott was a fastball masher. His batting average (.372) and OPS (1.130) against fastballs, cutters, and sinkers from right-handers were each sixth-best in baseball, alongside the likes of Josh Hamilton and Joey Votto.

He was arguably the best hitter in baseball against hard stuff from righties in the lower-third of the strike zone and below.

He netted 41 hits and made only 37 outs when he made contact against such pitches. That included 11 doubles and five home runs. His miss rate of only 13 percent was three percentage points below the league average.

Scott's numbers against right-handed pitching in 2010 represent a significant upgrade from those that the man he's replacing at designated hitter, Johnny Damon, put up against right-handers last season (see chart on right).

-- Mark Simon

Paul Maholm: Signs one-year deal with Chicago Cubs
The 29 year-old Maholm, who rebounded from a dismal 5.10 ERA in 2010 to record a career-best 3.66 ERA in 2011, faces a stiff challenge in trying to repeat that breakout performance in Chicago.

Maholm is a worm-burning specialist, posting a ground-ball rate of over 50 percent in each of the last three seasons. Last season, he was most successful at getting outs on grounders up the middle.

That trend was hardly surprising given the defensive strengths of his two primary middle infielders, Ronny Cedeno and Neil Walker.

Cedeno ranked as the third-best shortstop turning batted balls into outs last season with a Plus-Minus rating of +15 overall. He was at his best on balls hit to his left, where he converted nine more balls into outs than the average shortstop.

Walker was below average overall in making outs, but most of his problems were in getting to balls hit to the first base/second base hole (-18). When going after balls hit up the middle, he converted an incredible 24 more of them into outs than the average second baseman.

Maholm now joins a Cubs team that is expected to have Starlin Castro at shortstop and Darwin Barney at second base in 2012. Castro was one of the worst defensive shortstops in the league and his biggest shortcoming was on balls hit up the middle, where he turned eight fewer balls into outs.

Barney ranked in the middle-of-the-pack defensively but his only strength was in getting to balls hit to the first base hole (+4). When going to his right on balls up the middle, Barney was below average, making two fewer plays than the average second baseman.

-- Katie Sharp

Kerry Wood: Signs one-year deal with Chicago Cubs
Wood got hit a bit harder in 2011 than he did in 2010 and much of the damage was done against pitches over the middle-third of the plate, height-wise.

Of the 16 extra-base hits Wood allowed last season, 13 of them came on pitches to that area. He only allowed three extra-base hits on pitches to that area in 2010.


Wood

Yet there is optimism for the Cubs with this deal as Wood showed considerable improvement in one critical area – limiting walks.

He cut his walks per nine innings nearly in half and much of the decline came against lefties. After walking nearly one-quarter of the lefties he faced in 2010, Wood walked only one out of every 10 opposite-handed batters in 2011.

Wood made the biggest jump in his ability to throw strikes against lefties when the count was full. In 2010, fewer than two-thirds of the 28 pitches he threw on a 3-2 count were strikes; in 2011, he threw 27 of his 29 3-2 pitches for strikes.

Because of that, he walked just two of the 19 lefties that reached full counts last season, after allowing more than half (10 of 19) to take a base in 2010.

-- Mark Simon and Katie Sharp


---