Wednesday, August 29, 2012
Alvarez owns Cardinals, but no one else

---
By Mark Simon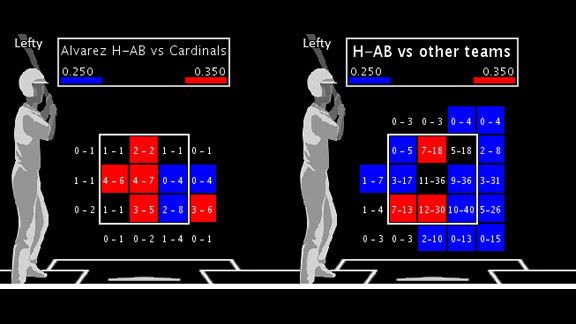 Everyone but the Cardinals seems to know how to get Pedro Alvarez out.

There is perhaps no player in baseball whose performance against one team has been as significant this season as Pittsburgh Pirates third baseman Pedro Alvarez has been against the St. Louis Cardinals.

With a homer and three RBI in Wednesday's nationally-televised win, Alvarez now has seven home runs and 23 RBI against the Cardinals this season (including a 19th-inning shot in their last matchup). He's the first player from any team to hit those combinations in a season against the Cardinals since the "Baby Bull," Greg Luzinski, did so for the 1977 Philadelphia Phillies.

The Elias Sports Bureau tells us that the last player with at least seven homers and 23 RBI against a team was Evan Longoria for the 2009 Tampa Bay Rays against the Boston Red Sox.

He's the first Pirates player to hit both of those plateaus against the Cardinals since Ralph Kiner in 1950.

The chart on the right shows Alvarez's performance this season against the Cardinals compared to the rest of the major leagues. He has nearly half as many RBI in about 15 percent of the games.

In fact, Alvarez has struggled so much against other opponents that he leads the National League and ranks second in baseball in the highest percentage of plate appearances to end in a strikeout (32 percent).

But now he's on a roll, and maybe so are the Pirates, who had back-to-back shutouts against the Cardinals for the first time since 1992.

How is Alvarez doing this?

The Cardinals have pitched Alvarez inside a little bit more often than other teams (38 percent of Cardinals pitches have been on the inner-half of the plate or closer to him, compared to 31 percent from the rest of baseball). Alvarez has taken full advantage of this.

In the series, Alvarez saw 21 pitches on the inner-half or closer and pounded seven hits against them, including two home runs on Tuesday and the home run on Wednesday.

The Cardinals were lulled into this approach from their success working Alvarez in that area earlier this season.

In their previous series against the Pirates in St. Louis, Alvarez also saw 21 pitches on the inner-half and had no hits.

In fact, prior to this series, Alvarez hadn't hit a home run on a pitch to that location since July 20. He had missed on 23 of his past 62 swings (37 percent) on inner-half-or closer pitches in that span.

What's next?
The unfortunate thing from Alvarez's perspective is that he has no more games left against the Cardinals in the regular season.

But the schedule does soften for the Pirates, whose next three series are against the Milwaukee Brewers, Houston Astros, and Chicago Cubs.

Alvarez has just two home runs in 92 at-bats against those three teams in 2012.


---