Thursday, August 8, 2013
SEC QBs top challenge: Mountain West

---
By Sharon Katz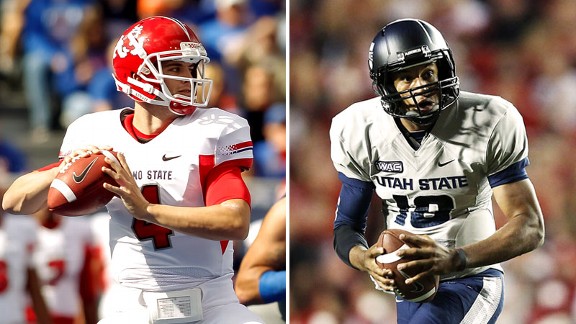 Derek Carr (left) and Chuckie Keeton (right) are among the top returning quarterbacks in the MWC.


The SEC returns 11 of 14 starting quarterbacks, including the reigning Heisman Trophy winner, the winner of two-straight BCS National Championships and the player on pace to break every major SEC passing record.

Yet, the SEC may not be returning the best crop of quarterbacks in the country. That honor could belong to the newly-revamped Mountain West Conference.

Nine of the 12 teams in the Mountain West Conference return their starting quarterbacks. Six of those quarterbacks were named to the Manning Award watch list, the most from any conference.

The Manning Award Watch List names the top 30 returning quarterbacks based on their 2012 Total QBRs.

Unlike other traditional quarterback stats, Total QBR uses all of a quarterback's plays (passing, rushing, sacks, fumbles and penalties) and accounts for the context of the game (down, distance, score).

As a result, dual-threat quarterbacks, such as Nevada's Cody Fajardo, are graded on both their passing and rushing abilities.

Of these top 30 quarterbacks, six will be in the Mountain West Conference next season – David Fales (San Jose State), Chuckie Keeton (Utah State), Fajardo, Brett Smith (Wyoming), Joe Southwick (Boise State) and Derek Carr (Fresno State). No other conference had more than five players named to the list.

Unlike traditional statistics, Total QBR accounts for the strength of opposing defenses. As a result, the SEC quarterbacks are rewarded for facing tougher competition.

Even with this opponent adjustment, the top five returning quarterbacks in the Mountain West Conference averaged almost exactly the same Total QBRs as the top five returning quarterbacks in the SEC. They also averaged more total yards per game and accounted for more of their team's total offense than the group of SEC QBs.

The top three quarterbacks in the SEC –- Johnny Manziel, A.J. McCarron and Aaron Murray – are in a class of their own, but after Murray there is a big drop off in the next group of SEC passers.

Connor Shaw, the SEC's fourth-ranked quarterback (23rd ranked returner overall), is coming off an injury and will likely split snaps with backup Dylan Thompson next season.

In comparison, the Mountain West Conference has five of the top 16 returning quarterbacks, and half of its quarterbacks rank in the top 25.

The additions of Fales and Keeton to the Mountain West Conference add depth. Fales completed an FBS-best 72.5 percent of his passes last season, and Keeton ran for 619 yards and eight touchdowns while leading the Aggies to 11 wins.

They will look to dethrone Carr, the unanimous first-team All Mountain West Conference selection who threw 37 touchdowns and seven interceptions last season. Southwick, Fajardo and Smith will all look to build upon strong 2012 seasons and contend for the title in the toughest quarterback conference in the country, according to QBR.


---