Saturday, August 10, 2013
Results finally come for Reddick

---
By ESPN Stats & Information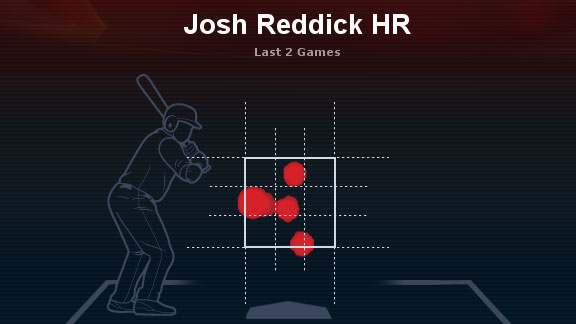 Josh Reddick hit as many HR in 2 games as he had all season prior to Friday.


Oakland Athletics outfielder Josh Reddick was due, maybe not for a two-game stretch like this, but for some good things to happen when he hit the ball hard.

Entering Friday's game with the Blue Jays, Reddick was hitting .203 with five home runs. However, our video-review source noted that 25 percent of the balls Reddick was making contact on were "hard-hit."

That 25 percent rate is basically a match for two very prominent players this season-- Yasiel Puig and Justin Upton.

But while Puig and Upton have thrived to different degrees, Reddick was in a season-long slump until Friday night.

The difference was that when Reddick did hit the ball hard, the ball was going far, but not going out of the park.

Of the first 52 times that he hit the ball "hard" in the air, only five were home runs.

By comparison, Puig had 11 home runs on the first 37 hard-hit balls he hit in the air.

Then came the perfect storm-- a hitter who was due in Rogers Centre, a very homer-friendly ballpark (Oakland's cavernous ballpark rates particularly unfriendly).

The milestones
Reddick repeatedly hit the ball hard the last two days, and the ball went out of the park five times.

In doing so, he tied a major-league record with five home runs in a two-game span. He's the second player to hit five in two games in the last two seasons, joining Josh Hamilton, who did so last year.

Reddick also joined Mark McGwire as the only Athletics player with five homers in two games. McGwire did it in both 1987 and 1995.

Reddick is the third player this season with back-to-back multi-homer games (Jayson Werth, Ryan Raburn).

On Friday, Reddick met power with power, hitting a pair of homers against pitches with speeds 95 mph or faster.

Prior to Friday, he had only one hit all season against pitches that were 95-plus.

He also homered against a changeup both Friday and Saturday. Those were his first two homers against changeups all season.

Looking ahead
The major-league record for home runs in a three-game span is seven, set by Shawn Green for the 2002 Los Angeles Dodgers. The AL record of six has been done five times, most recently by Los Angeles Angels of Anaheim outfielder Jeff DaVanon in 2003.

Reddick could be the second Athletics player with six homers in three games, joining Gus Zernial, who had half a dozen in 1951.

He'll be facing knuckleballer R.A. Dickey. Reddick has never faced Dickey in his career. Reddick has faced one knuckleballer in the last five seasons- Steven Wright, who struck him out and allowed an opposite-field line-drive double.

But one thing working to Reddick's advantage is this: Dickey has allowed 18 home runs in Rogers Centre this season, tied with Chris Tillman for the most by any pitcher in his home ballpark.


---