Tuesday, September 10, 2013
Bryce Petty, Baylor among best in Week 2

---
By Sharon Katz, ESPN Stats & Info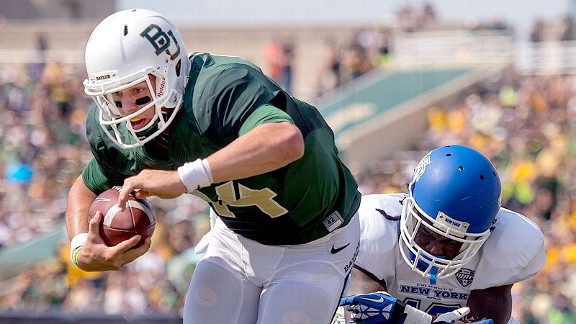 Jerome Miron/USA TODAY SportsBryce Petty had a near-perfect game in Week 2.

Week 2 of the 2013 college football season was filled with thrilling matchups of teams looking to make a statement. Miami stalled Florida in the red zone to win its first game over an AP Top-15 team since 2009, Georgia defeated South Carolina for the first time in four seasons to grab hold of the SEC East, and Michigan won its fourth straight game over Notre Dame at home in their final meeting (for now) at the Big House.

But which individual and team performances were the most impressive of Week 2?

With the help of ESPN's new CFB metrics (see explanations here), ESPN Stats & Information will break down the weekend and look ahead to next weekend's matchup of Texas A&M and Alabama.

Best Individual Performances

Bryce Petty (99.72 Total QBR) posted the highest Total QBR by a Baylor quarterback with at least 20 action plays in the last 10 seasons. Before being pulled early in the third quarter against Buffalo, Petty completed 13-of-16 passes for 338 yards and two touchdowns. His 21.1 yards per attempt was the highest average in any game in the last 10 seasons.

Travis Wilson (99.66 Total QBR) had the eighth-highest single-game Total QBR among quarterbacks with at least 25 action plays in the last 10 seasons, as the Utes put up 70 points (against Weber State) for the first time since 1973.

Zach Mettenberger (98.6 Total QBR) had a career-high Total QBR in LSU's 56-17 victory over UAB. In two games this season, Mettenberger has a Total QBR of 88.0; he didn't post a Total QBR of 88 in any of his 13 games last season.

J.W. Walsh (98.1 Total QBR) completed 24-of-27 passes for 326 yards and four touchdowns in Oklahoma State's win over UTSA. Since the start of last season, Walsh has an 86.0 Total QBR, which ranks second to Johnny Manziel among players with at least 200 action plays.

Marcus Mariota (97.0 Total QBR) had his fifth career game with a Total QBR of more than 95 in Oregon's 59-10 win against Virginia. Mariota and Arizona State quarterback Taylor Kelly (who had a 96.3 Total QBR on Thursday) are the only quarterbacks with at least five such games since the start of the 2012 season.

Best Team Performances

Offense –- Baylor: Baylor set a school record for points (70) and yards (781) in a game. The Bears' offense contributed +39.7 expected points added (EPA) in the game, meaning they contributed about 40 net points towards their 57-point victory. It did not take Baylor long to score when it got the ball, with all 10 of its touchdown drives coming in 2 minutes or less.

Defense –- Oregon: Oregon is not typically known for its defense, but since the start of 2012 season, the Ducks have the sixth-highest defensive EPA in the nation. Turnovers have been the key. Oregon leads the FBS with 46 turnovers forced during that time. On Saturday it was no different, as the Ducks forced Virginia into four turnovers and added 29 expected points from defense.

Special Teams -– Boise State: Boise State had four punts land inside Tennessee-Martin's 20-yard line. The Broncos' special teams also forced a fumble on a kickoff that led to a 15-yard touchdown drive. Overall, Boise State's drives began 20 yards closer to the goal line than Tennessee-Martin's drives, as the Broncos added the most expected points (+14.3) of any special teams unit in Week 2.

Looking ahead to Week 3


Scott Halleran/Getty ImagesJohnny Manziel helped lead Texas A&M to an upset of Alabama last year in Tuscaloosa.


The possible game of the year will take place on Saturday as Alabama heads to College Station to take on Texas A&M.

In last year's meeting, Johnny Manziel ran wild against the Tide, gaining 94 yards on scrambles and throwing for an additional 78 yards when outside the pocket. He posted a 95.4 opponent-adjusted Total QBR, the third highest allowed by Alabama in the Nick Saban era.

Taking into account Manziel's efficiency and usage (he was involved in 54 action plays), Manziel's opponent-adjusted points above average was the highest allowed by a Nick Saban-coached Alabama defense.

Points above average is a stat that looks at the net points contributed by a quarterback above what an average quarterback would have posted. It accounts for the strength of the opponents' defense, in addition to the quarterback's efficiency and usage.

Look for Saban to adjust accordingly. No quarterback has posted an above average (above 50) Total QBR against Alabama in multiple games with Saban as the Tide's head coach.


---