Tuesday, October 22, 2013
How do you pitch to Carlos Beltran?

---
By Mark Simon & John Fisher

The Stats & Information team offers a look at a key hitter on each World Series team and uses Next-Level data to analyze how he might best be approached by opposing pitchers. This article looks at Carlos Beltran

As a right-handed hitter
Beltran will see left-handed pitching in Games 1 and 5 when the Red Sox start Jon Lester. He'll also be a prime candidate to see lefties like Craig Breslow and Franklin Morales given his .252/.281/.448 slashline from the right side (combining regular and postseason) in 2013.

Attackable inside with the hard stuff
In years past, Beltran creamed inside pitches as a right-handed hitter, but that hasn't happened as much in 2013.

The chart on the right shows why you'll likely see Lester do something he likes to do to righties: Jam them inside with his fastball and his cutter.

Later in the count, Beltran may see Lester's changeup. Beltran is adept at taking the outside changeup and pulling it into left field for soft singles.

The good news is that the changeup will likely keep the ball in the park. Beltran has only one homer against the 191 changeups he's seen from lefties over the last two seasons.

As a left-handed hitter
How could the Red Sox attack Beltran when he hits from the left side, where he's hit .315 this season (combining regular season and postseason play), and hit 13 of his 16 career postseason homers?

Stay away and get down
Beltran likes the ball inside, especially up-and-in, and his two home runs against the Pirates in the NLDS were on balls middle-in and up-and-in. He also doubled off a 97-MPH fastball from Gerrit Cole that was nearly in the same spot.

His home-run power as a lefty has moved more inside this season. Of his 17 homers from the left side this season (including playoffs), 12 have come on pitches over the inner half of the plate. From 2009 to 2012, only 14 of his 44 homers from the left side were against inner-half pitches.

Matchup to watch: Uehara vs. Beltran
The split-fingered fastball of Koji Uehara is one that might be too tempting for Carlos Beltran to pass up.

Beltran has seen 164 split-fingered fastballs over the last three seasons, and they've given him a fair amount of trouble. Beltran has chased nearly half of the splitters he's seen from righties that were out of the strike zone.

That helps to explain why he's made 35 outs against the pitch and reached via hit or walk only eight times.

The best defense
Beltran is a hitter against whom the Red Sox would be well-served to shift when he's hitting left-handed.

Of his 125 ground balls as a left-handed hitter this season, only nine were classified in our batted-ball location system as "opposite-field."

At the very least, the third baseman can play off the line, allowing the shortstop to cheat close to second base or play up the middle.

Beltran is also the rare right-handed hitter against whom a shift is a good idea.

Why?

Over the last two seasons, he's hit 91 ground balls from the right side. All but nine of them were to the left of the second base bag.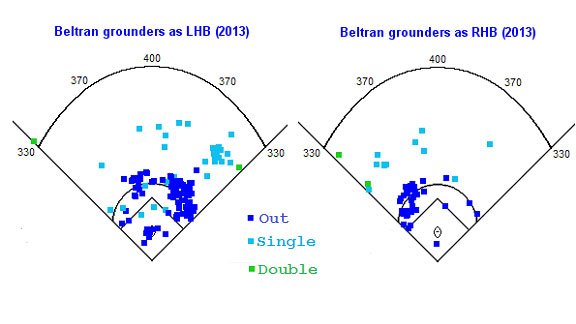 ---