Tuesday, November 26, 2013
Reynolds, Fresno State among week's best

---
By Sharon Katz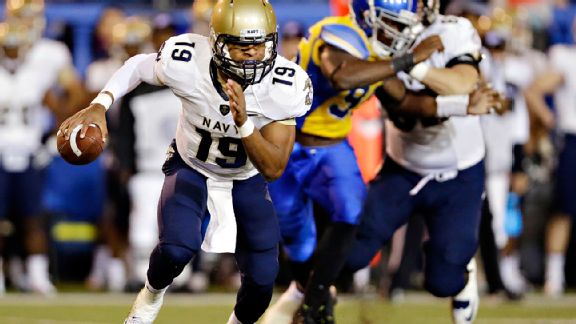 AP Photo/Marcio Jose SanchezKeenan Reynolds ran all over the field for Navy this weekend.

Week 13 had its share of big-time performances as Navy's Keenan Reynolds rushed for an FBS quarterback-record seven touchdowns, Wyoming's Brett Smith accounted for a FBS single-game high eight touchdowns and Fresno State's Derek Carr threw for a school-record seven touchdowns.

With the help of ESPN's new college football metrics (see explanations here), ESPN Stats & Information takes a look back at the best performances of Week 13 and ahead to the chances of Alabama, Florida State and Ohio State remaining undefeated.

Best Individual Performances
In the past, this article has used opponent-adjusted QBR to rank the best individual performances of the week. Total QBR is a rate stat that measures efficiency. In Week 13, Kevin Hogan (98.0), Clint Chelf (97.8) and Braxton Miller (97.1) had the top three opponent-adjusted QBRs of Week 13.

Points above average (PAA) is another stat that can be used measure the top individual performances. PAA totals the number of points that a player contributes to his team's net scoring margin above what an average quarterback would have.

PAA is a counting stat (rather than a rate stat) that accounts for both efficiency and the number of plays. If a quarterback has a high PAA, he was likely efficient and involved in a lot of plays. Week 13 featured four of the top 10 single-game PAAs of the season:

Keenan Reynolds (19.0 PAA) rushed for seven touchdowns in Navy's 58-52 triple-OT win over San Jose State on Friday night. Reynolds set an FBS record for rushing touchdowns by a quarterback in a game, a mark previously held by Dee Dowis (Air Force, 1989) and Craig Candeto (Navy, 2002).

Brett Smith (18.6 PAA) threw for a single-game school-record seven touchdowns and 498 yards while leading Wyoming to a 59-56 overtime win against Hawaii on Saturday. Smith also ran for 142 yards and a touchdown. Smith's 640 yards of total offense and eight touchdowns are the most by an FBS player in a game this season.

Marquise Williams (16.4 PAA) tied the school record for passing touchdowns (five) and was third in single-game total offense (469 yards) by halftime in North Carolina's 80-20 rout of Old Dominion. He helped the Tar Heels rack up a school-record 721 total yards of offense in a game that did not even last 60 minutes.

Derek Carr (15.8 PAA) threw for 522 yards and a school-record seven touchdowns in Fresno State's 69-28 win against New Mexico. He had the third-most passing yards and tied Brett Smith for the most passing touchdowns in a game this season.

Best Teams Performances

Offense – Fresno State added 48.7 expected points to its net scoring margin on offense in its 69-28 win against New Mexico, the highest offensive EPA in a game this season. The Bulldogs racked up a school and league record 822 yards of total offense and averaged 9.9 yards per play.


Defense– Oklahoma State contributed 17.5 expected points to its net scoring margin on defense in its 49-17 win against Baylor. The Bears were averaging 61.2 points and 684.8 yards per game entering the game, but were held to 17 points and 453 yards by the Cowboys. Oklahoma State is the first team to hold Baylor to a below-average offensive efficiency rating in a game in the last three seasons.


Special Teams – Nebraska added 12.5 expected points on special teams in its 23-20 win against Penn State. The Cornhuskers blocked a punt and returned a kickoff 99 yards for a touchdown. They were also the beneficiaries of a missed extra point in the first quarter and missed field goal in overtime.

Looking ahead to rest of the season
After Baylor lost to Oklahoma State on Saturday, there are three remaining undefeated teams from BCS AQ conferences vying for a spot in the BCS National Championship. Alabama, Florida State and Ohio State are all deserving of a spot in the title game, but at least one will be left out.

What are the chances that all three teams will be undefeated entering bowl season? According to projections run by Analytics Specialist Alok Pattani, there is a 29 percent chance that all three teams will be undefeated after their conference championships.

Alabama has the toughest remaining schedule. The Tide have to play on the road at Auburn on Saturday, and if they win, against either Missouri or South Carolina in the SEC Championship. There is a 46 percent chance that the Tide win both of those games.

Florida State has the easiest remaining schedule, and there is an 87 percent chance that it wins its remaining two games.

So, while Ohio State appears to be on the outside looking in, there is a 60 percent chance that either Alabama or Florida State does not win out. Keep these projections in mind as Alabama heads to Auburn, Florida State travels to Florida (Noon ET, ESPN) and Ohio State goes to Michigan (Noon ET, ABC) on Saturday.


---