Tuesday, January 28, 2014
Durant continues a 40-point barrage

---
By ESPN Stats & Information

The 40-point game has become a rather ordinary NBA occurrence in the past week.

Kevin Durant's amazing 41-point effort in the Oklahoma City Thunder's comeback win against the Atlanta Hawks on Monday was the eighth such game in the past seven days.

The Elias Sports Bureau shared that it was the first time there have been this many 40-point games in a seven-day span since the first week of November 2009.

Let's review this week in 40-point excellence.

Tuesday: Kevin Durant, 46 & Rudy Gay, 41
Durant started this run with a 46-point game in a 105-97 win over the Portland Trail Blazers.

It was actually the fourth time in a 10-game span that Durant scored 46. The Elias Sports Bureau noted that Durant and Kobe Bryant are the only two players since the NBA and ABA merged (1976-77 season) to have such a streak.

Gay tallied 41 in a 114-97 win over the New Orleans Pelicans. He joined Chris Webber as the only Dallas Kings players in the past 25 seasons to have a game with at least 40 points, eight rebounds and five assists.

Wednesday: DeMar DeRozan, 40
DeRozan

DeRozan set a career high for points in a game, as his 24-point second-half helped propel the Toronto Raptors past the Sacramento Kings, 93-85.

DeRozan entered the day shooting 40 percent from the field in his past eight games, but he was 15-for-22 in this one.

Thursday: LaMarcus Aldridge, 44
Aldridge outscored the Denver Nuggets 15-8 by himself over the final 6:33, lifting the Portland Trail Blazers to a 110-105 win. Aldridge finished with a career-high 44 points, along with 13 rebounds and five assists. The last Trail Blazers player to have at least 44 points, 10 rebounds and five assists in a game was Clyde Drexler, against the Knicks in 1989.

Friday: Carmelo Anthony, 62 & Marcus Thornton, 42
Anthony's 62 points were a Knicks record, a Madison Square Garden record and the most in a game since Kobe Bryant scored 65 on March 16, 2007, against the Trail Blazers.

Thornton

Anthony became the first player to finish with at least 60 points and play a turnover-free game since turnovers were first recorded in the 1977-78 season.

Less heralded were Thornton's 42 points for the Sacramento Kings in their overtime loss against the Indiana Pacers. Thornton's game was an unlikely one. He had scored 33 points on 13-of-47 shooting in his previous nine games entering the day. But the unlikelihood of this game would be surpassed a day later.

Saturday: Terrence Ross, 51
Ross tied a Raptors record with 51 points in a 126-118 loss to the Los Angeles Clippers. Elias noted that he became the first player to score at least 50 points in a game, at a time when he was averaging less than 10 points per game for the season.

Ross' 51 points were nearly double his career-best in two seasons in the NBA (he had 26 against the Trail Blazers on Jan. 2, 2013) and 19 more points than he had in any college game at Washington (where he averaged 12 points per game).

Monday: Kevin Durant, 41
Durant didn't just score 41, he almost single-handedly carried the Thunder to this win.

Durant scored the last 13 points of the game, including two go-ahead shots in the final 30 seconds.

Durant entered the game shooting 12-of-45 (27 percent) in his career on go-ahead field goal attempts in the final 30 seconds of the fourth quarter or overtime.

The last basket gave him three times as many 40-point games as anyone else this season.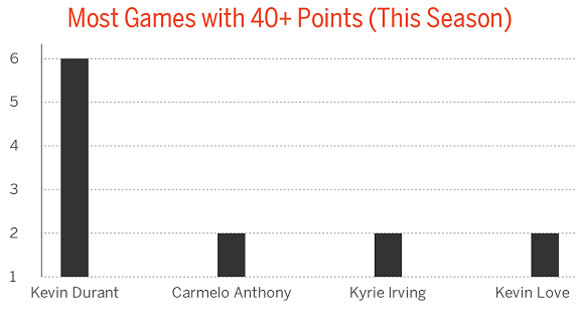 ---