Wednesday, January 29, 2014
Thunder dial long distance to down Heat

---
By ESPN Stats & Information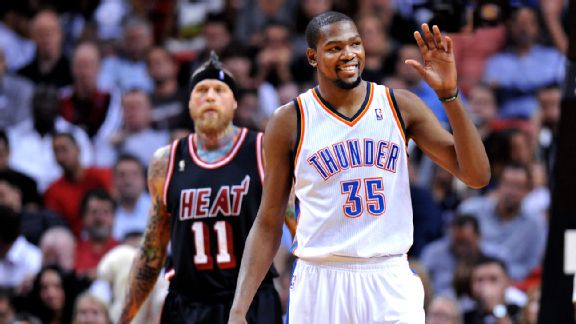 Steve Mitchell/USA TODAY SportsKevin Durant and the Thunder are all smiles after beating the Heat in Miami.

On the road and facing an 18-point deficit in the first quarter against the defending champs? No problem for the Oklahoma City Thunder, who rallied to beat the Miami Heat 112-95 on Wednesday night.

How rare was the win? The 18-point comeback marked the second-largest for the Thunder since moving to Oklahoma City, and it was just the fourth time the Heat have blown a lead of at least 18 points in the Big 3 era spanning the last four seasons.

In the last 15 seasons, 624 teams trailed by at least 18 points in the first quarter. The Thunder are just the third team to surge back and win that game by at least 15 points. The only other teams to do this were the Golden State Warriors at the Minnesota Timberwolves in 1999 and the Dallas Mavericks at the Toronto Raptors in 2011.

What were the keys to victory for the Thunder, who extended their win streak to nine games?

Durant cannot be stopped
Kevin Durant continued his scoring spree with his 12th consecutive 30-point game. That's a streak that neither LeBron James and Michael Jordan have been able to match. The last players to do it were Kobe Bryant (16 straight) and Tracy McGrady (14) in the 2002-03 season.

Durant took advantage of James guarding him, going 9 for 17 with 23 points when LeBron was his defender.

He also excelled on the break, scoring 10 of the team's 24 points in transition. Durant now has 270 transition points this season, third-most in the league.

With the win, Durant improved 4-13 in his career in head-to-head matchups vs LeBron, and helped the Thunder earn their first victory against the Heat since Game 1 of the 2012 NBA Finals.

Long-distance shooting
The Thunder dominated the Heat from beyond the arc, making 16 of 23 three-pointers, compared to just 3 of 19 for Miami.

The Thunder moved the ball well around the perimeter, assisting on 13 of their 16 made 3-point field goals. Entering the game, the Thunder had assisted on a league-low 71.7 percent of their made 3-pointers.

It was the Thunder's most 3-pointers made since moving to Oklahoma City and their most in a game since February 23, 2005 at the Hornets.

Turnovers
The Heat committed 21 turnovers, one shy of their season-high, and were outscored 25-14 in points off turnovers. Oklahoma City is now averaging 18.1 points off turnovers per game, the sixth-most in the NBA.

Miami really struggled to hold onto the ball in the second quarter, turning it over seven times, which led to 12 Oklahoma City points. Mario Chalmers and Dwyane Wade combined for five of those seven miscues in the second quarter.


---