Stats & Info:

Aaron Harang
May, 27, 2014
May 27
1:06
PM ET
By
John Fisher
| ESPN.com
The
Boston Red Sox
snapped a 10-game losing streak Monday, which was their longest since losing 11 straight in 1994.
Tonight, the defending champions hope to turn that into a win streak (7 ET/ESPN) as they play the second of two games at Turner Field before heading home to host the
Atlanta Braves
for two more.
Streak snapped
Despite putting that losing streak behind them, the damage to the Sox's hopes of a championship repeat this season may be already done.
No team in MLB history has ever lost 10 straight games in a season and gone on to win the World Series. The longest losing streak by a team that would go on to win the World Series was nine by the 1953
New York Yankees
.
The last team with a double-digit losing streak that even made the playoffs was the 1982 Atlanta Braves, who lost 11 straight in August that season.
Lack of big POPi
David Ortiz
hit the game-tying home run Monday, but a lack of production from the slugger over the past dozen games has been a key factor in the Red Sox's slump.
Over the last 12 games, Ortiz is hitting .286 with a slugging percentage of .429. Over that span he has had just one multihit game.
In the previous dozen games, he hit .360 with a slugging percentage of .680, with five multihit games.
Ortiz is struggling with pitches on the outer half of the plate, which continues a trend. His numbers against such pitches have decreased for three straight seasons.
Braves' hitters lack patience
As a team, the Braves have one of the worst offenses in baseball. They rarely hit the ball hard, and they hit in the air far more than they hit it on a line.
The Braves swing at the first pitch more often than almost every team in baseball (33 percent, a hair behind the
Giants
) but don't make the most of that aggressiveness. They are hitting .305 on the first pitch this season, well below the MLB average of .340.
Despite only one team swinging at the first pitch more often, no team has fewer home runs on the first pitch of an AB (tied with Twins -- 2).
Aaron Harang
While the Braves' offense has been poor this season, Harang has been a bright spot on the pitching staff, which ranks second in MLB with a 2.89 ERA. After five starts, he led the major leagues with a 0.85 ERA. In his past five starts, he's gone 1-3 with a 6.11 ERA, but it's not as bad as it sounds.
If you take out the first of those past five starts (9 ERs) he has a 3.86 ERA. He has 31 K's and 5 BBs over that span (33 K's, 13 BBs in his first five starts) and he's allowed two ERs or fewer in eight of his 10 starts this season.
May, 5, 2014
May 5
12:15
PM ET
By
John Fisher
| ESPN.com
"Monday Night Baseball" this week (7 p.m. ET/ESPN) features a matchup of the league's top two teams in starters' ERA, as the
Atlanta Braves
(2.42 ERA) host the
St. Louis Cardinals
(2.71 ERA).
Here are some of the top stats to know about Monday's pitching matchup between
Shelby Miller
and
Aaron Harang
.
Shelby Miller
One of the most powerful fastballs in the league is that of Cardinals starter Shelby Miller. He throws it hard, his average velocity of 93.6 mph ranking 11th in the league among starters since the start of last season. He also uses it effectively; he is tied for fourth in the league among starters since the start of last season in miss percentage (22.3 percent).
However, he has gone to his cutter more often this season, at the expense of his signature curveball.
He's throwing that curveball in the strike zone less often, and hitters are learning to lay off it (15.9 percent chase percentage this season, compared to 26.2 percent last season). But they still whiff when they offer at it.
Overall, Miller is striking out fewer hitters and walking more, perhaps because he's using the curveball less with two outs (14.3 percent of the time this season compared to 21.7 percent last season). His BB percentage nearly doubled, from 7.9 percent last season to 14.2 percent this season, and his K percentage dropped from 23.4 percent to 17.6 percent.
Aaron Harang
Despite losing two starters for the season, the Braves lead the majors in starters' ERA and overall ERA. Part of that success has been due to the play of Aaron Harang, at least until recently.
Harang was leading the majors with a 0.85 ERA until Wednesday, his previous start, when he gave up nine runs, all earned, in 4 2/3 innings against the Marlins. After that outing, his ERA went up to 2.97, and he fell all the way to 42nd in the majors in ERA.
What has made him successful in the early going?
• His opponents' BABIP is .258 (would be lowest of his career).
• His opponents' well-hit average is .129 (his lowest since the start of 2009).
• Opponents are hitting .688 on well-hit balls (MLB average is .687).
• Opponents are hitting .526 on line drives (MLB average is .686).
• Allowed one HR in 50 AB to lefties (16 HR in 305 AB last season -- a rate of 19.1 AB per HR).
What went wrong on Wednesday?
• Allowed seven hard-hit balls (allowed 10 in first five starts combined).
• Threw 59 percent of his fastballs in the strike zone (45 percent in his first five starts combined).
• Didn't get one swing-and-miss against his fastball (hitters missed 22 percent of their swings against his fastball in his first five starts).
• Allowed six hits with his fastball (allowed five in first five starts combined).
• Allowed five well-hit balls off his fastball (five in first five starts combined).
April, 14, 2012
4/14/12
5:50
AM ET
Stats & Info insights into this morning's top sports stories
1. TWO HAT TRICKS:
The
Philadelphia Flyers
defeated the
Pittsburgh Penguins
, 8-5, to take a 2-0 lead in the Eastern Conference Quarterfinals. Claude Giroux had three goals and three assists to set a team record for most points in a playoff game. Rookie Sean Couturier also had three goals. The Flyers became the fourth team in the expansion era to have multiple hat tricks in the same playoff game.
2. TWO SHORTHANDED GOALS:
The
Los Angeles Kings
defeated the top-seeded
Vancouver Canucks
, 4-2, to take a 2-0 lead in the Western Conference Quarterfinals.
FROM ELIAS:
Dustin Brown became the 13th player in NHL history to score a pair of shorthanded goals in a playoff game, but he is the first of those players to account for his team's first two goals in that manner.

Harang
3. HARANG MAKES HISTORY:
The
Los Angeles Dodgers
defeated the
San Diego Padres
, 9-8, on Andre Ethier's bases-loaded walk in the ninth inning.
FROM ELIAS:
After allowing a leadoff single, Dodgers starting pitcher
Aaron Harang
struck out nine straight batters, falling one shy of the MLB record of 10 set by Tom Seaver against the Padres in 1970. Three other pitchers had nine consecutive strikeouts in a game: Mickey Welch in 1884,
Jake Peavy
in 2007 and
Ricky Nolasco
in 2009.
4. 30 THEN 30: FROM ELIAS:
Andrew Bynum
scored a game-high 30 points and led the Kobe-less
Los Angeles Lakers
to a 103-97 victory over the
Denver Nuggets
. Bynum, who had 30 rebounds in the Lakers' last game, at San Antonio on Wednesday, became the first NBA player with 30 rebounds in one game and 30 points in the next since
Moses Malone
had 32 rebounds (and also 38 points) on Feb. 11, 1982, and then scored 32 points in his next game, two days later.

Rodriguez
5. A-ROD TIES THE KID:
The
New York Yankees
defeated the
Los Angeles Angels
of Anaheim, 5-0, in their home opener.
Alex Rodriguez
went 3-for-4, hitting his 630th career home run. He tied former teammate Ken Griffey Jr. for fifth on the all-time list.
FROM ELIAS:
A-Rod and Junior played 587 games as teammates with the Mariners from 1994 to 1999; when Rodriguez left Seattle following the 2000 season to sign as a free agent with the Rangers, he trailed Griffey by exactly 250 career homers, 398 to 148.
6. MISSING SUPERMAN:
Orlando Magic
center
Dwight Howard
has been diagnosed with a herniated disk in his lower back. There is no timetable for his return. This will certainly impact the Orlando defense moving forward. The Magic have allowed opponents to score 7.0 points per game more when Howard is not on the court this season.
July, 21, 2011
7/21/11
12:24
AM ET
Coming into Wedneday's game against the
Los Angeles Dodgers
and
Clayton Kershaw
,
San Francisco Giants
' ace
Tim Lincecum
was 0-3 this season against pitchers named Clayton.
Lincecum can now add a fourth loss to that list and his second to Kershaw, all because of a single pitch.
With the game scoreless in the seventh inning, Lincecum coughed up a solo home run to Dodgers C
Dioner Navarro
. That hit proved to be all the offense Kershaw needed, as he held on for the win, 1-0.
Kershaw threw eight shutout innings, allowing just three hits and a walk, while striking out 12 to improve to 11-4 this season.
It is the sixth time Kershaw has struck out 10 or more batters in a game this season - tied with
Cliff Lee
for most in MLB.
Lincecum, meanwhile lasted seven innings, tallying seven strikeouts and allowing five hits.
Kershaw went to his curveball more often than usual to put Giants hitters away. Ten of his 26 two-strike pitches (38.5 percent) were curveballs, above his 12.9 season average entering the start.
Five of Kershaw's strikeouts were with his curveball, matching his most in a start in the last three seasons.
Four more of Kershaw's strikeouts came with his slider, giving him nine strikeouts on the day with offspeed pitches. He leads the league in strikeouts, mostly because of his ability to punch hitters out with his breaking ball pitches.
ELSEWHERE AROUND THE DIAMOND:
•
Vance Worley
continued his stretch of strong starts as he allowed one earned run in eight innings for his sixth victory of the season as the
Philadelphia Phillies
beat the
Chicago Cubs
, 9-1.
Worley has now made six consecutive starts with five or more innings pitched, while allowing one earned run or fewer. The only other Phillies pitcher in the Live Ball Era (since 1920) with a streak that long is Steve Carlton, who did so in six straight in 1972.

Rollins
Jimmy Rollins
homered from both sides of the plate against the Cubs, the second time in his career that he has accomplished that feat (August 12, 2006 vs.
Cincinnati Reds
).
• In a 14-3 rout of the
Florida Marlins
, all nine
San Diego Padres
players scored a run en route to leading by at least 13 runs through two innings for the first time since May 31, 1994.
The last team overall prior to the Padres to be up by at least 13 runs through two innings was the Cubs, who on August 14, 2009 led 14-0 over the Pirates.

Harang
The Padres have won three of four overall, as
Aaron Harang
(5⅓ IP, 3 ER) has not lost since May 2.
For the Marlins,
Ricky Nolasco
(1⅓ IP, 9 ER) becomes the first pitcher this season to allow nine or more earned runs in fewer than two innings pitched; it happened four times last season.
Hanley Ramirez
hit his tenth home run; he's now hitting .366 over his last 25 games.
July, 9, 2011
7/09/11
11:19
PM ET
Derek Jeter
grabbed the headlines, but there were other dramatic games and performances Saturday.
Aaron Harang
and four relievers held the Dodgers without a hit for 8 ⅔ innings before
Juan Uribe
doubled to end the Padres' bid for the franchise's first no-hitter. One batter later,
Dioner Navarro
hit a walk-off single to give Los Angeles a 1-0 win. The Dodgers' pitching wasn't too shabby either, only allowing one hit to the Padres.
From the Elias Sports Bureau: The Dodgers and Padres combined for three hits. It's just the third 1-0 game in the last 25 seasons that featured three or fewer hits.
The Dodgers weren't the only team to walk off with a win.
Josh Hamilton
finished off a 4-for-5 night with a two-run, walk-off home run to give the Rangers their sixth straight win, a 7-6 victory over the Athletics.
Alexei Ramirez
, who homered earlier in the game, singled in the bottom of the ninth to drive in
A.J. Pierzynski
and give the White Sox a 4-3 win over the Twins. The victory snapped Chicago's nine-game losing streak against Minnesota.
Later, Cardinals pinch-hitter
Tony Cruz
doubled home
Colby Rasmus
in the ninth to give St. Louis a 7-6, walk-off win over the Diamondbacks.
Of the 15 games played on Saturday, eight of them were decided by one run.

Bautista
Jose Bautista
hit two more home runs, including the go-ahead shot in the 10th inning, as the Blue Jays edged the Indians, 5-4. Bautista increased his MLB-leading home run total to 31 and is the first AL player to hit that number before the All-Star break since
David Ortiz
in 2006. Bautista has 13 multi-HR games over the last two seasons, the most in MLB.
He is also the first Blue Jays player to hit 30 before the All-Star break in a single season. It's also his 100th career homer with the Blue Jays, the fastest anyone has reached 100 homers in team history, doing so in 377 games with the club.
John Lackey
entered Saturday with an ERA of 9.17 at home this season. He pitched 6 ⅔ shutout innings against the Orioles, the first time he has had a scoreless start at home since his very first with the Red Sox (April 7, 2010, vs. the Yankees).
Before Saturday, Lackey had allowed at least one run in 24 straight starts at Fenway Park.
April, 20, 2011
4/20/11
2:17
PM ET
Today's Trivia:
When
Bartolo Colon
, 37, takes the mound Wednesday for his first start with the
New York Yankees
, he will be the oldest pitcher to start a game this season. Who currently holds that distinction?
Quick Hits:
With some of the hottest pitchers set to take the mound, Wednesday sets up to be quite a day for pitching.
• Of the 34 starters scheduled for Wednesday, 11 have an ERA under 2.00 and nine are looking to start 3-0 or better. Eight of the MLB's top ten in ERA draw starts Wednesday.

Gonzalez
•
Gio Gonzalez
,
Justin Masterson
,
Aaron Harang
,
Jered Weaver
and
Matt Harrison
are all scheduled to pitch. Each has allowed 1 ER or fewer in 6+ innings in each of their first three starts. (
According to baseball-reference.com
), the last pitcher to start a season with four straight such starts was
Cliff Lee
in 2008 (who did it in five straight).
• The last time multiple pitchers started the season with four straight starts of 1 ER or fewer in 6+ innings was 1998:
Chuck Finley
and
Greg Maddux
.
• Weaver (4-0, 1.30 ERA) looks to become the first pitcher in MLB history with five wins by April 20, according to the Elias Sports Bureau.
• He faces Harrison (3-0, 1.23 ERA), who looks to be the first
Texas Rangers
pitcher to win each of his first four starts since
Darren Oliver
in 2001.
• Gonzalez (2-0, 0.47 ERA) faces the
Boston Red Sox
with the MLB's best ERA. He's boasts a streak of 17 scoreless innings and opponents are 0-for-13 with RISP.
• Masterson (3-0, 1.33 ERA) has held right-handed hitters to a .103 BA (3-for-29).
•
Jaime Garcia
(2-0, 1.35 ERA) takes on the
Washington Nationals
. In his career, he is 4-1 with a 1.17 ERA. In seven career April starts, he's never allowed more than two earned runs.

Moseley
•
Dustin Moseley
is 0-3 despite a 1.83 ERA. A big reason? The
San Diego Padres
haven't scored a run in any of his three starts. According to Elias, the only pitcher in the last 30 years whose team was shut out in each of four consecutive starts was Arizona's
Randy Johnson
in June-July 1999.
• Harang (3-0, 1.50 ERA) draws the second start of the day for San Diego. He looks to become just the third pitcher to win his first four starts of a season with the Padres. Only Randy Jones (1976) and Andy Hawkins (1985) have done so. Dennis Rasmussen won his first four starts with the Padres in 1988, but was a midseason acquisition.
Trivia Answer:
Derek Lowe
, who also takes the hill Wednesday, is the oldest pitcher to start a game so far this season. Also 37, he's just eight days younger than Colon. Last season,
Jamie Moyer
(47) and
Tim Wakefield
(44) were the oldest to start a game.
March, 31, 2011
3/31/11
1:05
PM ET
Today's Trivia:
Former top picks
Luke Hochevar
and
David Price
will start on Opening Day for the first time in their respective careers. Who was the last No. 1 overall draft pick to start on Opening Day?
Quick Hits:
A quick look at some Opening Day longevity.
*
Jorge Posada
will start his 12th straight opener in pinstripes. That's the most by a New York Yankee since Willie Randolph suited up for 14 in a row.
*
Derek Jeter
will make his 10th straight Opening Day start at shortstop for the Yankees, passing Phil Rizzuto's nine-game streak from 1947 to 1955.

Jones
*
Chipper Jones
is making his 15th straight Opening Day start for the
Atlanta Braves
, the longest current stretch with one team. That's the longest streak by a Brave since Eddie Mathews also started 15 in a row. Hank Aaron started 20 of 21 openers while with the Braves, but that was divided into streaks of nine and 11.
* Make it 11 straight openers where
Albert Pujols
will be penciled into the
St. Louis Cardinals
lineup, the longest streak for the franchise since Lou Brock started 15 in a row.
*
Alex Gordon
will be the
Kansas City Royals
12th consecutive different Opening Day starter in left field.
Johnny Damon
is the most recent Royal to start back-to-back Opening Days there, in 1999 and 2000.
* The
Los Angeles Angels
of Anaheim's
Howard Kendrick
will start on Opening Day for the fifth straight year. The only Angels second baseman with a longer streak of Opening Day starts is Bobby Knoop, who was in seven straight opening lineups from 1964 to 1969.
*
Aaron Harang
signed with the
San Diego Padres
in the offseason, meaning that he will not be the
Cincinnati Reds
Opening Day starter for the first time since 2005.
Edinson Volquez
will get the nod, ending Harang's five-season streak, which matches Mario Soto and Pete Donohue for the longest Reds stretch since 1920.
*
Ryan Ludwick
will be the Padres' 20th different starter in left in the past 24 years. The last player to start three straight openers in left was Gene Richards (1980-83). Meanwhile,
Cameron Maybin
will make it nine straight years with a different Opening Day centerfielder.

* For the second straight year, there's a complete overhaul to the
Washington Nationals
outfield. The last time the franchise repeated an Opening Day outfield was 1993-94:
Moises Alou
,
Marquis Grissom
,
Larry Walker
.
Trivia Answer:
Paul Wilson
started the opener for the Reds in 2005, though he lasted only eight more games in the big leagues. Before that,
Kris Benson
got the Opening Day start for the Pirates in 2003.
August, 25, 2010
8/25/10
4:30
PM ET
By
Gregg Found & Matt Willis
| ESPN.com
Today's Trivia:
Today is Rollie Fingers' birthday, which means they're probably celebrating in both Oakland and Milwaukee. After all, both the A's and Brewers have retired Fingers No. 34 jersey. Fingers is one of just nine players in history to have his jersey retired by more than one team.
So your question is – which two other players have a jersey No. 34 retired in MLB? Hint: one of the two, like Fingers, is part of the nine-member club that has had a jersey retired by multiple teams.
Quick Hits:
Move to the edge of your seat tonight when
Hiroki Kuroda
comes to the plate. Kuroda has managed to go 0-40 at bat this season and is on the verge of history. Only eight previous players since 1901 have had an 0-fer season with at least 40 at-bats. Can we get Kuroda out of his "slump" by delving deeper into his numbers?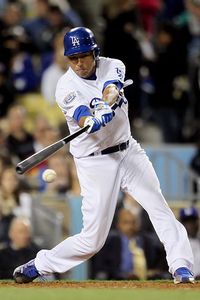 Jeff Gross/Getty Images
Hiroki Kuroda's hitting woes this season are reaching historic proportions
• Of his 40 at-bats, 18 have ended in strikeouts. Those K's have come at inopportune times, too – his only two plate appearances with the bases loaded? They ended in strikeouts. His 14 at-bats with the game tied? Six ended in strikeouts.
• Two pitchers in particular have especially feasted off Kuroda's meekness.
Aaron Harang
has faced him five times and
Edwin Jackson
has faced him four times. Kuroda, obviously, has gone o-fer against both.
• If you believe in OPS+ (which is OPS adjusted for league and ballpark), you probably don't believe in Kuroda. His OPS+ checks in at -85, almost as impressive as it is awful. Among anyone who has batted more than 20 times this season, that's the worst. But have no fear Kuroda – the wunderkind is close behind. Stephen Strasburg's OPS+ is a not-much-better -73.
• But it's not ALL bad for Kuroda – twice, he's drawn a walk! That gives him a whopping .048 on-base percentage. In fact, on one of those occasions, he even scored a run. It came against
Bud Norris
and the Astros, when
Manny Ramirez
drove Kuroda in. It's the only time Kuroda has touched home plate this season.
• Maybe place discipline is what's killing Kuroda. Only eight times this season has he reached a three-ball count. Only seven times has he seen a 2-0 count.
• So how many chances does he have left? Well, figure he'll make about seven more starts this season, including tonight. He's averaging 2.08 PA per start. So bank on Kuroda getting about 14 or 15 trips to the plate the rest of the year. Talk about drama. Only two players have gone 0-50 or worse in a season: Bill Wight in 1950 and Bob Buhl in 1962.
Today's Leaderboard:
It's always fascinating when a batter gets the green light (or sometimes gives himself the green light) to break one of the unwritten rules of baseball and swing on a 3-0 count. But so far this season, batters have swung on a 3-0 count 6.1 percent of the time. In fact,
Adam Dunn
and
Jose Bautista
each have two home runs this season on 3-0 counts. So maybe the rule isn't that ironclad.
With a nod to a batter's decision as the count move along, let's look at the times where batters are MOST likely to take the bat off their shoulder, and in which count they're most likely to get a hit.
Key Matchups:
• Lock
J.D. Drew
up for treason – he shows no respect for the King. King Felix that is, who has faced Drew 23 times and allowed Drew to dishonor him for a .400 BA and 1.028 OPS. Among the 47 batters who
Felix Hernandez
has faced as often as Drew, Drew's OPS ranks third. In their most recent showdown, July of last year, Drew homered off Hernandez.
• If the Rangers are thinking ahead, they'll take as many pitches as they can from
Brian Duensing
to scout his stuff. Duensing is a potential playoff opponent, and only four Rangers batters have ever hit against him.
Elvis Andrus
,
Josh Hamilton
,
David Murphy
and
Michael Young
are a combined 3-16 (.188 BA) against him.
•
Carlos Lee
hasn't seen a ton of
Roy Halladay
, but when he has, he's hit him. Lee has three homers off of Halladay is just 23 at-bats. Among all the other batters who have faced Halladay, only
Luke Scott
and
Justin Morneau
have as many homers in as few at-bats. Lee has a career .639 slugging percentage against Halladay, but that might be on its way down – in their previous meeting this season, Lee went 0-4 with two strikeouts against Halladay.
• Speaking of Halladay, he has a chance to win the pitching triple crown this season (ERA, Wins, Strikeouts).

Although it's slightly more commonly done than the batting triple crown (30 pitching triple crowns vs 13 hitting triple crowns since 1900), it's still a remarkable accomplishment. Entering Wednesday, Halladay led the NL in ERA and strikeouts, and was only one behind
Adam Wainwright
and
Ubaldo Jimenez
in wins.
Jake Peavy
last won the pitching triple crown in 2007 and it has been won three times in the last eight seasons, but in the National League, it's only been won four times since Sandy Koufax won three in a four-year span (1963, 65, 66).
If the remarkable happens and we get a pitching and hitting triple crown in the same season, then we start talking some real baseball history. A pitching and hitting triple crown hasn't been won in the same season since 1966, when Frank Robinson and Sandy Koufax won them. Both of those players now have plaques in Cooperstown.
If Pujols/Votto and Halladay win their respective triple crowns in the National League, they'd be the first National Leaguers to win their respective triple crowns in the same season since 1894. It's happened twice before in the American League -- in 1901 (Nap Lajoie and Cy Young), and 1934 (Lou Gehrig and Lefty Gomez)
Trivia Answer:
Kirby Puckett has his No. 34 retired by the Twins, and Nolan Ryan has his No. 34 retired by BOTH the Rangers and Astros. Ryan also has his No. 30 jersey retired by the Angels.
Just for fun – Puckett went 1-4 against Fingers in his career, managing a single in his first-ever at-bat against Fingers.
April, 5, 2010
4/05/10
12:12
PM ET
By
Jeremy Lundblad, ESPN Stats & Info
| ESPN.com
Today's Trivia: As Bobby Cox readies himself for his final Opening Day, let's look back on his first. In Cox's first game as manager (April 7, 1978), a pair of future Hall of Famers dueled on the mound, as the Braves started Phil Niekro against the Dodgers' Don Sutton. But perhaps more interesting than that? Which two current managers played in that game? (Hint: both are now over 60!)
* Over the last 50 years, there have been four instances of a pitcher getting the start on Opening Day after missing all of the previous season, according to the Elias Sports Bureau. On Monday, three pitchers will do just that.
Jake Westbrook
,
Ben Sheets
and
Shaun Marcum
are all starting the opener for their respective teams after missing all of the last year. The last pitcher to do that was
Carl Pavano
for the Yankees in 2007. Prior to that:
Scott Erickson
('02 Orioles), Alex Fernandez ('99 Marlins), Diego Segui ('77 Mariners). And because you don't get to type this name enough – the last pitcher to do it prior to 1960 was Vinegar Bend Mizell for the 1956 Cardinals after serving in Korea.
* With the NCAA title game tonight, you're probably wondering what baseball history has to say about tonight's outcome. When was the last time a Butler faced a Duke in the MLB? On July 26, 1970, Indians catcher Duke Sims went 0-2 against Bill Butler of the Royals. Score one for Butler there. However, if home run hitting is any indicator, this one could be all Duke. There have been 19 players with the last name Butler in MLB history. Led by Billy and Brett, those Butlers hit a combined 118 home runs. Duke Snider alone had 407 homers. What about the actual schools, you ask? Well, Butler has only produced four MLB players to Duke's 31. But the last time we saw a Duke-Butler meeting at the plate? On April 6, 1998, Butler's Doug Jones (then on the Brewers) got Duke's
Ryan Jackson
(Marlins) to fly out to center.
* President Obama will throw out the first pitch this afternoon in Washington, continuing a now 100-year tradition started by William Howard Taft. This will be the 63rd time that a sitting President has thrown out the first pitch on Opening Day, with only Jimmy Carter never doing so since Taft. An interesting trend has emerged though. Including Obama, three of our last four Presidents have been real lefties – that is, with their throwing arm. Only the A's, Blue Jays, Mets and Phillies feature three lefties in their Opening Day rotation. Interestingly, our last five presidents only had 24 fewer wins last season than Toronto's current rotation.
*
Roy Halladay
and
Roy Oswalt
will be starting their 8th straight openers, the longest active streak followed by
Carlos Zambrano
at six.
Chipper Jones
will be making his 14th straight Opening Day start for the Braves, the longest active streak with one team. Next on that list are
Todd Helton
(13) and
Paul Konerko
(12). No
Derek Jeter
? He missed the first four games on 2001. Otherwise, he'd be one spot ahead of Jones.
* Today's Leaderboard: If you are going to get
Xavier Nady
in the lineup, you might as well make it on Opening Day. The Cubs outfielder is a career .481 hitter in the first game of the season, highest among active players with 15 at-bats. Nady also has five home runs on Opening Day. Only Ken Griffey Jr. (8) and
Adam Dunn
(6) have more among active players.
Matchup(s) of the Day:
Mark DeRosa
is 13-27 lifetime against Roy Oswalt. That .481 batting average is the highest for any hitter that has faced Oswalt at least 20 times.
Matt Holliday
is just 1-16 in his career against
Aaron Harang
. That .063 average is his lowest against any pitcher he's faced 15 times.
Trivia Answer: Blue Jays manager Cito Gaston (who is now 66) appeared as a pinch hitter for the Braves and made the final out the game. Dusty Baker (who is now 60) started in LF for the Dodgers.
March, 29, 2010
3/29/10
5:34
PM ET
By
Doug Kern, ESPN Stats & Info
| ESPN.com
Starting Off On The Right Foot... er, Arm

Let's just admit it, Opening Day is fun. It's a new season filled with new players, new storylines, new hope, a new stadium or two, over 2,400 games waiting to be contested. Every team is tied for first place. It's not just fun for the fans, it's fun for the players too. One of the biggest honors for a pitcher is to be named a team's opening-day starter. It's usually the staff's "ace", the one who will take those hopes on his shoulders - literally- and start a new chapter. Start that run to the championship (you know, the one that every team says they're really going to make this year). And over the years, it's become a great privilege to throw the first ball of the season.


It's also probably the last time this season you'll see so much talent on display on the same day. Aside from NL wins (Adam Wainwright), both leagues' leaders in every category below will be pitching on Monday. (As an added bonus, Zach Duke also led the National League in losses.)


And there will be some new faces, too. A full third of this season's opening-day starters-- including surprises like Zack Greinke ("he's never started an opener?") and Vicente Padilla ("he's starting the opener?")-- will be getting that nod for the first time. Two (Roy Halladay and Jon Garland) will be making their first appearance for a new team. Garland will actually face one of his staff-mates from last season, Dan Haren, as the Padres travel to Arizona.


Incidentally, Tom Seaver holds the all-time record for most opening-day starts (16, including 12 straight from 1968-79). The leaders on this year's list are only halfway there.
Did you know: According to Baseball Almanac, the AL team that's won the highest percentage of its openers is Toronto (25 of 33, 76%). The NL team with the best opening-day record-- really-- is the New York Mets (60%). It's those other 161 games that have been a problem in Flushing recently.