Stats & Info:

Aaron Hernandez
July, 29, 2013
7/29/13
7:14
PM ET
By
Micah Adams
| ESPN Stats & Information
AP PhotosDanny Amendola, left, will likely be the top target for Tom Brady this season.
The 2013
New England Patriots
have experienced a great deal of turnover from last season. Let's evaluate the top questions facing them as the new season approaches.
How significant are the personnel losses?
Including
Rob Gronkowski
, who is currently on the physically unable to perform list, the Patriots are likely without each of their top five receivers from last season to begin the season. Those five players (
Wes Welker
,
Brandon Lloyd
, Gronkowski,
Aaron Hernandez
,
Danny Woodhead
) represent more than 84 percent of
Tom Brady
's completions last season.
Should Gronkowski miss Week 1, the Patriots would likely become the first team since the 1997
New Orleans Saints
to start a season without their five leaders in receiving yards from the previous season, according to the Elias Sports Bureau.
Who will Brady rely on?
The Patriots will be relying on
Danny Amendola
to help offset the loss of Welker. Amendola's 2012 season was strikingly similar to Welker's in his first season prior to joining the Patriots, with Welker catching just four more passes and Amendola catching two more touchdowns.
Brady hopes to replicate the success he had with Welker with Amendola this season, particularly out of the slot. Although Welker is regarded as perhaps the league's best slot receiver, Amendola ranked second last season in receptions per game out of the slot behind Welker.
New England is now especially thin at tight end, but
Jake Ballard
could be a potential solution after missing the entire 2012 season. In 2011, he emerged as Eli Manning's favorite red zone target, leading the
New York Giants
with eight red zone receptions.
What's at stake for Brady?
Brady continues to climb in the record books, and this season he has a chance to gain some more headway on other legends.
Brady (136-39 career record) needs 11 wins to tie
Dan Marino
for the fourth-most wins by a starting quarterback in NFL history and 12 to tie
John Elway
for third-most.
In his sixth game of the season, Brady could tie
Drew Brees
' NFL record for consecutive games with a passing touchdown (54).
Brady (334) could pass Fran Tarkenton (342) for the fourth-most passing touchdowns in league history.
More important than any statistic, Brady and the Patriots haven't won a Super Bowl in nine years. Since winning his first 10 career playoff games, Brady is 7-7 in the postseason.
September, 21, 2012
9/21/12
11:32
AM ET
By
Doug Clawson
| ESPN.com
Jared Wickerham/Getty ImagesTom Brady walked off the field Sunday following a rare loss at home.
Is stopping
Tom Brady
as simple as seeing if he's in the shotgun? That's what
Arizona Cardinals
defensive coordinator Ray Horton told
Arizona Sports 620
.
The Cardinals stifled the
New England Patriots
in a 20-18 win in Week 2. For Brady, it marked just his second loss at home in 37 regular-season games.
According to Horton, the Cardinals' staff picked up on the Patriots' offensive tendencies, especially after
Aaron Hernandez
left the game with an injury. Specifically, Arizona looked at Brady's positioning to determine if the Patriots would pass or run.
So, was Horton correct? After Hernandez was injured with 7:03 left in the first quarter, the Patriots called a pass play on 37 of 46 snaps (80.4 percent) with Brady in shotgun. When Brady was under center, the Patriots called a run on 18 of 29 snaps (62.1 percent).
While Horton may have exaggerated, the Patriots did have some clear tendencies after the Hernandez injury.
"Whenever Tom Brady was under the center they were gonna run the ball and whenever he was in shotgun they were gonna pass the ball," Horton said. "So we told our players, 'Hey, make the run check if Tom Brady is under center, if he's in the gun, go to the pass check,' and they handled it beautifully."
However, looking at the Patriots' total play-call percentage last season suggests an even closer correspondence. In 2011, New England was even more likely to pass in shotgun (85 percent) and run the ball from under center (65 percent).
Whether Horton was on point or not, the Cardinals did slow down the Patriots' offense when they were more likely to pass or run.
The Patriots averaged fewer pass yards per play (-2.6 difference) with Brady in shotgun, and fewer rush yards per play (-2.6 difference) with Brady under center.
The Patriots may need to vary their tendencies on Sunday night against the
Baltimore Ravens
. Recent history suggests Baltimore is all over it.
Since the start of 2008, Brady is averaging 5.7 yards per attempt in shotgun against the Ravens (four games), tied for his third-lowest average against a single opponent.
September, 11, 2012
9/11/12
12:53
PM ET
By
ESPN Stats & Information
| ESPN.com
AP Photo/Mike RoemerThings have not been looking up of late for Aaron Rodgers and the Packers.
Since winning 19 straight games (including playoffs), the
Green Bay Packers
have lost three of their last five.
In Week 1, Green Bay's 13-game home win streak came to an end. Now they host the
Chicago Bears
on Thursday.


Green Bay has opened up the season with consecutive losses at home only twice in the Super Bowl era (1988, 2006).
Under the current playoff format since 1990, only 25 percent of teams that started 0-1 went on to make the playoffs. And, if history is any indication, then Thursday is a must-win situation for the Packers. Each of the five times the Packers have started 0-2 under the current playoff format they have missed the playoffs.
During the Packers' 19-game win streak,
Aaron Rodgers
completed 55.5 percent of his throws 15 yards or more downfield. In his last four games, including last year's playoff loss to the
New York Giants
, Rodgers has completed just 25.8 percent of such throws.
Rodgers' counterpart,
Jay Cutler
, completed 7-of-13 (53.8 percent) of his throws 15 yards or more downfield in Week 1 against the
Indianapolis Colts
. Only
Drew Brees
completed more such throws. However, since joining the Bears, Cutler has thrown two touchdowns and nine interceptions on passes at least 15 yards downfield against the Packers.
Cardinals at Patriots
One of the four matchups in Week 2 between 1-0 teams.
Tom Brady
has never lost a home opener as the New England Patriots' starting quarterback (9-0). He's also 35-1 in his last 36 regular-season home starts. Both of Brady's touchdown passes in Week 1 went to his tight ends,
Aaron Hernandez
and
Rob Gronkowski
.


Not including a kneel down, New England used at least two tight ends on all of its offensive plays against the
Tennessee Titans
, and Hernandez and Gronkowski each played 66 of a possible 67 offensive snaps.
Wes Welker
was on field for 42 of the Patriots' 67 plays (62.7 percent). That was his lowest snap percentage since Week 3 of 2010. Last season, Welker was on field for 88.7 percent of the Patriots' snaps.
Lions at 49ers
Can the 49ers slow down a second straight high-powered offense from the NFC North? San Francisco has won eight straight against Detroit -- the longest by either team in the history of the series.


Alex Smith
was 15-of-16 for 152 yards and a touchdown when targeting his wide receivers in Week 1. Smith didn't complete more than 13 passes to his wide receivers in a game last season, and was just 1-of-5 in the NFC Championship game.
The 49ers secondary will have to try to stop the Lions duo of
Matthew Stafford
and
Calvin Johnson
.
Stafford has thrown for at least at least 350 yards in four straight games, which is tied for longest streak in NFL history with Drew Brees. And Johnson has at least 100 receiving yards in four straight games. No Lions player has at least five straight 100-yard receiving games since Pat Studstill had six consecutive 100-yard games in 1966.
In their win last season at Detroit, the 49ers sent four or fewer rushers on 55 of Matthew Stafford's 56 dropbacks. Since the start of 2008, no quarterback has had more dropbacks against such pressure in a single game.
February, 1, 2012
2/01/12
1:50
PM ET
By
John McTigue
| ESPN.com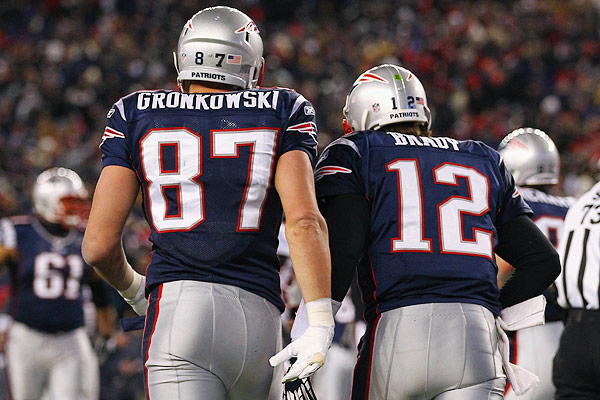 Al Bello/Getty ImagesTom Brady and the Patriots' effectiveness in the Super Bowl could ride on Rob Gronkowski's left ankle.
One of the key storylines leading up to the Super Bowl XLVI is the availability of
New England Patriots
tight end
Rob Gronkowski
. He was without a walking boot on media day, but it has yet to be seen if he will be 100 percent against the
New York Giants
on Sunday.
If he isn't, the Patriots offense might take on a new look.
The Patriots used two or more tight ends on 81 percent of their regular-season plays and have done so on 88 percent of their postseason plays (excluding spikes and kneel-downs). No other team has featured multiple tight ends on a higher percent of plays, and the Patriots don't have a third tight end on their roster.
If Gronkowski is limited or doesn't play, that would likely lead to more three-wide receiver sets. Outside of
Wes Welker
and
Deion Branch
, the Patriots haven't had a consistent threat from a third wide receiver this season.
Tom Brady
has thrown only 140 of his 681 passes this season with three wide receivers and just one tight end on the field. Although Brady is completing 71 percent of his passes with such personnel on field, he is also throwing an interception about once every 28 attempts, compared to once every 68 attempts with all other personnel groupings.
Less or no Gronkowski could also limit the versatility of
Aaron Hernandez
. Gronkowski has taken 61 percent of his snaps attached to the line of scrimmage. In contrast, Hernandez has taken 66 percent of his snaps and caught 52 of his 90 receptions when split out wide or in the slot. The Patriots may keep Hernandez in more often to compensate, which could lead to fewer mismatches.
If Gronkowski is able to play he may not be at 100 percent, which could limit his performance in areas he normally excels.
Gronkowski finished the regular season with the fourth-most yards after the catch (641), most among tight ends. The only tight end to average more yards after the catch per reception was
Brent Celek
(7.9 to 7.1).
Of course, the Patriots could opt to base Gronkowski's playing time on the situation. Only
Calvin Johnson
has more red zone touchdowns than "Gronk" the past two seasons, and no Patriots receiver has been nearly as effective in the end zone.
January, 26, 2012
1/26/12
1:17
PM ET
By
John Parolin, ESPN Stats & Info
| ESPN.com
AP Photo/Winslow TownsonThe Giants and Patriots have already tangled once this season, a 24-20 Giants victory in Week 9. They'll meet again in Super Bowl XLVI, their second Super Bowl meeting in five seasons.


For all the hype about
Tom Brady
and
Eli Manning
leading potent offenses into Super Bowl XLVI next Sunday, their Week 9 matchup was a 10-3 advantage for the
New York Giants
entering the fourth quarter as Brady had pushed the
New England Patriots
into the red zone. The stage was set for a whirlwind 31-point finish that highlighted season-long trends for both teams.
What helped the Giants win, 24-20, ending New England's 20-game regular-season home winning streak? And what can both teams take away from the game?
What Happened:
• On the second play of the fourth quarter, Brady hit
Aaron Hernandez
on a five-yard TD pass. No team targets tight ends like the Patriots, particularly in the red zone. Only the
Detroit Lions'
tight ends had as many targets (37) as the Patriots had catches (36) in the red zone, and Hernandez and
Rob Gronkowski
accounted for 22 red zone touchdowns, twice as many as any other TE tandem.

Nicks
• After a Giants punt and a Patriots field goal, New York let the Patriots defense do the work on its next drive. On first down at his 25, Manning took a shot down the sideline and cornerback
Kyle Arrington
was flagged for interference. This season, New England was called for five interference penalties of at least 20 yards, tied for most in the league. That set up a 10-yard TD pass to
Mario Manningham
out of a three wide receiver set. The Giants were without
Hakeem Nicks
that day, a big void for one of the most productive three-plus WR offenses.
• The Patriots drove 64 yards and retook the lead on a pass to Gronkowski, and Manning got the ball back on his 20 with 1:36 to go. Nine plays later (including another deep interference penalty), Manning hit
Jake Ballard
in the end zone. The drive took 1:21. Quick strikes were a Giants hallmark. They had 17 touchdown drives this season that took less than two minutes.
What to take away:
• Both quarterbacks are effective against the blitz. In Week 9, both of Manning's touchdowns came against at least six rushers. This season, defenses sent extra pressure at Manning more often than any other quarterback, and he excelled. His 18 touchdowns against five or more rushers led the league. As for Brady, no quarterback posted a better TD-Int differential than his +15 against extra rushers. Pressuring them is important, but both offensive lines ranked in the top eight in sack percentage.
• While the Giants will have to figure out a way to defend Hernandez and Gronkowski, who were held scoreless in only four games, the Patriots' challenge will be in dealing with Nicks, Manningham and
Victor Cruz
. They have combined for 4,134 receiving yards, including in the playoffs, tops in the NFL. The Giants are at their best with three wide receivers, and the Patriots struggled with extra defensive backs on the field.
• Manning under or overthrew on nine throws, his second-highest total this season. Missing as many a second time around is unlikely, particularly with Nicks back in the lineup. Getting Nicks back will help Manning improve on his 7-of-20 performance in Week 9 with three or more WR on the field. Even in victory, there were plenty of opportunities left on the field for the Giants.