Stats & Info:

Adam LaRoche
October, 30, 2012
10/30/12
10:30
PM ET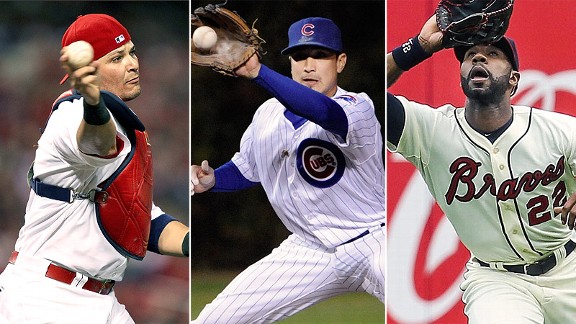 Getty ImagesYadier Molina, Darwin Barney and Jason Heyward were statistically-dominant on the defensive side.
Here's a look at the notable storylines involving the NL's Gold Glove victors.
Molina takes the 5th
St. Louis Cardinals
catcher
Yadier Molina
won his fifth straight Gold Glove Award, the longest current streak among winners in the majors.
Molina led major-league catchers in caught stealing percentage, throwing out 46 percent of the baserunners who tried to steal against him. Baseball Info Solutions also charted him with 554 potential wild-pitch blocks based on its video review, the most in the major leagues.
Molina also dominated in the advanced defensive metrics. His 16 Defensive Runs Saved were more than double the NL catcher with the next-most,
Ryan Hanigan
of the
Cincinnati Reds
.
Molina's total is one more than his manager,
Mike Matheny
, won in his major-league catching career.
Darwin's evolution into a winner
Chicago Cubs
second baseman
Darwin Barney
had about as good a defensive season as any player in baseball, and was rewarded with his first career Gold Glove.
Barney had the most Defensive Runs Saved of any player at any position with 28 and also led NL second basemen in fielding percentage. He tied Placido Polanco's major-league record for longest errorless streak by a second baseman- 141 games.
Barney broke the NL record, which previously stood at 123 games. The man whose record he broke was the last Cubs second baseman to win a Gold Glove- Hall-of-Famer Ryne Sandberg in 1991.
Heyward the lone Brave to win
The Braves outfield rated best in the majors by advanced defensive metrics, and all three of their regular outfielders were finalists for a Gold Glove, but rightfielder Jason Heyward was the only winner.
Heyward led National League rightfielders in Defensive Runs Saved with 20 and tied for the lead among rightfielders in assists with 11.
He is the first Braves player to win a Gold Glove Award since
Andruw Jones
and
Jeff Francoeur
each won in the outfield in 2007.
Other winners …
Notes and nuggets on the other Gold Glove Award winners:
A change of leagues didn't hinder
Mark Buehrle
defensively, as the Florida Marlins pitcher won his fourth straight Gold Glove.
Buehrle led NL pitchers with 12 Defensive Runs Saved and became the first Marlins pitcher to win a Gold Glove, the first Marlins player to do so since
Luis Castillo
and
Mike Lowell
won in 2005.
Washington Nationals
first baseman
Adam LaRoche
won his first Gold Glove and became the second Nationals player to win a Gold Glove since the team moved to Washington. The other was third baseman
Ryan Zimmerman
in 2009.
Philadelphia Phillies
shortstop Jimmy Rollins ended Troy Tulowitzki's two-year run and won his fourth Gold Glove, his first since 2009.
Gold Glove Awards have become a regular thing for the Phillies, who have had at least one winner every year since 2007. Though Rollins did not fare well via advanced metrics, he led the NL with a .978 fielding percentage.
San Diego Padres
third baseman
Chase Headley
also did not rank among the advanced metrics leaders at his position, but he did lead major-league third basemen in assists by a wide margin with 314.
Headley is the first Padres player to win a Gold Glove since
Adrian Gonzalez
in 2009 and their first third baseman to win since
Ken Caminiti
in 1997.
Colorado Rockies
leftfielder
Carlos Gonzalez
won a Gold Glove for the second time in three seasons. He became the second Rockies outfielder to win multiple Gold Gloves, joining
Larry Walker
.
Pittsburgh Pirates
outfielder
Andrew McCutchen
won his first career Gold Glove Award. He became the third Pirates player to win one in the last twenty seasons, joining shortstop
Jay Bell
in 1993 and outfielder
Nate McLouth
in 2008.
May, 23, 2012
5/23/12
1:02
PM ET
By
William Cohen
and
Jeremy Lundblad, ESPN Stats & Info
| ESPN.com
AP Photo/Richard LipskiBryce Harper was intentionally hit by Cole Hamels on May 6 for, what Hamels said, was getting calls a rookie shouldn't.
Fireworks could fly tonight on Wednesday Night Baseball (ESPN2, 7 ET) when the
Washington Nationals
take on the
Philadelphia Phillies
.
Tonight will be
Cole Hamels
first start against the Nationals since admitting to intentionally plunking
Bryce Harper
in the back in the first inning of a game on May 6 (a 9-3 Phillies win).
Harper might have gained his revenge already as he went 2-for-3 with a double and a run scored against Hamels after being intentionally hit.
One of the reasons Hamels said he hit Harper was because he thought Harper was getting calls that a rookie shouldn't.
In the two games against the Phillies before being plunked, Harper took 25 pitches that were called balls. Of those 25, four were actually in the strike zone (16.0 percent), according to Inside Edge pitch-location tracking. Only
Jayson Werth
(5) saw more such pitches in the two games for either team.
The Phillies were not as fortunate. Only seven of 89 called balls against their hitters were in the strike zone (7.9 percent), meaning that they caught a break less than half as often as Harper.
Pitching Matchup
Edwin Jackson
is off to the best start of his career. He is striking out hitters at the highest rate of his career (8.0 K/9) while walking fewer batters than ever (1.7 BB/9 – 10th-best in the NL). He correspondingly is on pace to have the lowest qualified ERA of his career at 3.31.
The key to Jackson's success might be as simple as getting ahead in the count more often. He had been improving slightly each season, but took a leap to another level this season as he has thrown a strike 66 percent of the time on his first pitch, 14th-best among MLB starting pitchers (the league average is 59 percent). From 2009-11, Jackson never had a first-pitch strike percentage higher than 58.
Since dropping his first start of the season, Hamels is 6-0 with a 2.20 ERA and a .212 opponent batting average over his last seven starts.
His seven straight quality starts is tied for the second-longest active streak in the majors and he's helped keep a Phillies team afloat that's battling a host of injuries.
Hitters to Watch
Adam LaRoche
is 4-for-16 lifetime against Hamels, but all four of his hits have gone for extra bases, including three home runs, giving him a 1.208 OPS against Hamels.
Since being plunked, Harper is just 15-for-56 (.246 BA), but has picked things up recently. Over his last 10 games, Harper is hitting .325 (13-for-40) with six RBI.
March, 28, 2011
3/28/11
8:59
AM ET
Arizona Diamondbacks

They struck out a major-league record 1,529 times in 2010. However, two players no longer with the team --
Mark Reynolds
and
Adam LaRoche
-- accounted for 25 percent of those strikeouts (383 of 1,529).
Gerardo Parra
was second among all leftfielders in 2010 with a +/- rating of +19. (Parra turned 19 more batted balls into outs than the average left fielder would have.) The only left fielder with a better +/- than Parra last season was
Carl Crawford
.
Colorado Rockies

The Rockies hit .298 at home in 2010, but just .226 on the road. The 72-point differential in their home-road batting average was the worst in baseball.
Carlos Gonzalez
was one of 15 players who hit 30 home runs and had 100 RBI last season. Of those 15 players, Gonzalez drew the fewest walks (40).
Los Angeles Dodgers

Once again, the Dodgers will have a big question mark in left field. (Currently,
Jay Gibbons
and
Marcus Thames
are the leading candidates for the starting position.) In 2010, the Dodgers' leftfielders combined to hit .261, with a .322 on-base percentage and .392 slugging percentage. Those numbers were the lowest for Los Angeles' leftfielders in all three categories since 2005.
Despite playing 162 games for the first time in his career,
Matt Kemp
saw his batting average, OBP and slugging percentage all drop at least 40 points from 2009 to 2010. He also struck out 31 more times, from 139 to a career-high 170.
San Diego Padres

There's no replacing
Adrian Gonzalez
's offensive production, one reason why their offseason moves might have revolved around improving defensively. New second baseman
Orlando Hudson
was a major-league best +23 among second basemen last season. New shortstop
Jason Bartlett
ranked ninth at his position, +6.
The core of their bullpen, the best in the majors last season, returns in 2011. The Padres' relief corps ranked first or second in ERA, opponents' batting average, strikeouts per 9 IP and strikeout-to-walk ratio, and fourth in home runs per 9 IP. Their strikeout-to-walk ratio was 18 percent higher than the next-best team.
San Francisco Giants

Barring injury,
Tim Lincecum
likely will become the eighth pitcher in the modern era (since 1900) with 1,000 strikeouts in his first five seasons. The seven pitchers who reached this milestone: Tom Seaver (1,155), Bert Blyleven (1,094), Dwight Gooden (1,067),
Kerry Wood
(1,065), Grover Cleveland Alexander (1,036),
Hideo Nomo
(1,031) and Mark Langston (1,018). In four seasons, Lincecum has 907 career strikeouts.
The Giants finished the season on a tear thanks to their pitchers, who put together one of the best calendar months in the live ball era (since 1920). The Giants posted a 1.78 ERA in September, the fifth-lowest in a month since 1920, and their .182 opponents' batting average was the second-best for a single month in that span.
-- Mark Simon and John Fisher contributed to this report
January, 9, 2011
1/09/11
11:15
AM ET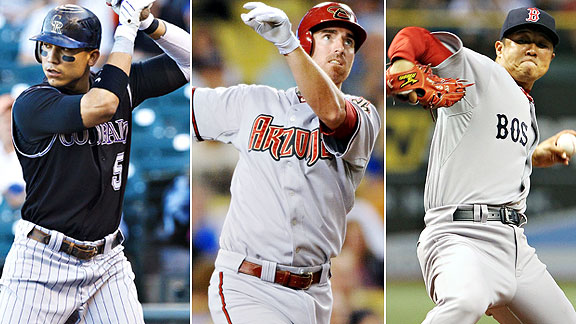 US Presswire
Carlos Gonzalez, Adam LaRoche, and Hideki Okajima have been among baseball's newsmakers over the last couple of weeks.
Some notes, stats and trends from our baseball research team on noteworthy major league moves since the holiday season.
The
Colorado Rockies
recently issued their second significant long-term contract this offseason, rewarding
Carlos Gonzalez
for his breakout 2010 season with a seven-year/$80 million deal.
Gonzalez set career highs in just about every meaningful statistic in 2010, leading to a third-place finish in the NL MVP vote.
While Gonzalez has established himself as a very talented player, certain aspects of his game indicate he was statistically fortunate to hit as well as he did in 2010.
When Gonzalez put the ball in play, his performance was tremendous. Gonzalez's .384 mark was the third-highest among players who qualified for baseball's batting title (502 plate appearances) and was nearly 60 points higher than his BABIP in his first two seasons.
Even a 30-point drop from his 2010 numbers would have a significant impact on his slashline (batting average, on-base percentage, slugging percentage) in 2011.
The rate at which Gonzalez's fly balls turned into home runs (20.4 percent, according to Fangraphs.com) was the seventh-best mark in the National League.
Over the last five seasons, only six players have posted a cumulative home run-to-fly ball mark of 20.0 or above –
Ryan Howard
,
Jim Thome
,
Adam Dunn
,
Alex Rodriguez
,
Mark Reynolds
and
Prince Fielder
. Through this deal, Gonzalez could perform at the same or similar rates to how he did in 2010, but statistically speaking, that won't be easy.
-- Justin Havens
LaRoche is a Second-Half Slugger
Perhaps the Nationals should have waited until after the All-Star game to sign
Adam LaRoche
who has a history of heating up in the second half of the season. LaRoche has posted a .766 career OPS before the break and a .889 OPS after the break.
The 113-point gap in his first-half/second-half OPS is the fourth-largest differential over the last 50 years among players with at least 1,500 plate appearances both before and after the break.
However, last year LaRoche bucked the trend, with nearly identical marks (.787 and .788) in both the first and second half of the season, thanks to a near career-low .307 on-base percentage in the second half.
LaRoche's history is definitely that of a late-season slugger. In five of his seven seasons, his second-half slugging percentage exceeded his first half by at least 40 points.
-- Katie Sharp
Okajima needs to fix his fastball
The biggest key for recently re-signed
Boston Red Sox
lefty reliever
Hideki Okajima
in re-establishing himself as a good bullpen option is to improve the effectiveness of his two-strike fastball.
When Okajima threw something slow with two strikes, his results from 2008 to 2010 were both consistent and good. But the numbers when he tried to sneak an 87 mile-per-hour fastball by a hitter (whether a lefty or righty), changed dramatically last season.
According to our Inside Edge video tracking data, Okajima gave up 21 hits and got 36 outs with two-strike fastballs last season.
In the previous two seasons (including postseason), he allowed 20 hits with his two-strike fastball (one fewer than 2010) and got 100 more outs-- 136
Okajima's opponents on-base percentage jumped by more than 200 points (.194 to .403). If Okajima had pitched to his 2008 and 2009 form, he should have allowed seven hits in these situations. He yielded three times that many last season.
-- Mark Simon
August, 1, 2010
8/01/10
7:00
PM ET
By
ESPN Stats
and
Information
| ESPN.com
OK,
Alex Rodriguez
didn't hit his 600th home run, and five of the seven American League games featured no home runs, but there were a few home runs of significance on Sunday. Here's a look at the most notable of them:
Albert Pujols
hit his 25th home run of the season, joining Eddie Mathews as the only players to hit 25+ home runs in each of their first 10 seasons in the major leagues. This one was his 391st, launching him past Graig Nettles and ex-teammate
Jim Edmonds
on the all-time home run list. Pujols' teammate
Matt Holliday
also homered, reaching 20 for the fourth straight season.
In defeat,
Adam Dunn
hit career home run number 341, passing a big slugger of his ilk -- Jack Clark -- 83rd in team history. He's hit 25 or more home runs in each of his last nine seasons (one shy of Pujols). The only year Dunn didn't hit 25 home runs was his first, and there's no shame in that -- he hit 19 in 66 games.
Adam LaRoche
used two home runs to manage a career-best six RBI. He became the first left-handed hitter to ever hit a pair of three-run home runs against a left-handed pitcher in the same game against the Mets. In the last month, LaRoche has been fearless against lefty pitching, hitting .324 with a 1.008 OPS and three home runs against southpaws (he only has one against righties in that stretch).
So much for slowing down:
Jose Bautista
hit his sixth home run in his last seven games, giving him a major-league best 32 for the season. His eight home runs since the All-Star Break are one better than
Dan Uggla
and
Rickie Weeks
for most in the majors.
Jason Michaels
may not be an everyday player, but he's maximized his opportunities off the bench. His pinch-hit grand slam on Sunday was the second of his career (his other came in 2008). Michaels is a .352 career hitter with the bases loaded, with four grand slams (and eight sacrifice flies).
A-Rod can take heart in
Hanley Ramirez
ending his home run drought. Ramirez hadn't hit one in his previous 24 games, hitting just .221 in that span. he went deep Sunday for the 14th time this season, the first in nearly a month.
May, 20, 2010
5/20/10
4:37
AM ET
By
ESPN Stats & Info
| ESPN.com
Hit Tracker
- Mets outfielder
Angel Pagan
's 4th-inning inside-the-park home run against the
Washington Nationals
traveled 396 feet and hit the center-field wall. Despite being a solid shot, only Coors Field's friendly confines (and atmosphere) would have yielded an out-of-the-park home run.
- The longest home run of the night came off the bat of Arizona's
Adam LaRoche
, whose second shot of the game traveled 435 feet to center field. Surprisingly, the blast wouldn't have been a home run in every MLB park. The cavernous center field of Minute Maid Park in Houston would have gobbled it up.
Why Tigers Starter
Justin Verlander
Won:
- Controlled the count. Verlander only went to a 2-0 count once in Wednesday's game against Oakland. It was to
Daric Barton
in the bottom of the seventh inning who then flied out to center on a 2-2 pitch.
- Finished off Athletics hitters efficiently. Verlander retired 15 of 19 A's hitters with two strikes (78.9%), including five strikeouts.
- Used his fastball early and often. Verlander threw 25 first pitch fastballs to the 30 batters he faced, and 21 of them were strikes. Oakland hitters only swung at one first pitch fastball all night, a third-inning pitch
Adam Rosales
flied out on.
Why Red Sox Starter
Clay Buchholz
Won:
- Deadly with two strikes. Buchholz held the Twins to 1-13 (.077) in two-strike counts, and seven of the Twins 14 plate appearances that reached two strikes ended in a strikeout (50.0 K pct). Buchholz especially controlled Minnesota hitters with the slider in two-strike counts, holding Twins hitters to 0-5 and four strikeouts on the pitch.
- Started innings strong and maintained efficiency. Buchholz retired seven of the nine leadoff men he faced, and ended 15 of 28 (53.6%) plate appearances against him in three pitches or less (MLB avg - 47%). Buchholz also went to a three-ball count only four times all game, holding the Twins to 0-3 and one walk.
- Grounded the Twins. Buchholz recorded 11 of his outs on groundouts, tied for his second-highest total this season. Buchholz also recorded seven outs on groundballs from the fifth to the seventh inning, with only a
Justin Morneau
single preventing them from being consecutive. The batter after Morneau (
Michael Cuddyer
) grounded into a 6-4-3 double play.
Why Marlins Starter
Anibal Sanchez
Won:
- Retired the first batter of the inning in all seven innings pitched.
- Hitters were 1-10 against the slider (opp BA against slider is now .098).
- 76 percent of sliders went for strikes (MLB average: 63 percent).
Looking Ahead
-
Clayton Kershaw
has held the Padres to a .186 batting average since the start of the 2009 season, but has been especially good against San Diego lefties, who are just 1-17 against him. Lefties do not have a single well-hit ball against Kershaw (0-for-17). Also, he's allowed just six hits in 39 at-bats when he is ahead in the count.
-
Alfonso Soriano
is scheduled to face
Joe Blanton
on Thursday, a pitcher he's had success against in his career (5-14, 2 extra-base hits). Soriano has been hot in May, batting .357 with four home runs while Blanton has struggled in three starts since coming off the DL (1-2, 5.49 ERA). Opponents have jumped on Blanton's first pitch (6-14, 2 HRs), a count Soriano has feasted on this season (6-11, HR, 2 doubles).
May, 5, 2010
5/05/10
8:28
PM ET
By
Tom McKean, ESPN Stats & Info
| ESPN.com
Chris Young's 2009 season with the
Arizona Diamondbacks
was less than memorable, when he hit under .200 until mid-September and spent part of the season in the minors. It seemed to be rock bottom for the youngster who came to Arizona in the
Javier Vazquez
trade in 2005.
Young enjoyed a 2007 season in which he finished 4th in NL Rookie of the Year voting. Young followed that with nice power numbers in 2008, overcoming a .248 BA. The talent that the Diamondbacks had seen in Young while in the minor leagues with the
Chicago White Sox
was evident, and his 54 combined HR in 2007 and 2008 was proof.
But 2009 was a completely different story, as he hit just .244 against the fastball after pounding that pitch in each of the previous two seasons (.304 in 2008 and .287 in 2007).
This year has seen Young return to stellar form, however, hitting over .300 while knocking in 24 runs in his first 26 games. To put that in perspective, it took Young 79 games to reach 24 RBI last season. He's found success against the fastball again, hitting .302 against heaters this season. Through May 4, Young's .845 OPS is higher than notable sluggers like
Matt Holliday
.
So what's the reason for the resurgence?Some of Young's success this season can certainly be attributed to an Arizona offense that leads the majors in runs and is 2nd in home runs, but that in no way should take away from what Young is doing, as he's a big reason for the Diamondbacks' potent offense.
Just like last season, Young is batting primarily in the sixth spot of the lineup. Last year, Young hit .211 in 44 games when he was sixth in the batting order. In 2010, he's played 21 games batting from that spot and is hitting .313.
In actuality, Young may have
Adam LaRoche
to thank. LaRoche, an offseason acquisition by Arizona, has spent the majority of his time batting 5th this season, and his success in that spot (1.102 OPS) has likely opened the door for Young considerably.
My colleague Dan Braunstein crunched some numbers with Inside Edge and the theory rings true.
In games where he's hit behind LaRoche (not necessarily all PA's after LaRoche, but just games where he's slotted after LaRoche in the order), Young has seen fastballs 59.6 pct of the time, hitting .444 (12-27) on those pitches. Hitting behind anyone else, Young has seen fewer fastballs at 56.3 pct, with Young batting .194 (7-36) against fastballs.
Getting a healthy dosage of fastballs with LaRoche on base ahead of him seems to be feeding Young's hitting frenzy. Last year through 26 games, Young had seen fastballs 56.6 pct of the time, and was hitting .176 (9-51) with 2 HR against them. This season through 26 games, Young has seen fastballs slightly more often at 57.8 pct, but was hitting .302 (19-63) with 3 HR.
Again, the season is still very young but this is a trend that we noticed and we'll continue to monitor as the season moves along.
April, 30, 2010
4/30/10
2:12
PM ET
By
Jeremy Lundblad, ESPN Stats & Info
| ESPN.com
Today's Trivia
: The Mets and Phillies square off on Friday with first place in the NL East on the line. Who are the only two pitchers with 20 career wins for both franchises?
Quick Hits
: A player's history in a given month isn't always a harbinger of things to come. Just ask
Adam LaRoche
, a .195 career hitter in April, who is hitting .299 thus far. Or how about
Troy Tulowitzki
? He came into the season with a .194 April batting average, but is currently hitting at a .318 clip. But for every surprise, there are several players who are true to form.
Jhonny Peralta
and
Gavin Floyd
are characteristically starting slow, while
Ryan Theriot
and
Kosuke Fukudome
are off to traditionally hot starts. So what does history tell us that May has in store?
*
Cody Ross
has only played 51 games in May, but he has 15 home runs. Only
Ryan Howard
hits them out more frequently in May.
* Even though it's his worst month from a batting average perspective, an incredible 40 of Howard's 97 hits have been home runs.
*
Ichiro Suzuki
is a .365 hitter in May, best among active players and his highest average in any month.
*
Hunter Pence
is a .358 hitter in May and a .270 hitter in every other month.
*
Brian McCann
has a .350 May average and just .283 otherwise.
* May is when it usually all falls apart for Howie Kendrick. A .321 hitter in April, Kendrick has hit just .171 in the second month of the season. No non-pitcher with 100 plate appearances in May has a lower average.
*
Jason Bay
loves May. He has 45 home runs in the month, 10 more than he has in any other month. His 1.008 May OPS is behind only
Albert Pujols
and
Lance Berkman
among those with 200 plate appearances.
* Troy Tulowitzki only has two home runs in 55 career games in May.
*
Felix Hernandez
is just 6-12 in May with a 5.25 ERA. It's his only month with a losing record or an ERA over 3.50.
*
Mike Pelfrey
is just 2-9 in the month and 30-23 otherwise.
*
Hideki Okajima
has a mind-blowing 0.68 ERA in 40.0 career May innings.
* Pitching in the majors for the first time since 2007,
Colby Lewis
is 3-0 with a 3.80 ERA. Let's see how he fares in May though. Lewis has a 12.69 career ERA in the month.
* With 164 wins, the Red Sox were the winningest team of last decade in May. They had nine more wins than the Yankees.
Today's Leaderboard
:
Tim Lincecum
, a perfect 7-0 in May, is the only active pitcher with 10 starts in the month that has never lost.
Key Matchups
:
Alex Rodriguez
is hitless in his last 19 at-bats. Good thing
Freddy Garcia
is coming to town. Rodriguez has reached base in six consecutive plate appearances against the White Sox starter. In his career, A-Rod has five home runs and a 1.485 OPS against Garcia. That is the second highest OPS against Garcia among those with 20 plate appearances and
Bobby Higginson
is the only other player with five homers.
Jeff Niemann
simply dominated the Royals last season. He went 2-0 with a 0.53 ERA, striking out 16 and walking only one in 17 innings. The lone blemish was a solo home run by
David DeJesus
. In fact, current members of the Royals have hit just .089 against Niemann. As a staff, the Rays were 9-1 with a 2.40 ERA against Kansas City last season.
Trivia Answer
: Tug McGraw won 47 for the Mets and then was traded to Philadelphia where he won 49 games. Meanwhile, Jerry Koosman is one of the only three Mets pitchers with 100 wins. He finished his career off with the Phillies, winning 20 games over two seasons.