Stats & Info:

Alex Gonzalez
December, 11, 2011
12/11/11
11:02
AM ET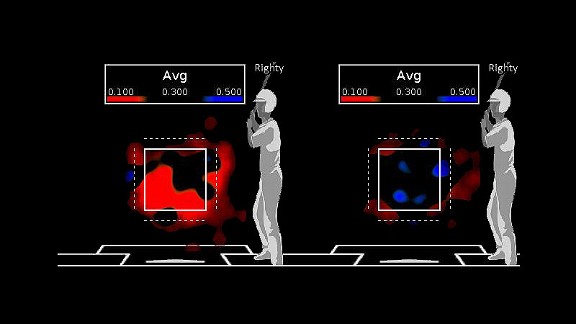 Left: Where Trevor Cahill struggled/succeeeded with his sinker (2010)
Right: Where Cahill struggled/succeeded (2011)
Click here to create your own Cahill heat maps
Each Sunday, ESPN Stats & Information reviews significant moves from the past week.
Diamondbacks trade with Athletics for P Trevor Cahill
Cahill is coming off a disappointing season, in which his ERA rose more than a run from 2010, even though his strikeout-to-walk ratio and home run rate were almost identical in both seasons.
The difference in Cahill's performance over the last two seasons was a BABIP (Batting Average on Balls in Play) that rose from an MLB-low .236 in 2010 to .302 in 2011.
Was his 4.16 ERA last year a product of bad luck?
Cahill is a ground-ball specialist, ranking first among AL starters in ground ball rate over the last two seasons (56.4 percent).
Last season, he struggled to locate his signature sinker down in the zone, especially against righties.
Only one-third of his sinkers thrown to right-handed hitters in 2011 were located in the lower-third of the strike zone or below the knees, compared to 43 percent in 2010.
The effectiveness of the pitch was much worse last season compared to the previous year, as noted in the chart on the right.
Cahill continued to challenge hitters with his sinker in 2011 despite its ineffectiveness, throwing it more than 50 percent of the time compared to less than 40 percent in 2010.
Cahill recorded double-digit ground outs in just two of his 14 starts in the second half, after doing so in half of his 20 starts before the break.
The heat map at the top of this piece shows the difference in the effectiveness of Cahill's sinker in each of the last two seasons.
--Katie Sharp
Angels sign C.J. Wilson
Wilson pitched like an ace last year, with the fourth-highest WAR and seventh-best ERA among AL pitchers.
There is a thought that in 2012 Wilson could post even better numbers than he did in 2011, when his ERA ranked seventh-best.
He'll be moving from the hitter-friendly Rangers Ballpark to Angel Stadium, which last year reduced run-scoring by an AL-high 16 percent according to ESPN.com's Park Factors.
However, Wilson must now face the
Texas Rangers
lineup likely four or five times in 2012. The Rangers ranked among the AL's top three in batting average, slugging percentage, runs and OPS.
Last year, just four of his 34 starts came against the Yankees,
Boston Red Sox
, and
Detroit Tigers
, which ranked first, second and fourth, respectively in OPS in the league.
Via
Baseball Prospectus
, the opposing hitters that Wilson faced had a combined .728 OPS, lowest among pitchers who threw at least 150 innings last season.
Wilson could be replacing his six starts against the Angels with six against the Rangers. He had a solid 2.65 ERA against his current team last season, but will be challenged to repeat that against Texas in 2012.
Last season 17 pitchers made at least three starts against the Rangers. Only four of them posted an ERA below four, led by Cahill's 3.10 in six starts.
--Katie Sharp
Brewers sign SS Alex Gonzalez
The
Milwaukee Brewers
signed Gonzalez to replace
Yuniesky Betancourt
at shortstop.
It's an even move offensively; Gonzalez has a career on-base percentage of .291 and slugging percentage of .399. Betancourt's career numbers are .292 and .391, respectively.
But over the past two seasons -- according to Baseball Info Solutions' stat Defensive Runs Saved -- Gonzalez has saved his teams 31 runs. Betancourt has cost his team 27.
If we use the sabermetric value of 10 runs equaling a win, that means Gonzalez has been worth nearly
six
more wins than Betancourt over the past two seasons with his glove alone.
That's a big upgrade for a team that had its share of defensive issues during the postseason after finishing 11th in the majors in Defensive Runs Saved in 2011.
-- John Fisher
November, 10, 2011
11/10/11
3:34
PM ET
By
Justin Havens
| ESPN.com
While this offseason's free agency class is headlined by the likes of
Albert Pujols
,
Prince Fielder
and
Jose Reyes
, there are a number of secondary options who stand to receive lucrative contracts in their own right. Two of them – third baseman
Aramis Ramirez
and reliever
Ryan Madson
– are likely to be a bit overvalued by suitors, but for entirely different reasons.
Aramis Ramirez

Ramirez
While Ramirez rebounded from a replacement level 2010 campaign to post a .306/.361/.510 line with 26 home runs and 93 RBI, there were indicators across-the-board that point towards a potentially quick decline for Ramirez, a concern relevant to any team interested in signing him.
Ramirez is becoming increasingly less patient as the years go by, both in the form of chasing pitches outside of the strike zone and in generating walks. In 2010 and 2011, Ramirez has posted walk rates of 6.7 and 6.9 percent, respectively, representing a clear decline from his 11.2 percent mark in 2008 and 8.2 in 2009. Perhaps more telling, the rate at which Ramirez is swinging at pitches outside of the strike zone is rapidly increasing since 2008.
In addition to the steady increase, Ramirez's 2011 mark was the 5th-worst in the NL in 2011, behind only
Alfonso Soriano
,
Alex Gonzalez
,
Yuniesky Betancourt
and
Michael Morse
. Coupled with the decline in his plate discipline is the idea that he is not long for third base defensively. After posting a +11 mark at the hot corner according to Defensive Runs Saved in 2008, Ramirez has been below-average in each season since – and there's a pattern; Ramirez graded out at -4 in 2009, -10 in 2010 and -12 in 2011. The 2011 mark ranked 2nd-to-last among NL third basemen.
Ryan Madson

Madson
This offseason, Madson is one of the most coveted free agent relievers in baseball. That was to be expected, fresh off his first full season as the
Philadelphia Phillies
closer, complete with 32 saves and a 2.37 ERA in 60 2/3 innings. Whether or not the reported lucrative deal with the Phillies materializes, someone will pay Madson. The reason he stands to make $40 million or more this offseason has little to do with a significant jump in his skills, however, and more to do with the fact he now has the official 'closer' label.
In 2010, Madson posted five saves. In 2011, he registered 32. That would seem to indicate a noticeable jump in value or performance from Madson. In reality, he was nearly identical, with some actual decline in key spots.
The difference was largely in an unsustainable home run rate – Madson allowed home runs on 0.9 percent of plate appearances, which was the 16th-best mark out of the 339 pitchers who registered at least 200 plate appearances this season. Had Madson entered the market after 2010 – when he demonstrated much the same skill set he did in 2011 – he would likely not have been offered anything approaching $40 million.
Whether or not offering a reliever that sort of money is a wise proposition is a different question entirely. In the history of the game, six relievers have received contracts of three or more years at an average annual value of at least $9 million –
B.J. Ryan
,
Billy Wagner
,
Francisco Cordero
,
Mariano Rivera
,
Francisco Rodriguez
and
Rafael Soriano
. It would be fair to say that only Rivera returned the sort of performance expected.
Rafael Soriano
: signed after 2010 season; posted highest ERA (min 30 IP) since 2002 and missed much of the season due to injury.
Francisco Rodriguez
: signed after 2008; 62 saves in final year with
Los Angeles Angels
, never saved more than 35 with
New York Mets
. Suspended in 2010, traded in 2011 to avoid vesting option.
Mariano Rivera
: signed after 2007; posted ERA below 2.00 in each season of contract.
Francisco Cordero
: signed after 2007; strikeout rate dropped from 10.0 to 7.8 to 7.3 to 5.4 over life of deal. Posted an Expected Fielding Independent Pitching (xFIP) below 4.00 once during contract (2008).
Billy Wagner
: signed after 2005; innings pitched and saves both declined each season he was with Mets.
B.J. Ryan
: signed after 2005; Just 155 1/3 innings pitched in 5 seasons; missed majority of three different seasons (2007, 2009, 2010).
Clearly, the Phillies, or any other team, may give pause to signing Madson, or any other reliever, to such a lucrative contract given the history of performance for those who have received such a contract in the past.
July, 7, 2011
7/07/11
9:32
AM ET

Schierholtz
In a game that featured a combined 36 strikeouts -- a modern-era record for a game lasting 14 innings or fewer -- the
San Francisco Giants
defeated the
San Diego Padres
on a walk-off home run by
Nate Schierholtz
in the 14th inning.
It was his second home run of the game, the first Giants player with a multi-homer game that included a walk-off home run since
Bengie Molina
did it in April of 2008, also against the Padres.
Schierholtz, who hit his first home run in the fourth inning, became the first Giants player to hit two homer 10 innings apart in the same game since
Barry Bonds
who did so in September of 2001.
It marked the latest walk-off home run in the history of AT&T Park. In fact you have to go back to 1996 for the last time a Giants player hit a walk-off home run in the 14th inning or later. That was
Tom Lampkin
, whose three-run home run in the bottom of the 15th inning lifted the Giants to a win over the
Florida Marlins
.

Speaking of the Marlins they notched a walk-off victory on
Mike Stanton
's solo home run in the 10th inning to defeat the
Philadelphia Phillies
. It was Stanton's first career walk-off home run, and a rather special one according to Elias.
At 21, Stanton was the third-youngest player since 1900 to hit a walk-off home run against the Phillies. Eddie Mathews was 20 years old in 1952 when he hit a game-ending homer for the Boston Braves, and
Alex Gonzalez
was a "younger 21" than Stanton when he did the same for the 1998 Marlins.
While these games provided some late heroics, no game was more exciting on Wednesday than the tilt between the
Cincinnati Reds
and the
St. Louis Cardinals
. The Reds narrowly escaped with a 9-8 victory in 13 innings -- after holding an 8-0 lead through five innings.
Elias tells us it was the first time in 57 years that the Cardinals lost a game after erasing a deficit of eight or more runs. On July 17, 1954 at the old Busch Stadium, St. Louis rallied from down 9-0 to tie the Giants, but New York won in 11 innings, 10-9.
Elsewhere Around the Diamond:
Jair Jurrjens
continued his stellar 2011 campaign with six innings of one-run ball as the
Atlanta Braves
defeated the
Colorado Rockies
. Jurrjens heads into the All-Star break with a 12-3 record and a 1.87 ERA. According to Elias he is the first Major League pitcher to head into the break with 12 or more wins and an ERA below 2.00 since
Randy Johnson
in 2000.
Perhaps more impressive, he is just the third Braves pitcher all-time to have accomplished the feat joining
Greg Maddux
in 1998 and
Tom Glavine
in the 1991 season.
Jurrjens is a strong possibility to start for the National League in the All-Star Game, something Maddux and Glavine each did that season.
October, 9, 2010
10/09/10
5:13
AM ET


Who would have thought that when Kansas City traded
Rick Ankiel
and
Kyle Farnsworth
to Atlanta for three players at the trade deadline, it would have had so much impact in the postseason?
Friday night Rick Ankiel was able to do with one swing, what his five wild pitches in 2000 were unable to: earn the Braves a postseason victory. For those that don't remember, in 2000 Rick Ankiel was a flame-throwing rookie pitcher who struck out a Cardinals rookie record 194 batters and earned a NLDS Game One start against the Braves. Ankiel would throw a record five wild pitches in the third inning of that game and only last 2.2 innings. His Cardinals did however go on to win the game and eventually the series.
10 years later, the Braves picked up Ankiel at the trade deadline with fellow ex-Royal Kyle Farnsworth. Farnsworth's major impact Friday came in the bottom of the tenth inning when he induced Buster Posey into an inning-ending double play with the bases loaded (score was 4-4). Prior to Friday, Farnsworth had written his own piece of Braves postseason lore, but we'll forgive you if you don't remember his connection. In 2005, he blew the save for the Braves against the Astros, which eventually led to an 18-inning game that included, among other things, a Roger Clemens appearance as a pinch hitter. Interestingly enough, the Braves started a postseason scoreless streak in that game that they only managed to snap Friday after 24 innings.
One more Braves factoid: three of the four players with an RBI in Game Two were not on the team's roster last season. Ankiel and
Alex Gonzalez
were both midseason acquisitions and
Melky Cabrera
was part of the
Javier Vazquez
trade in the offseason. Plus 5 of the 7 pitchers who saw action Friday (including rookies
Mike Dunn
,
Jonny Venters
and
Craig Kimbrel
) were also not on the roster a year ago.
October, 8, 2010
10/08/10
3:06
PM ET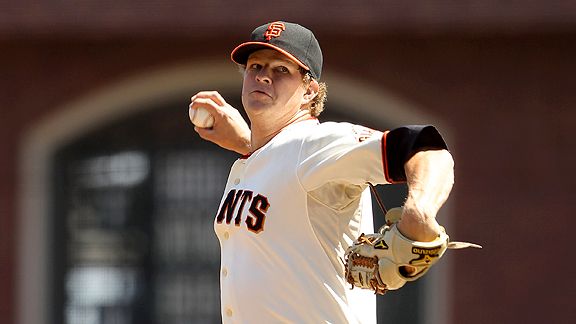 Ezra Shaw/Getty Images
The Giants' Game 2 starter, Matt Cain, has found AT&T Park to be much to his liking of late.
If history is any indicator, chances are that one of the day-after discussion points about Game 2 of the Braves-Giants NLDS will be on how unfortunate one of the starting pitchers was. That's the same talk taking place Thursday regarding Braves Game 1 starter
Derek Lowe
.
For Game 2, the subject of hard luck refers to the run support for
Matt Cain
and
Tommy Hanson
, which hasn't historically correlated with their records. In Hanson's case, that's why he was a sub-.500 pitcher this season after the All-Star break. His 2-6 record and 2.51 ERA are largely a product of the Braves' scoring an average of 2.9 runs per game in his 16 second-half starts. Amazingly, over a five-start stretch in July and August, Hanson had a 1.05 ERA and a .169 opponents' batting average … and no wins.
Cain has no sympathy, as this was an issue he dealt with for years. But over the last two seasons, the Giants' offense has been kind to him, averaging slightly more than four runs per game. That's significantly better than the three-year run from 2006 to 2008, in which Cain was the least supported pitcher in the majors.
Cain has a good comfort zone at AT&T Park. The Giants have won seven of his past eight starts there, the exception being his final regular-season start against the Padres. In Cain's last six starts, he had the total support of the Giants' bullpen. Giants relievers allowed one run in 13 innings in Cain's starts in September and October.
How They Get It Done
For much of the season, Cain's out pitch was his changeup, but September saw a shift in success. From April to August, Cain threw his curveball with two strikes 13 percent of the time. He upped that to 20 percent in September and used it to get 13 outs in those situations, without giving up a hit in a stretch that lasted until his last appearance.
Hanson's key is the effectiveness of his slider, which he throws about once every four pitches, but recently the curveball has been a winning option. According to Inside Edge, he didn't give up a hit with any of the 93 curveballs he threw in his last seven starts.
Matchup to Watch
Braves shortstop
Alex Gonzalez
is 0-for-9 for his career against Cain, including 0-for-5 against him this season with a pair of strikeouts. That's within striking distance of Gonzalez's all-time worst 0-for against a pitcher. He's 0-for-11 in his career against former Braves reliever
Mike Remlinger
.
Stat of the Day
The Giants haven't had consecutive postseason games in which they've held their opponent scoreless since doing so in the 1917 World Series.
September, 22, 2010
9/22/10
3:15
PM ET
Today's Trivia:
On this date in 1993, Nolan Ryan made the final appearance of his career. No active pitcher even has half of his career strikeout total. However, four active pitchers have 2,000 career strikeouts. Can you name them?

Quick Hits:
On Tuesday, the
Arizona Diamondbacks
struck out six times to reach 1,403 on the season. That broke the single-season record of 1,399 set by the 2001
Milwaukee Brewers
.
• The Diamondbacks have played 65 games this season where they have struck out at least 10 times; that's 17 more than the team with the second most. Even that 2001 Brewers team only had 56 of them. Not surprisingly, the Diamondbacks are just 15-50 when fanning at least 10 times.
• They've only had nine games of striking out five times or fewer. Since 1920, the fewest such games is 17 by those 2001 Brewers. This season, the
Florida Marlins
have the next fewest with 24. By contrast, the
Chicago White Sox
have 82.
• They've already set a record by having five players with 130 or more strikeouts. The 2002
Chicago Cubs
and 1991 and 1992
Detroit Tigers
claimed the old record with four.

•
Mark Reynolds
already has his third straight 200-strikeout season, but he's all but secured an even more embarrassing statistic. With 202 strikeouts and a .203 batting average, it seems extremely likely that he won't hit his strikeout total. Even Rob Deer didn't do that back in 1991 when he struck out 175 times and hit .179. In fact, the "record" total of strikeouts that was above a player's batting average belongs to pitcher Dean Chance. In 1968, he struck out 63 times while hitting .054. Among position players, it's never happened to a player who actually recorded a hit.
• Reynolds has fanned 629 times since 2008. Among pitchers, only
Tim Lincecum
,
Dan Haren
,
CC Sabathia
and
Justin Verlander
have more strikeouts than that.
• In 2002, the
Los Angeles Angels
won the World Series after striking out only 805 times in the regular season. Even if you didn't count their outfielders, the Diamondbacks have already exceeded that total.
• As researcher Mark Simon points out, the Diamondbacks are averaging a strikeout every 4.1 plate appearances. That's roughly equal to the career rate of
Jim Thome
, the man with the second most strikeouts of all time.
Today's Leaderboard:
Not surprisingly, Reynolds strikes out at the highest rate in the league in addition to having the most strikeouts. So who is the toughest to strike out? Among qualifying players, that distinction belongs to Jeff Keppinger.
Key Matchups
• On July 31, the
Texas Rangers
beat the Angels 2-1 as
Rich Harden
outdueled
Dan Haren
, who was making his second start since getting traded. At that point the Rangers were 25-22 on the road. Since then, Texas is just 10-19 away from home. Which brings us back to Haren, who is scheduled to start Wednesday against the Rangers. The key hit in that July game was a two-run home run by
Vladimir Guerrero
. He's a .414 career hitter against Haren, and no one has more career home runs (three) or RBI (10) against the Angels hurler.
• Just 9-11 in September, the
Atlanta Braves
look to avoid the sweep against the
Philadelphia Phillies
. They'll have to deal with
Roy Oswalt
, who is 7-0 with a 1.41 ERA in his last eight starts. However, Oswalt is 0-3 with a 7.58 ERA in seven career starts against the Braves, the only NL team (besides Houston) that he's yet to defeat. Atlanta might find its offense from an unlikely source.
Alex Gonzalez
is 10-for-23 lifetime against Oswalt with a pair of homers. That .435 average is fourth-best among those who have faced him 20 times.
Trivia Answer:
Jamie Moyer
,
Javier Vazquez
,
Andy Pettitte
and
Tim Wakefield
are the only active pitchers with 2,000 career strikeouts. Moyer is one of three active players who struck out against Ryan.
June, 10, 2010
6/10/10
7:02
PM ET
By
Derek Czenczelewski, ESPN Stats & Info
| ESPN.com
The
Toronto Blue Jays
have to be one of the biggest surprises this season as they sit at 33-27 entering play on Thursday. Behind powerful hitting and solid starting pitching, the Blue Jays remain in serious contention among the AL East heavyweights. Through games of June 8, the Jays had hit a league-leading 97 HR, 55 of which have come at home. As of June 8 last season, the Jays had hit only 66 HR. So what's changed?
Some around Toronto have suggested that wind patterns have changed at Rogers Centre, although our data doesn't seem to really support that argument.
One factor has been the re-emergence of
Vernon Wells
as a legitimate middle of the line-up hitter. And when some look at
Alex Gonzalez
and his 12 home runs, they suggest that maybe it's just plain luck. However, of the team's 97 home runs, only 30 were considered "Just Enough" according to Hit Tracker ("Just Enough" home runs are those that barely leave the yard and often fluctuate the most from one year to the next).
So, the majority of those Blue Jays homers have been solid, no-doubter home runs. The average distance of home runs hit by the Jays this season is 402 feet, just below the league average of 403 feet. The average apex of their home runs is at 85 feet (league average is 87 feet). And the speed off the bat (106.1 MPH) is faster than the league average of 104 MPH. What this tells us is that the Blue Jays are hitting a lot of line-drive home runs.
What's most interesting about line-drive home runs is that they aren't really affected by wind conditions, which disputes the claims that the ball seems to be carrying better. No, this isn't Mother Nature or Lady Luck's doing, this is pure fundamental hitting.
The Blue Jays' power spotlight shines on the entire team, but no one has shined brighter than
Jose Bautista
. Bautista has hit 18 home runs this year, 10 at home and eight on the road. All but three of his shots have traveled to left field (those that didn't travel to left field went to left-center).
Through 59 games, Bautista has already set a career-high for home runs in a single season. While some fans may be questioning his new-found power, his approach at the plate hasn't changed. Bautista has relied on opposing pitchers to supply the power, hitting only one home run off of an off-speed pitch, which was coincidentally his first home run of the year (April 11 off of
Kevin Millwood
). Here's a breakdown of the pitch types for his other 17 home runs:
4-Seam fastballs: 8
2-Seam fastballs: 4
Sinkers: 2
Cutters: 2
Fastballs: 1
The average distance of Jose Bautista's home runs this season is 403.5 feet, again, right at the league average. His average apex five feet lower than the league average while the average speed of the ball off the bat on his homers is 109.42 MPH, over 5 MPH faster than the league average. Those are rockets.
Lastly, only six of Bautista's 18 home runs qualified as "Just Enough," which suggests that his power numbers are legitimate.
If nothing else, the Blue Jays have proved the very motto of so many hitting coaches and managers throughout the years: "Don't think about hitting home runs. Just make solid, line-drive contact and the ball will go." That approach has certainly worked well for the Blue Jays in 2009.
May, 5, 2010
5/05/10
1:28
PM ET
By
Ryan McCrystal, ESPN Stats
and
Info
| ESPN.com
Today's Trivia: Who hit the most home runs for the Tigers during Ernie Harwell's tenure with the team?

Quick Hits: Rod Barajas has four homers in his last four games and leads all catchers with seven home runs this season. Here's a look at a few other unlikely players leading their position in a category:

* Alex Gonzalez leads all shortstops with 8 home runs
* Jose Guillen leads all DHs in homers (2) and RBI (21)
* No surprise that Juan Pierre leads a position in stolen bases, but who would've guessed that position would be DH? He has four stolen bases as a DH this year
* Austin Jackson leads all outfielders in multi-hit games with 14
* John Buck leads all catchers with 13 extra-base hits
* David Freese leads all third basemen with a .455 BA with RISP
* Adam LaRoche leads first basemen with a .400 BA against lefties
* Nate Schierholtz leads all outfielders with a .423 BA in the 7th inning or later

Today's Leaderboard: Tigers rookie Austin Jackson is currently batting .376 and ranks among the major league leaders. While it's an impressive start, it would seem unlikely that he'll keep up that pace. Why? Jackson's batting average on balls in play is .524 this season. The major league average is an even .300.

Key Matchups: It looks promising for Andy Pettitte to continue his hot start against the Orioles today. A number of Orioles have struggled against Pettitte including Miguel Tejada (5-25), Luke Scott (2-12), Ty Wigginton (2-21) and Nolan Reimold (0-8).

It's been all or nothing for Carlos Pena in his career against Cliff Lee. Pena has 3 career homers against Lee, but has just 2 other hits in 22 at bats. His .227 career average against Lee isn't nearly the worst among his teammates however. Carl Crawford (3-18), Evan Longoria (1-7) and Dioner Navarro (0-10) are among other Rays who have struggled.

Trivia Answer: Norm Cash, 373 home runs. Cash began his career in Detroit the same year as Harwell, in 1960, after being acquired in a trade from the Indians. Trailing Cash on the list are Al Kaline (274 HR) and Willie Horton (262).
April, 19, 2010
4/19/10
6:43
PM ET
By
Chris Fallica, ESPN Stats & Info
| ESPN.com
The season is only 2 weeks old, but some surprising names find themselves atop some statistical categories entering Monday.
Who has the most hits in baseball? Odds are prior to the start of the season, you wouldn't have said
Scott Podsednik
,
Placido Polanco
or
Franklin Gutierrez
would lead baseball in hits with 21 on this date. Podsednik leads baseball with a .457 BA.
Even more bizarre,
Ivan Rodriguez
leads the NL with a .444 BA.
I'm sure everyone thought
Jorge Cantu
would be the player with the most RBI with 16.
No
Joe Nathan
, no problem. The Twins
Jon Rauch
has the most saves with 6.
Felix Hernandez
or
CC Sabathia
have to lead the AL in strikeouts, right? Wrong. That honor goes to the Orioles
Brian Matusz
with 23, one fewer than
Tim Lincecum
's ML-leading total 24.
Of course Lincecum leads baseball in K per 9 then... Wrong again. Fellow Giants starter
Jonathan Sanchez
has a higher K per 9 than any starter in baseball (12.41).
Your ML leader in XBH? None other than Blue Jays SS
Alex Gonzalez
with 11. In fact 11 of his 17 hits have gone for extra bases.
Stop the presses, a Nationals pitcher leads baseball in ERA. We told you Stephen Strasburg was the real deal. Wait. It's not Strasburg you are talking about? Nope.
Livan Hernandez
has yet to allow a run in 16 innings this season. In case you missed it, Hernandez' ERA is almost 6 over the last two years.
Matt Garza
leads the AL in ERA at 0.75.
Obviously the Blue Jays knew
Ricky Romero
would have the lowest opponent BA among AL starters at this point (.143). Why else would they have traded
Roy Halladay
? And if you guessed a Cardinals starter led the majors in Opp BA, you guessed right. Except it's not
Adam Wainwright
or
Chris Carpenter
we're talking about. We'd be talking about
Jaime Garcia
, who has held opponents to a .116 BA this season.