Stats & Info:

Alex Gordon
August, 11, 2013
8/11/13
7:43
PM ET
By
ESPN Stats & Information
| ESPN.com
For the first time in a decade, the
Kansas City Royals
are making noise in August and threatening to make the AL Central a three-team race for first place.
Following their 4-3 win over the
Boston Red Sox
on Sunday, the Royals have won 16 of their last 19 games since July 23, the best record in the AL in that span.
It is the first time the Royals have won at least 16 games in a 19-game span since they won 16 of their first 19 games in 2003, but it's the first time they've had a run like this in August or later since 1989.
During this stretch they have gone from 10 games back in the Wild Card standings following a loss on July 22 to 4½ games back in the Wild Card race, leapfrogging the
Los Angeles Angels
,
Seattle Mariners
and
New York Yankees
.
The Royals one-run win on Sunday was no fluke for this team, which has won its last 10 games that have been decided by one run, including five during this 16-wins-in-19-games stretch.
According to Elias, that ties the second-longest such streak in team history (record is 11 in 1973), and is the second-longest streak in MLB this season behind the Dodgers (11 games).
What has fueled this recent surge?
The pitching staff has allowed more than three runs just four times in 19 games. Their 2.27 ERA since July 23 is the third-best in the majors behind the
Detroit Tigers
and
Los Angeles Dodgers
(entering Sunday night's game).
The bullpen, which tossed three hitless innings on Sunday, has been nearly unhittable the last three weeks. Since July 23, their ERA of 1.21 is behind only the Braves, and they have allowed only one run in 20 innings on this homestand.
Alex Gordon
was the sparkplug in Sunday's win, going 3-for-4 and driving in two runs. All three of his hits on Sunday came on fastballs, marking just the second time this season he's had three hits off fastballs in a game and the first time since May 15.
James Shields
won his first home game since April 30, snapping a streak of nine straight winless home starts during which he posted a 4.70 ERA.
On Sunday he relied on his changeup to get both lefties and righties out. He threw 26 changeups (15 to lefties, 11 to righties) vs the Red Sox, which netted him a season-high-tying nine outs and only two baserunners allowed.
Did you know?
By taking three of four games from the Red Sox, the Royals have now won seven straight series since the All-Star break.
The Elias Sports Bureau notes that it is the team's longest series win streak since 1991, and the fifth-longest streak in team history.
October, 30, 2012
10/30/12
10:30
PM ET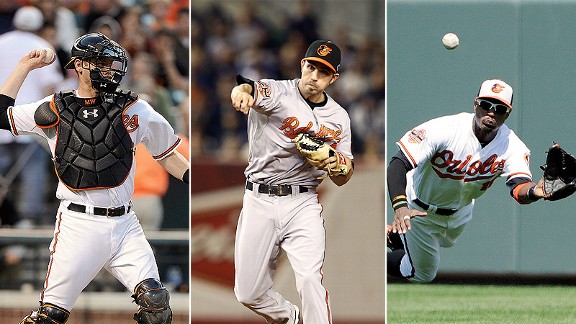 Getty ImagesMatt Wieters, J.J. Hardy and Adam Jones were rewarded for their defensive prowess this season.
The
Baltimore Orioles
returned to winning in 2012 and they returned to their successful past in putting a trio of players on the Gold Glove winners list.
The Orioles had three victors in 2012- catcher
Matt Wieters
, shortstop
J.J. Hardy
and centerfielder
Adam Jones
.
Wieters and Jones each won for the second time in their careers.
Hardy won his first award and became the first Orioles shortstop to win the award since
Cal Ripken
Jr. in 1992. Of the three, he put up the best defensive numbers-- he finished second to
Brendan Ryan
of the
Seattle Mariners
among AL shortstops in Defensive Runs Saved and was finished first in fielding percentage.
Wieters threw out 36 percent of baserunners attempting to steal, second-best in the AL.
Jones didn't fare well in the advanced defensive metrics, but led all outfielders in putouts by a wide margin. His 439 were 56 more than the man with second-most,
Michael Bourn
.
The Orioles of the 1960s and 1970s, with the likes of Brooks Robinson and Paul Blair, used to regularly put three or more players on the Gold Glove squad.
Last year's team had two (Wieters and
Nick Markakis
), but this marked the first time Baltimore had three winners in the same season since 1998, when
Mike Mussina
,
Rafael Palmeiro
and
Roberto Alomar
won.
All-Yankees right side of the infield
For the third straight year, the AL winners on the right side of the infield came from the same team. For the second time, that combo was
New York Yankees
first baseman
Mark Teixeira
and second baseman
Robinson Cano
.
For Teixeira, who led major-league first basemen with 17 Defensive Runs Saved, it was his fifth Gold Glove Award. He previously won in 2005, 2006, 2009 and 2010. Teixeira is the eighth player to win at least five Gold Glove Awards at first base.
Cano joined Bobby Richardson, who won five times, as the only Yankees second basemen to win multiple Gold Glove Awards (the Gold Gloves have been awarded since 1957).
Other Winners
Notes and nuggets on the other Gold Glove winners …
The vote for pitcher finished tied for the first time. Both
Jake Peavy
and
Jeremy Hellickson
won their first career Gold Glove Awards.
Peavy's win extended a streak of four straight years that a
Chicago White Sox
pitcher won.
Mark Buehrle
won it the previous three years. Hellickson became the first pitcher in Rays history to win one.
Texas Rangers
third baseman
Adrian Beltre
won his fourth Gold Glove and second straight. He and Buddy Bell are the only Rangers third basemen to win the award.
Both of the corner outfielder selections led their respective positions in Defensive Runs Saved.
Kansas City Royals
leftfielder Alex Gordon did so by a wide margin with 24, which helped him win for the second straight season. Gordon's stats were helped by his 17 assists, most by an AL leftfielder.
Oakland Athletics
rightfielder Josh Reddick led those at his position with 22 Defensive Runs Saved and tied for second with 14 outfield assists. He's the first Athletics outfielder to win a Gold Glove since Dwayne Murphy in 1985.
November, 1, 2011
11/01/11
11:50
PM ET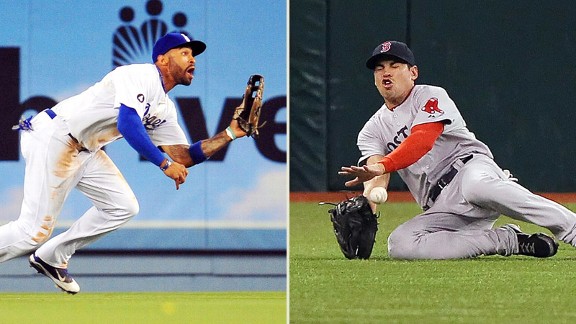 US Presswire
The strong defensive efforts made by Matt Kemp and Jacoby Ellsbury won them Gold Gloves in 2011.
On Tuesday night, ESPN and Rawlings announced the Gold Glove Award winners for 2011. There were 18 players selected for Gold Gloves and nine of them were first-time winners. Here's a closer look at some notable selections this year:
National League
•
St. Louis Cardinals
catcher
Yadier Molina
won his fourth consecutive Gold Glove. The last National League catcher to win four straight Gold Glove was
Charles Johnson
, from 1995 to 1998.
Video review by Baseball Info Solutions (BIS), a company that charts every pitch of every game, showed that Molina led the majors in blocks of pitches that were in the dirt with 657.
• The
Los Angeles Dodgers
outfield duo of
Matt Kemp
and
Andre Ethier
each won Gold Gloves, with Kemp netting his second and Ethier his first. They're the first pair of outfield teammates to win Gold Glove Awards in the National League since
Andruw Jones
and
Jeff Francoeur
for the 2007 Braves. It's also the first time Dodgers outfielders have won Gold Gloves in the same season.
•
Philadelphia Phillies
third baseman
Placido Polanco
became the second player to win Gold Gloves at multiple positions, joining
Darin Erstad
, who won as both an outfielder and first baseman. Polanco also won twice previously as a second baseman.
Polanco, in his second season at third base for the Phillies, saw his errors increase from five in 2010 to eight in 2011. However, a closer look at his defensive skills using advanced metrics shows that he actually made big strides in his defensive play this year.
Polanco finished second to
San Francisco Giants
third baseman
Pablo Sandoval
in defensive runs saved, a stat devised by sabermetricians Bill James and John Dewan that measures a third baseman's ability to turn batted balls into outs and defend bunts.
Polanco really improved in turning grounders into outs. Specifically he was much better on balls hit into the areas where third basemen most frequently field balls and balls hit down the third-base line. According to the plus-minus system from BIS, Polanco went from saving five total bases on balls hit to those spots in 2010 to saving 23 bases this year.
American League
•
Boston Red Sox
centerfielder
Jacoby Ellsbury
became the first Red Sox outfielder to win a Gold Glove Award since
Ellis Burks
in 1990. Like Polanco, Ellsbury made a significant statistical jump in his defensive performance from 2009 (his last healthy season) to 2011.
In 2009, he finished near the bottom among center fielders in defensive runs saved, which for outfielders measures their effectiveness at turning batted balls into outs and the value of his throwing arm as a baserunner deterrent. Ellsbury's defense cost the Red Sox nine runs in 2009, but saved them six runs in 2011, tied for sixth-best in the American League.
• One of the more intriguing selections was in left field where
Kansas City Royals
outfielder
Alex Gordon
became the first Royals outfielder to win a Gold Glove Award since
Jermaine Dye
in 2000.
Gordon won on the strength of his major league-best 20 outfield assists, a Royals record and eight more than any other left fielder. However, Gordon's win deprived
New York Yankees
leftfielder
Brett Gardner
of his first Gold Glove Award.
Gardner tied for the major-league lead in defensive runs saved, saving the Yankees 22 runs with his defense. Video review by scouts at BIS also showed Gardner leading all left fielders in "Good Fielding Plays," which are similar to Web Gem nominees.
April, 16, 2011
4/16/11
11:46
PM ET
Take a quick look at the AL Central standings and you're likely to do a double-take -- go ahead check one more time.
No it's not a mistake -- through 14 games of the season the
Kansas City Royals
and
Cleveland Indians
are currently tied atop the division.
According to 10,000 simulations done by Accuscore entering this season, the Royals entered 2011 with a 0.7 percent chance to reach the postseason.
The Indians fell slightly below them with just a 0.6 percent chance, tied with the Pirates for the lowest in Major League Baseball.
While it may not last, here's why each of these franchises are headed in the right direction:

Kansas City Royals
• With -- by many accounts -- the best farm system in baseball, there was plenty of excitement about the Royals…for 2012
However they are 10-4, off to their second-best start in franchise history, after defeating
Seattle Mariners
ace
Felix Hernandez
.
They're being led by
Alex Gordon
and
Billy Butler
, two graduates of the Royals farm system.
Gordon, a 27-year old former first-round pick, entered the season as a career .244 hitter. He is enjoying an early breakout of sorts batting .373 in 13 games played.
Butler, hitting .373 as well, has hit over .300 in each of his last two seasons.
The Royals as a team having been tearing the cover off the ball, leading the American League in hits and runs scored.

Cleveland Indians
• Everyone knows all about the Indians recent sell-offs including
CC Sabathia
,
Cliff Lee
and
Victor Martinez
.
The league is now just finding out about the players they got in return, in addition to other notable players they acquired along the way.
Justin Masterson
, acquired in the Victor Martinez deal, is 3-0 and has pitched into the seventh inning in all three of his starts. He has only given up three runs in 20 ⅓ innings, striking out 12 and walking only four batters.
Asdrubal Cabrera
, acquired in a deal for
Eduardo Perez
, had four home runs this season within the team's first 10 games. According to Elias, he was the first Cleveland shortstop with at least four homers over the season's first 10 games since 1960, when Woodie Held had five.
Shin-Soo Choo
, acquired in a deal for
Ben Broussard
, homered on Saturday to help up his batting average to .224 on the season. Despite the slow start to 2011, Choo has hit for a .300 average in each of his three seasons with the Tribe.
Essentially the entire Indians roster, in terms of key contributors, was acquired via trade and can be seen in the chart below.
The maneuvering has positioned the Indians for a surprising present and a potentially bright future.
-- Contributions made to this piece by Justin Havens
March, 31, 2011
3/31/11
1:05
PM ET
Today's Trivia:
Former top picks
Luke Hochevar
and
David Price
will start on Opening Day for the first time in their respective careers. Who was the last No. 1 overall draft pick to start on Opening Day?
Quick Hits:
A quick look at some Opening Day longevity.
*
Jorge Posada
will start his 12th straight opener in pinstripes. That's the most by a New York Yankee since Willie Randolph suited up for 14 in a row.
*
Derek Jeter
will make his 10th straight Opening Day start at shortstop for the Yankees, passing Phil Rizzuto's nine-game streak from 1947 to 1955.

Jones
*
Chipper Jones
is making his 15th straight Opening Day start for the
Atlanta Braves
, the longest current stretch with one team. That's the longest streak by a Brave since Eddie Mathews also started 15 in a row. Hank Aaron started 20 of 21 openers while with the Braves, but that was divided into streaks of nine and 11.
* Make it 11 straight openers where
Albert Pujols
will be penciled into the
St. Louis Cardinals
lineup, the longest streak for the franchise since Lou Brock started 15 in a row.
*
Alex Gordon
will be the
Kansas City Royals
12th consecutive different Opening Day starter in left field.
Johnny Damon
is the most recent Royal to start back-to-back Opening Days there, in 1999 and 2000.
* The
Los Angeles Angels
of Anaheim's
Howard Kendrick
will start on Opening Day for the fifth straight year. The only Angels second baseman with a longer streak of Opening Day starts is Bobby Knoop, who was in seven straight opening lineups from 1964 to 1969.
*
Aaron Harang
signed with the
San Diego Padres
in the offseason, meaning that he will not be the
Cincinnati Reds
Opening Day starter for the first time since 2005.
Edinson Volquez
will get the nod, ending Harang's five-season streak, which matches Mario Soto and Pete Donohue for the longest Reds stretch since 1920.
*
Ryan Ludwick
will be the Padres' 20th different starter in left in the past 24 years. The last player to start three straight openers in left was Gene Richards (1980-83). Meanwhile,
Cameron Maybin
will make it nine straight years with a different Opening Day centerfielder.

* For the second straight year, there's a complete overhaul to the
Washington Nationals
outfield. The last time the franchise repeated an Opening Day outfield was 1993-94:
Moises Alou
,
Marquis Grissom
,
Larry Walker
.
Trivia Answer:
Paul Wilson
started the opener for the Reds in 2005, though he lasted only eight more games in the big leagues. Before that,
Kris Benson
got the Opening Day start for the Pirates in 2003.
March, 25, 2010
3/25/10
12:00
PM ET
By
Doug Kern, ESPN Stats & Info
| ESPN.com
All week on
Baseball Tonight
, we've been taking a look at some "next-generation" statistics-- things like Value Over Replacement Player and Runs Saved-- but let us not forget the old real-estate adage: "Location, location, location." For a batter, having an idea of which pitch is coming, and where it's likely to be, is key to being able to hit it (or at least not looking too foolish when you miss). Likewise for a pitcher, knowing whether to work a hitter inside, outside, with certain pitches, etc., is the trick to getting him out. This research of each other's strengths and weaknesses goes on every day between managers, players, advance scouts, and even us here at ESPN.

Our friends at Inside Edge Scouting Services charted every one of the 187,079 plate appearances in the major leagues during the 2009 regular season. That's almost three-quarters of a million pitches. Below are some things we can learn from that data.


1. Mauer Power is not a myth. The Twins' Joe Mauer was the best hitter in the majors last season if you isolate only those plate apparances that end on a fastball. (As we'll see later, don't throw him one down and in, either.) Since most pitchers' fastballs don't have a lot of movement, the key for hitters is simply catching up to it. As you'd expect, most of these leaders are your traditional "power hitters". Albert Pujols ranks eighth on the chart below.

2. Hitting an off-speed pitch is not the same as hitting a fastball. To catch up to a fastball, you need bat speed. On the other hand, the best off-speed hitters aren't power guys. They're batters with good eyes who can follow the movement on the pitch. And last season's leaders include some names who wouldn't roll off the tip of your tongue.

3. Know the hot zones. We've all seen those 3x3 charts that look like a tic-tac-toe board or a telephone keypad. Every ESPN GameCast has them when a batter comes to the plate. Sometimes it's a batter's stance that influences whether they can hit high heat or low "nasty" stuff. You've often seen pitchers with good control who can "lead" a batter, gradually throwing pitches farther and farther outside/inside/up/down until the hitter can't reach them anymore. Different batters have different zones. And waiting for a pitch that's in one of them-- or not throwing him a pitch there-- is a huge part of the strategy.


The best moral, though, is that if you can't hit it, don't try. You'll end up on a highlight reel-- and not in a good way.

4. Strike early. A long at-bat becomes a battle of wits between hitter and pitcher. Some players prefer to just get it over with. Although the conventional wisdom frowns upon swinging at the first pitch, a select few have done very well at it.
5. Strike early. It's true for pitchers also. You've heard that "the best pitch in baseball is strike one." Getting ahead in the count puts the batter on the defensive and allows the pitcher more flexibility. But for some hitters, it's a challenge they can rise to.
6. Being "clutch" is, well, clutch. It's fun to watch Albert Pujols rip one out of the park. But only 35% of the runs scored last season actually came on homers. A hitter who can drive runners in, especially with two outs, can often be the unsung hero on his team. These are the quiet guys who don't make a lot of home-run noise, but the team would flounder without them.

7. It all starts with contact. Some of the toughest outs are hitters who refuse to swing at bad pitches. It requires a good eye and a lot of self-restraint. But when a pitcher is forced to stay in the zone, the batter ends up with more pitches to hit. "Chase percentage" measures the number of pitches outside the strike zone that a batter swings at. "Swing-and-miss percentage" measures a batter's ability to make contact, whether inside the strike zone or out. A hitter can be equally selective by not swinging at pitches he knows he can't hit.
We'll keep analyzing pitch types and locations throughout the 2010 season on Baseball Tonight and here in The Max Info. Studying what a pitcher throws, and where, often provides clues to why he had a great outing. Studying a batter's hot and cold zones, along with favorite pitch types, adds insight to a great day at the plate (or a terrible one), a hitting streak or slump, or just that amazing walk-off homer.