Stats & Info:

Alex Torres
July, 13, 2013
Jul 13
9:01
PM ET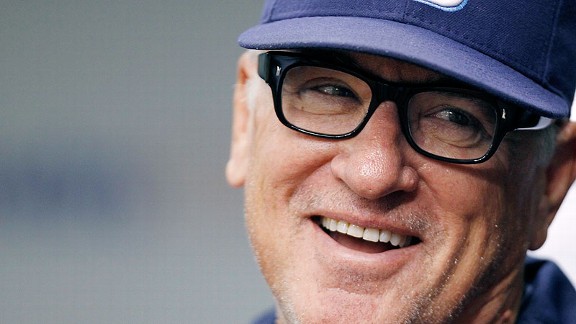 AP Photo/Scott IskowitzThe Rays bullpen has made Joe Maddon very happy lately.
The
Tampa Bay Rays
may finish in playoff position as the first half comes to a close, and if they do so, they can dish out a large chunk of credit not just to their offense, but to their amazing recent bullpen performance.
After a very shaky first two months, Rays relievers have been extraordinarily good the last two.
In the last six games in which the bullpen has been needed, it has pitched 20 1/3 innings, yielding one run and 11 hits, with 27 strikeouts and two walks. That includes three flawless innings in Saturday's win over the Astros.
Key to performance: Fernando Rodney
The turnaround has started at the back, with the return of Fernando Rodney to something close to 2012 form. Rodney has thrown 12 straight scoreless outings, and has gotten back to being a top strike-thrower, with 20 whiffs and two walks in this stretch.
Rodney has gone from a pitch mix that was about 60/40 fastballs/changeups for most of the season to one that is now 70/30 and that combo seems to be producing desired results.
Rodney has been much better at getting ahead in the count of late. For the season's first 10 weeks, he was throwing first-pitch strikes at a rate barely better than 50 percent.
In these 12 outings, he's thrown nearly two-thirds of his first pitches for strikes.
That's noteworthy, since opponents have a .408 on-base percentage after being up 1-0 vs Rodney this season, .222 when he's up 0-1.
McGee's an outs machine
The same thing that holds true for Rodney also holds true for
Jake McGee
, whose first-pitch strike rate has bumped up from 64 percent through June 9 to 72 percent in his 17 appearances since then.
Opponents are 7-for-their-last-51 against McGee, who has retired the last 15 batters to face him. He's struck out seven in three perfect innings over the last four days.
Unsung hero: Alex Torres
The pitcher with the most impressive stats out of the Rays bullpen didn't pitch Saturday, and for that the Astros may be thankful. Lefty Alex Torres has held opponents to seven hits in 86 at-bats (an .081 batting average) with 33 strikeouts.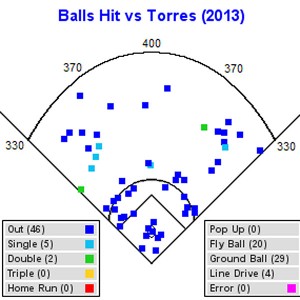 No one is hitting the ball well vs. Alex Torres.

Of the 53 instances in which batters have made contact with Torres, only four have hit line drives.
And of the two dozen balls hit in the air, only two have reached even as far as the warning track (one of which was along the right field line, where the track juts in as a fielder nears foul territory).
Torres falls in line with the other Rays pitchers who put the fastball-changeup combo to good use.
Rodney and Torres rank 2-3 in the majors in terms of how often they get hitters to swing and miss against the combination of those two pitches (the only pitcher who rates higher is Angels closer
Ernesto Frieri
). Torres gets misses on them at a 34 percent clip.
September, 26, 2011
9/26/11
5:44
PM ET

The
Boston Red Sox
entered the month of September leading the AL East by 1½ games. They have since gone 6-18 this month and now cling to a one game lead over the
Tampa Bay Rays
in the Wild Card race. If the Red Sox fail to make the postseason, their collapse would be historic.
No team with a lead of nine-or-more games entering the final month of the season has failed to reach the playoffs. The largest deficit overcome by a team in September to make the postseason was 8½ games by the 1964
St. Louis Cardinals
.
What's gone wrong and who's to blame for the Red Sox?
Red Sox starting pitching has struggled throughout September. Red Sox starters are 4-12 with an MLB-worst 7.17 ERA this month and have made just four quality starts in September.
The Red Sox have frequently found themselves facing early deficits. They've allowed their opponents to score first in 20 of 24 games this month, and are 4-16 in those 20 games.
The Red Sox offense has been boom-or-bust in September. They are 4-1 when scoring at least 10 runs, but are just 2-17 when they fail to score in double figures. They have scored two runs or fewer eight times this month.
The Red Sox defense has also been ineffective. The Red Sox have allowed a MLB-high 34 steals in September, and their pitchers have given up 14 unearned runs this month, which is the second-most among AL teams.

At the other end of the east coast, the Rays were 53-50 after a 13-4 loss to the Athletics on July 27. They were 8½ games behind the Yankees for the AL Wild Card lead, and 11½ behind the Red Sox for the AL East lead.
What's gone right for the Rays?
Desmond Jennings
, who made his debut on July 23, was an integral part of the early part of the Rays' run. Over a 29-game stretch from July 28 to August 28, he hit .339 with eight home runs, 16 RBI, and 11 stolen bases.
Evan Longoria
has been clutch. Since July 28, he's hit 16 home runs, and 15 of the 16 have come in situations in which the score was within three runs. Longoria has 45 RBI since July 28, the third-most in the AL.
The Rays have gotten big contributions recently from a pair of rookie pitchers.
Matt Moore
pitched three innings of relief in a win over the Red Sox, then struck out 11 Yankees in a win last Thursday.
Alex Torres
pitched five scoreless innings in relief of injured starter
Jeff Niemann
in Saturday's win over the Blue Jays.
However, the Rays are going against history in one regard. They've never had a winning September. Their best previous September was in 2008 and 2010 when they went 13-14. They enter Monday 14-10 in September.
The Rays finish up with three home games against the best team in the AL, the
New York Yankees
, while the Red Sox have their final three games against the division's cellar-dweller, the
Baltimore Orioles
.