Stats & Info:

Alexi Ogando
July, 1, 2013
7/01/13
3:30
PM ET
By
Mike Veneziano, ESPN Stats & Info
| ESPN.com
G Fiume/Getty ImagesChris Davis hit 12 home runs in June, increasing his major league-lead to 31.
If June taught us anything about the way home runs were hit, it would be the fact they come in many shapes and sizes.
On June 22,
Jay Bruce
hit the longest home run of the month, a 472-foot shot off
Patrick Corbin
at Chase Field. That tied him for the third-longest home run hit this season and since the beginning of ESPN Home Run Tracker in 2006, only
Adam Dunn
has hit longer home runs as a left-handed batter off a left-handed pitcher.
Dunn hit a 504-foot HR off
Glendon Rusch
on September 27, 2008 and launched a 474-foot shot off
John Grabow
on April 6, 2006.
Masher of the Month
Mark Trumbo
his six June home runs, averaging 423.8 feet per homer. His longest was a 457-foot home run off
Jordan Lyles
, and all but two went over 425 feet. For the season, Trumbo is averaging 417.2 feet per home run, second-longest in baseball to
Justin Upton
(427.9 feet, min. 15 HR).
On the flip side,
Dustin Pedroia
hit the shortest home run of the month, a 330-feet dinger off
Alexi Ogando
at Fenway Park that barely snuck over the Green Monster. Three of the four shortest home runs in June have come at Fenway Park.
Hitting Homers in Different Ways
Chris Davis
had the most home runs in June (12) and leads the majors with 31 overall. Davis has shown power to all fields this season, as nine of his home runs have gone to either left or left center field.
Domonic Brown
is second in the National League with 21 home runs, however all but one has gone to either right or right center field (he finally hit a home run to center field on June 27). Brown's average home run distance is 381.4 feet, the shortest for any player with 10-or-more home runs.
Check out the home run spray chart for Davis and Brown: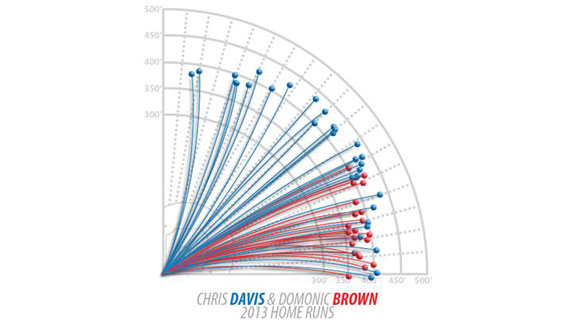 Where Have the Long Home Runs Gone?
On June 8,
Jeff Baker
hit a 440-foot home run in Toronto, the 16th home run at Rogers Centre to go at least 440 feet this season, by far the most in baseball.
It was also the only time this month Rogers Centre yielded a 440+ foot home run. There have been 23 other home runs hit at least 440 feet in June.
Vastly Different Paths Lead to Same Result
On June 19,
Hanley Ramirez
hit a home run at Yankee Stadium that went 353 feet. Six days later,
Juan Francisco
hit a home run at Miller Park that also went 353 feet.
The significance? Ramirez's home run left the ballpark in 3.03 seconds, the second fastest a home run has left any park this season. Francisco's home run was in the air for 7.25 seconds, the longest hang time for a home run since the beginning of ESPN Home Run Tracker in 2006.
Check out the trajectories of each home run (Ramirez top, Francisco bottom):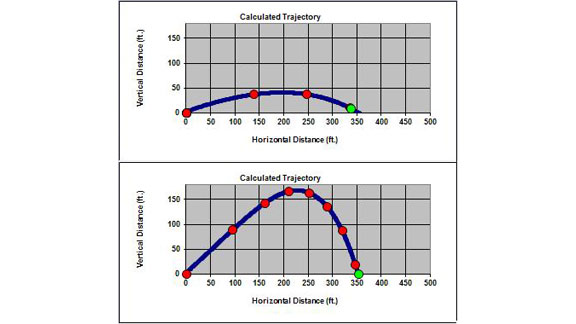 June, 5, 2013
6/05/13
3:42
PM ET
By
Will Cohen, ESPN Stats & Info
| ESPN.com
AP Photo/Charles Krupa
David Ortiz has stepped up his game at the plate this season, and Boston's offense has benefited.
The
Texas Rangers
have been in sole possession of first place in the AL West for 45 straight days, but they've lost ground in the division in six of the last 10 days. They'll try to get back on track at the
Boston Red Sox
tonight at 7 p.m. on ESPN2/WatchESPN.
Through 57 games, the Rangers are tied for their best start in franchise history. In each of the previous three seasons that the Rangers were 35-22 through 57 games, they went on to finish in first place.
The Rangers have been solid on the road at 17-14, but they've tied a season high with four straight losses away from home. Since 2009, Texas is 28-13 against the Red Sox, the best record of any team in baseball against the Red Sox in that span. Before Tuesday night's drubbing, the Rangers had won 10 of their past 12 games against the Red Sox.
Ogando's changeup
Rangers starter
Alexi Ogando
is making his first start since May 15; he went on the disabled list due to right biceps tendinitis. This will be Ogando's eighth start on the road this season compared to just two at home. He has a 3.52 road ERA (1.59 at home).
Ogando is 2-2 overall in his career against the Red Sox (1-1 in two career starts) with a 3.93 ERA. He's 2-0 with 1 ER in his last 10 IP against Boston since 2012, including a win against them in Texas on May 4 this season (6 IP, 6 H, 1 ER, 4 K, 2 BB).
Once a true flamethrower, relying heavily on a hard fastball, Ogando now throws a much softer version of the pitch less than half the time. In 2010, the right-hander threw a changeup 5 percent of the time compared to 16 percent this season.
The changeup has been effective for Ogando. Opponents are batting just .172 in at-bats ending with the pitch thus far this season, with the majority of the usage coming against lefties.
Worst to first?
The Red Sox are enjoying a 14-6 stretch and are trying to become the seventh team since the current divisional format began in 1995 to go from worst to first in their division. Boston leads baseball in batting average, on-base percentage and slugging percentage versus right-handed pitchers this season (.288/.362/.481).
The Red Sox have an .843 OPS against right-handed pitchers this season, the highest in the major leagues. Last season, their .717 OPS against righties ranked 18th.
Boston's hitting performance this season has been in part due to
David Ortiz's
resurgence at the plate.
Ortiz appeared to be on a decline typical for a hitter of his age as recently as 2010 when he struck out in a career-high 24 percent of plate appearances. He hadn't batted over .300 in three seasons. Since 2011, Ortiz has drastically reduced his strikeouts (13 percent of plate appearances) and he boasts a .988 OPS.
May, 1, 2013
5/01/13
2:59
PM ET
By
Tobin Petitpas, ESPN Stats & Info
| ESPN.com
Daniel Shirey/Getty ImagesJustin Upton left little doubt to each of the 12 home runs he hit in the first month of the season.
The month of April ended in style when it came to home runs. There were 50 home runs hit on Tuesday, the most in a single day since Sept. 11, 2007 when there was also 50 home runs.
No team had more than the Cleveland Indians, who hit seven against the Philadelphia Phillies, including three off Roy Halladay. The 50 home runs measured a combined 19,992 feet, or just under 3.8 miles.
Here's a look at some of the HR highlights from the first month of the season.
Player of the Month
Justin Upton
hit a league-leading 12 home runs in April, two shy of the MLB record for the most in March/April. None of Upton's home runs were cheap -- each one traveled more than 400 feet. His longest of the month came on Opening Day against
Cole Hamels
. It went
460 feet
, Upton's 12th home run of at least 450 feet in the past four seasons. That's tied with
Giancarlo Stanton
for the most in MLB over that span.
Upton's average home run distance in April was 423.5 feet, that's the highest this season among players with at least six home runs. Upton hit eight home runs in April that went at least 420 feet, four more than any other player and three more than he had all of last season. This is resurgence for Upton, who led baseball in 2011 with 18 home runs that traveled at least 420 feet.
Unlikely HR of the Month
On April 13,
Nick Swisher
hit a 397-foot home run at Progressive Field in Cleveland off
Chris Sale
. The ball cleared the 19-foot left field fence by about 10 feet.
ESPN Stats & InformationNick Swisher's home run on April 13 was helped significantly by a strong tailwind.
The home run
appeared to be a clear no doubter
. However, at the time the wind was blowing 23 MPH out to left, which pushed the ball an extra 69 feet. If there was no wind, the ball would have landed about 14 feet shy of the warning track and would not have been a home run in any major-league park. It was the most wind-aided home run since David Wright's home run was pushed 72 feet by the wind in Citi Field on April 24, 2011.
Since the start of the 2006 season, only eight other home runs have been aided more by the wind than Swisher's.
Longest of the Month
There was a tie between the Cubs
Anthony Rizzo
and the Angels
Mark Trumbo
. On April 18 against
Alexi Ogando
, Rizzo hit a career-long 475-foot home run to right-center field. It was the longest home run
hit at Wrigley Field
since 2008.
On April 29, Trumbo matched Rizzo, hitting a career-long 475-foot shot off
Dan Straily
to left-center field at the O.co Coliseum. It was Trumbo's third home run longer than 470 feet in the last three seasons, the most in baseball. There are only three other players (Giancarlo Stanton,
Prince Fielder
,
Nelson Cruz
) who have hit multiple 470-foot home runs during that time span, and 19 total such home runs. In addition, Trumbo's home run was
the longest hit at Oakland
in the past eight seasons.
April, 23, 2012
4/23/12
12:22
PM ET
By
John Fisher, ESPN Stats & Info
| ESPN.com
US PresswireCC Sabathia (left) is 4-0 in 6 starts against the Rangers since joining New York. Derek Holland (right) is 0-4 in 6 career appearances (5 starts) against the Yankees.
The
New York Yankees
travel to Arlington to take on the
Texas Rangers
in Monday Night Baseball (ESPN, 7 ET). The Yankees have won seven of the last eight games against the Rangers, but have won only three of the last eight games in Texas.
Pitching Matchup
CC Sabathia
will take the mound after he had his Sunday start against the
Boston Red Sox
postponed by rain. Sabathia is 4-0 with a 4.84 ERA in six starts against the Rangers since joining the Yankees (including playoffs).
Sabathia has a 5.59 ERA in three starts this season. His April ERA is 4.16, his highest for any calendar month from April to September (his September ERA of 2.77 is his lowest).
Sabathia has averaged 91.5 miles-per-hour with his fastball in 2012. That's down a full mile-per-hour from what he averaged in both 2010 and 2011.
Hitters have swung and missed at the pitch at about a rate of one for every eight pitches thrown. In April, 2011, he got misses on about one of every six swings versus his heater.
With his 57th pitch on Monday, Sabathia will have thrown 20,000 pitches (combining regular season and postseason) since 2007, the most of anyone in the majors.
Derek Holland
takes the mound for the Rangers. In six career appearances (five starts), Holland is 0-4 with a 9.00 ERA against the Yankees, his worst ERA among teams he's faced more than once.
Unlike Sabathia, Holland has one of the best fastballs among left-handed starters this season; only three lefties have more strikeouts with the fastball than Holland, who has 10.
Battle of the Bullpens
Yankees relievers have gotten a lot of work this season, with 54⅔ innings pitched in 15 games.
David Robertson
again has been a magician for the Yankees. He's pitched eight scoreless innings this season and held opponents to 0-for-10 with runners in scoring position (they were 13-for-93 against him last season in those spots).
The most impressive thing about the Rangers bullpen might be the strikeout-to-walk ratio. In 38⅔ innings, Rangers relievers have struck out 36 and walked only three.
Alexi Ogando
, put back in the bullpen, has 10 strikeouts and no walks in relief this season.
The Yankees' bullpen has excelled at getting strikeouts, striking out a league-high 28.6 percent of all hitters they've faced. Yankees relievers have 65 strikeouts, only 12 fewer than the team's starters have.
The Yankees and Rangers are the top two bullpens this season in Win Probability Added, which aggregates the change in a given team's win probability after every batter. Each bullpen has added close to two wins to its team's win probability so far this season.
Stat of the Game
The Rangers have a run differential of +52, the best in baseball (the
St. Louis Cardinals
are second at +36).
Jeremy Lundblad and Mark Simon contributed to this post
October, 19, 2011
10/19/11
6:30
AM ET
By
Katie Sharp
and
Mark Simon
| ESPN.com
Last year, the
San Francisco Giants
rode the arms of their dominant starting pitchers to their first World Series title in more than 50 years.
This year, the team with the league's best rotation -- the
Philadelphia Phillies
-- was knocked out in the first round. The two teams that eventually advanced to the Fall Classic have done so largely on the strength of shutdown bullpens.
The
Texas Rangers
starters (5.62 ERA) and the
St. Louis Cardinals
starters (5.43 ERA) have combined for a 5.52 ERA this postseason. According to the Elias Sports Bureau, their combined postseason ERA so far is the highest ever by the two teams playing in the World Series.
As the starters have routinely failed, the bullpens have picked up the slack. Among all teams, relievers have pitched 226 innings, the most since an MLB-record 273 in 2004, and won 12 games, just three shy of the record set in 2003.
In the National League Championship Series, the Cardinals joined the 1979 Pirates as the only teams to win a best-of-seven series by getting more outs from their relievers than their starters, according to Elias.
Not only have the bullpens been relied on like never before, but they have also dominated opposing hitters. There have been only two blown saves this postseason, and the Rangers and Cardinals both own bullpen WHIPs under 1.00.
THE BULLPENS: A CLOSER LOOK
Let's use heat maps to introduce you to three of the many relief pitchers you'll likely see put to significant use in the World Series.
Jason Motte
Motte has put together a dominant postseason, as opponents are 1-for-25 against him in eight innings. He throws a 98 mph fastball that hitters have had trouble catching up to. Motte has seven strikeouts, all but one of which have come on high fastballs. This includes the heater that
Mark Kotsay
swung through for the final out of the NLCS.
Octavio Dotel
Dotel was a trade-deadline pickup for the Cardinals. Right-handed hitters are 10-for-73 against Dotel since he joined the team, including 2-for-19 in the playoffs.
He has succeeded at keeping the ball away from righties. Of the 72 pitches he's thrown to them this postseason, 63 percent have been on the outer third of the plate or further away. Of the 12 at-bats ending on pitches away to righties, six have been strikeouts.
Alexi Ogando
Ogando has been a valuable setup man for
Neftali Feliz
, converting back to the bullpen from the starting rotation after pitching in relief last season. He has an 0.87 ERA in 10 ⅓ postseason innings.
Right-handed hitters have seen Ogando's slider frequently. He's thrown 85 pitches to righties, with 40 being sliders. Similar to Dotel, he's had success at keeping the ball away.
Of those 40 sliders, 30 have been on the outside part of the plate or further away. Righties are 0-for-7 in at-bats ending in a slider thrown to that location against Ogando this postseason.
October, 8, 2011
10/08/11
3:12
PM ET


The American League Championship Series kicks off tonight with Game 1 in Arlington, Texas. The
Rangers
are looking to defend their AL pennant while the
Tigers
are trying to reach the World Series for the second time in the last 25 seasons.
According to the Elias Sports Bureau, the Rangers would be just the fifth team to win the ALCS in consecutive seasons. The others to do this are the Orioles (1969-1971), Athletics (1972-1974 and 1988-1990), Blue Jays (1992-1993) and Yankees (1998-2001).
It should be no surprise that both these teams will play for the AL title, as they both both dominated play down the stretch in the regular season. Tigers and Rangers ranked 1-2 in the majors in wins during the final month, and also led MLB in nearly every offensive category in September.
Inside the Series
The Tigers won six of the nine meetings between the teams in 2011, including two of three at Rangers Ballpark. Detroit crushed Texas pitching, hitting .317 with 10 homers while averaging five runs per game.
The Tigers outscored the Rangers by just 12 runs over the nine games, however, and four of their six wins were by one run each. That's a telling statistic for the both teams: the Tigers finished the season an AL-best 29-17 in one-run games, while the Rangers went 19-24 in one-run games, ranking ahead of only the Royals in the AL.
On the Mound
Justin Verlander
gets the nod in this opening game for the Tigers, making his seventh career postseason start and looking to build on his previous success against the Rangers.
He is 6-2 with a 2.61 ERA in nine starts versus the Rangers, and owns the best ERA among active pitchers against the team (min. 5 starts). Verlander has been nearly perfect in Arlington, going 3-0 with a 1.29 ERA and 26 strikeouts in 21 innings.
C.J. Wilson
will try to bounce back from one of the worst starts of his career, when he allowed six runs in five innings in Game 1 of the ALDS. Wilson struggled with his fastball command in that game. Twenty-four of his 48 heaters were in the upper third of the zone or above it, and he failed to record a single miss on the 19 swings against his fastball.
X-Factors

Ogando
Alexi Ogando
is not in the Rangers ALCS rotation but could prove to be a secret weapon out of the bullpen for the Rangers. Ogando had a lot of success against the Tigers in the regular season. He was the winning pitcher in each of the Rangers three wins and posted a 1.29 ERA in those three starts.
Delmon Young
suffered an oblique injury in the ALDS and will not be on the Tigers ALCS roster.
Ryan Raburn
is expected to start Game 1 in place of Young, who set a Tigers record with three homers in the Division Series. Raburn should be an adequate replacement at the plate, as he has hit lefties well, with a .807 OPS in 157 regular season plate appearances.
Key Stat
Since 1987, the first season in which it was played in a best-of-seven format, the team that won Game 1 of the ALCS has won 13 of the 23 series, according to Elias. But over the last nine years, the team losing Game 1 has gone on to win six of those series.
July, 2, 2011
7/02/11
12:26
AM ET
By
Dan Braunstein
| ESPN.com
There were a number of strong performances on the mound Friday. Here's an in-depth look at how some of Friday's pitchers got the job done:

Jurrjens
How Atlanta Braves pitcher Jair Jurrjens shut out Baltimore:
• Jurrjens kept the ball down, with 63 of his 112 pitches (56.3 percent) tracked down in the zone or below it. Jurrjens got 15 of his outs and six of his eight strikeouts on low pitches. For the season, Jurrjens is 5-0 with a 1.00 ERA in five starts this season when more than 50 percent of his pitches are low.
• Jurrjens took advantage of a generous strike zone. He got 11 called strikes on pitches out of the strike zone, tying his most in a start in the last three seasons. Six of Jurrjens' eight strikeouts came on pitches out of the zone, tying his most in a start in the past three seasons. Five of those strikeouts were on pitches the Orioles chased out of the zone.

Masterson
How Cleveland Indians pitcher Justin Masterson beat Cincinnati:
• Masterson benefited from a Reds lineup that included just three left-handed hitters, matching the fewest against Masterson this season. Entering Friday, left-handers were hitting .313 against Masterson, while righties were hitting just .189 this season. But Friday, lefties were 1-for-9 with two double plays against Masterson.
• Including double plays, Masterson got 13 outs on groundballs, his most in a start since his first start of the season, on April 3.

Ogando
How Texas Rangers starter Alexi Ogando rebounded against Florida:
• Ogando's slider was an important pitch for him Friday. Thirty-five of his 102 pitches (34.3 percent) were sliders, his second-highest percentage of the season. With two strikes, 57.6 percent of Ogando's pitches were sliders, the first start of his career where more than half of his two-strike pitches were sliders.
• Six of Ogando's strikeouts were with his slider, three more than in any of his previous starts this season. Marlins hitters were 2-for15 in
at-bats ending with an Ogando slider.
• He started 20 of 27 hitters with a first-pitch strike (74.1 percent), the highest percentage of his career. He went to just one 2-0 count, matching the low of any of his previous starts.
June, 25, 2011
6/25/11
8:54
PM ET

The majors got its first 10-game winner on Saturday, as
CC Sabathia
held the
Colorado Rockies
to one run on seven hits, improving to 10-4 this season and 7-1 with a 3.03 ERA over his last eight starts.
According to the Elias Sports Bureau, the last Yankee to be the first to record double-digit wins was Tommy John in 1979. Sabathia also improved to 50-19 in pinstripes, becoming the fifth Yankee pitcher over the last 60 years to have 50 wins with the club before reaching 20 losses.
A total of six starts had been made by pitchers going for their 10th win entering the day, and all had come up empty-handed before Sabathia ended the streak. The Elias Sports Bureau reports that this just the third time (in a non-strike season) in MLB history that baseball will get its first 10-game winner on June 25 or later. In both 1943 and 1950, the first pitcher to 10 wins reached the mark on June 28.
Here's a few other notes from a busy Saturday afternoon in baseball:
• The
San Francisco Giants
beat the
Cleveland Indians
1-0 on a balk by Indians reliever
Tony Sipp
in the seventh inning. According to the Elias Sports Bureau, this is the first time since May 10, 2006 in which the only run of a game scored on a balk (Rays defeated Mariners, 1-0).
• The Mets routed the Rangers 14-5 in Texas, scoring all their runs without a ball leaving the park. The 14 runs scored without a home run are the most by any team at Rangers Ballpark in Arlington since the Rangers scored 14 there against the Giants in July 1999.
•
Alexi Ogando
allowed six runs (three earned) in just three innings pitched, and lost at home for the first time in his career. He now is 0-2 with a 11.45 ERA in three starts vs New York teams (Yankees, Mets) and 7-1 with a 1.69 ERA in his other 12 starts this season.
April, 17, 2011
4/17/11
10:11
AM ET
By
Jeremy Lundblad & Mark Simon
| ESPN.com
Sunday marks the 58th anniversary of one of the most famous home runs in
New York Yankees
history, Mickey Mantle's 565-foot blast off Washington Senators pitcher Chuck Stobbs at Griffith Stadium, a home run so long it landed in the backyard of a house located beyond the ballpark.
It's also a day for long baseball games. On this date in 2008, the
Colorado Rockies
and
San Diego Padres
clashed for 22 innings, with the Rockies winning, 2-1. On this date in 2010, the
New York Mets
and
St. Louis Cardinals
dueled for 20 innings before the Mets finally prevailed, also 2-1.
Will the Sunday Night Baseball matchup between the Yankees and
Texas Rangers
(ESPN, 8pm ET) feature any tape-measure home runs? Or will this be another game of tape-measure length? Let's size up the pitching matchup for these two teams as we look at some of our best notes to know for this contest.
According to the Elias Sports Bureau, since earned runs became official in both leagues in 1913, tonight's Rangers starter,
Alexi Ogando
, is the only pitcher to go at least six innings, allowing no earned runs and two or fewer hits in each of his first two career starts.

Ogando
How is Ogando doing it?
• The high fastball has been very effective. Review of Pitch F/X data shows that hitters have swung at 24 of his fastballs in the upper third of the strike zone and above. They've missed 11 of them, which gives him a miss rate among the highest of anyone in baseball (45.8 percent) with that pitch.
• He's thrown his slider for strikes 72 percent of the time (the major-league average is about 63 percent). He's also increased the frequency of his slider to left-handed hitters from last season, now throwing it nearly one of every three pitches.
• He's allowed the leadoff man in an inning to reach base twice in 13 plate appearances this season, continuing a trend from last year, in which the leadoff man reached only 17 percent of the time against him.
Ogando's mound opponent,
CC Sabathia
, is 8-3 career against the Rangers in the regular season, but that doesn't tell the full story. Sabathia went 5-0 with a 2.48 ERA against the Rangers from 2001 to 2003, but is 3-3 with a 5.40 ERA in nine starts since then.
The matchups to watch for Sabathia are those against third baseman
Adrian Beltre
(3-for-22 against Sabathia, but has two hits in his last three turns) and utility man
Michael Young
, who figures to start based on his history versus the Yankees lefty. Young went 0-for-his-first-11 against Sabathia, but is 12-for-27 in the regular season since, as well as 3-for-6 in the postseason.
Sabathia is winless in his first three starts of 2011. He's had only two other seasons in which he went that deep into a season without getting a win: 2003 (winless in first six) and 2008 (winless in his first four).
The Yankees starter may be looking for an offensive boost in this game. In the last two games, that has been provided by the Yankees outfield.
Entering Friday, the Yankees outfielders were hitting a combined .195 and slugging .339. But the combination of
Nick Swisher
,
Curtis Granderson
and
Andruw Jones
has boosted that with a 9-for-20 effort this weekend. Granderson hit a home run against Ogando in the 2010 ALCS. He might be the best pick for a tape-measure shot tonight. Last season, Granderson had the Yankees' longest home run of the year, one on Opening Day that went an estimated 455 feet, according to
Hittrackeronline.com.
For another take on This Date in Baseball History, this one involving the Rangers and Sunday Night Baseball analyst Bobby Valentine, check out the SweetSpot Blog from earlier this week.
April, 11, 2011
4/11/11
8:47
PM ET

Ogando
During Spring Training, the
Texas Rangers
decided to keep
Neftali Feliz
-- last year's AL Rookie of the Year -- in the bullpen as their closer. So when
Tommy Hunter
went down with an injury, that meant
Alexi Ogando
, with 44 relief apperances and no starts in his major-league career, would be in the starting rotation.
It's worked out well; Feliz has four saves in six scoreless appearances, and has allowed just two hits and one walk. Ogando has been even better.
He threw seven scoreless innings Monday afternoon, allowing two hits and a walk, as the Rangers beat
Justin Verlander
and the
Detroit Tigers
2-0. It was Ogando's second career start; he allowed two hits and no runs in six innings in his first start, a 3-2 win over the
Seattle Mariners
.
That makes him the fifth pitcher in the Live Ball Era -- and the first since
Roger Clemens
-- to win his first two starts of a season while pitching six innings and allowing two or fewer hits in each one. And he's the first to do so without allowing a run.
Ogando shut the Tigers down by getting ahead. He threw first-pitch strikes to 16 of the 23 hitters he faced. As a result, he had only two plate appearances that exceeded five pitches, and didn't need more than 14 pitches to get through any inning.
His slider was working Monday; he threw 28 of them, 22 for strikes, and Tigers hitters were 0-for-10 in at-bats ending with a slider. Seven of those 10 outs did not leave the infield.

With the win, Texas improves to 9-1 and, according to the Elias Sports Bureau, is the second franchise in major-league history to win nine or more of its first 10 games of a season after playing in the World Series the previous year. The only other franchise to do that was the Giants in 1918, 1923, 1938 and 2003.
In the loss, Verlander was excellent for the Tigers, going the distance, allowing six hits and two earned runs. It's the 10th time in his career he's gone nine innings and the first time he took the loss in such an outing.
That puts him in pretty good company. Last season, only
Roy Halladay
,
Cliff Lee
and
Dan Haren
went the distance in a game and got a loss.
October, 4, 2010
10/04/10
3:06
PM ET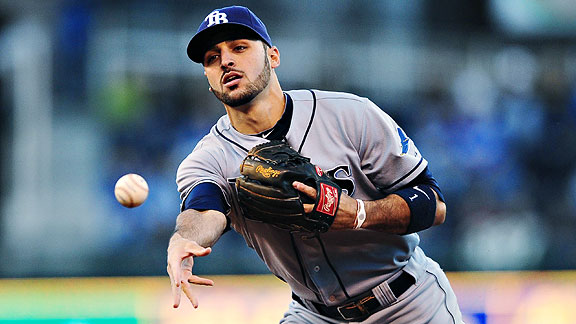 Mark J. Rebilas/US Presswire
Rays second baseman Sean Rodriguez had a knack for strong defensive play and clutch hitting, two factors that could be key in the postseason.
A capsule stat-based preview of the Texas Rangers-Tampa Bay Rays ALDS matchup.
Top things to know
The Rays led the American League in both walks and stolen bases, which partly accounts for how a team could finish near the bottom of the AL in batting average, yet near the top of baseball in runs scored (third-best in the majors).
The Rays also rank atop the majors by a huge margin in a Bill James-devised metric Baserunning Gain (ability to take an extra base on hits, outs and other plays). The Rangers rank second (+66 bases, 52 behind the Rays).
Josh Hamilton
had the greatest offensive season by a member of the Texas Rangers. He had the highest batting average (.359) of any player in Rangers team history (for a team that led the AL in the stat), as well as the best OPS+ (OPS compared to league average, adjusted for ballpark), a 174.
Deciding factor
The Rays had the second-best record in baseball when opponents started a left-handed pitcher, and they'll face left-handers in each of the first two games. They beat
Cliff Lee
three times during the regular season in 2010.
Evan Longoria
, currently battling an injury, led the way with a .956 OPS against lefties, followed by
B.J. Upton
's .919.
The Rangers bullpen won 32 games this season, most of any American League team. Their four most frequently used relievers who are available for the ALDS (
Neftali Feliz
,
Darren O'Day
,
Darren Oliver
and
Alexi Ogando
) combined for a 2.22 ERA, and had a strikeout-to-walk rate of 3.6 to 1.
Most interesting matchups
Vladimir Guerrero
has good numbers against almost every Rays reliever of note, albeit in a limited number of meetings. He's 5-for-9 against
Rafael Soriano
, 3-for-5 against
Dan Wheeler
, 3-for-6 against
Grant Balfour
, and 4-for-15 (with four walks and a .450 on-base percentage) against
Joaquin Benoit
. If Tampa Bay puts
James Shields
in the bullpen, Guerrero is good against him too (.394 BA, 1.030 OPS).
With the first two games taking place in the afternoon, it's worth noting that the Rays .587 win percentage in day games ranked sixth-best in baseball. The Rangers were 24th out of 30 (19-25, .432 win pct). The biggest impact seemed to be with Hamilton, who hit .384 with an 1.121 OPS at night, compared to .286/.819 during the day.
Statistical secrets
Rays second baseman
Sean Rodriguez
has all sorts of value to his team. His 18 defensive runs saved (a metric that measures ability to turn batted balls into outs, and turn double plays) rank best in baseball among second basemen.
Rodriguez also had an unusual knack for getting hits in big spots. He hit .400 (18-for-45) in "close and late" situations (defined by
Baseball-Reference.com
as plate appearances in the seventh inning or later with the batting team tied, ahead by one, or the tying run at least on deck).
The Rangers combination of
Elvis Andrus
and
Julio Borbon
bunt for hits better than almost anyone. Fangraphs.com charted Borbon as tied with
Erick Aybar
for the major league lead with 18 bunts hits. Andrus ranked third with 13. Combining bunt hits and infield hits, the Rangers rated tops in the majors, by Fangraphs calculations, with 187.
SIG's Picks
Albert Larcada of ESPN Stats & Info did statistical analysis of the last 10 postseasons, looking for the factors that most separate winning and losing teams. He found three -- power hitting, front-end starting pitching, and the ability to turn batted balls into outs. Using his findings, he was able to make a projection.
For the Rangers-Rays matchup, Larcada's system picks the Rays in four games. He gives the Rays a 56.6 percent chance to win the series.