Stats & Info:

Andrelton Simmons
October, 29, 2013
10/29/13
9:03
PM ET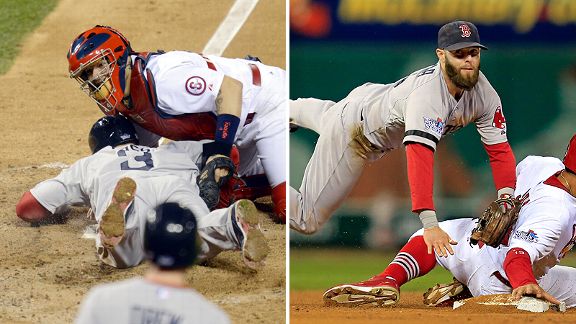 USA TODAY Sports/Getty ImagesYadier Molina and Dustin Pedroia have Gold Gloves to go along with a World Series appearance.
The Gold Glove Awards were announced on Tuesday, with this year's field featuring a nearly even mix of first-time honorees and repeat winners.
For the first time, a statistical component factored into the voting -- the SABR Defensive Index accounted for 25 percent of the vote. The remaining votes came from major league managers and coaches.
Royals, Orioles take home the most Gold
The Royals and Orioles each won three Gold Glove Awards. First-time winners
Salvador Perez
and
Eric Hosmer
joined Royals left fielder
Alex Gordon
, who won his third straight.
Manny Machado, who led the majors in Web Gems at third base, joined repeat winners J.J. Hardy at shortstop and Adam Jones at center field for the Orioles.
With a statistical component comprising part of this year's vote, Jones wasn't necessarily expected to win this year. He was the only Gold Glove winner with a negative defensive runs saved total for the season, but he passed the eye test, garnering enough votes to beat out
Lorenzo Cain
of the Royals and
Jacoby Ellsbury
of the Red Sox.
Another one for Molina
Yadier Molina
became the fourth catcher to win six straight Gold Gloves, joining
Ivan Rodriguez
(13), Johnny Bench (10), Bob Boone (7) and Jim Sundberg (6).
Molina's current streak is the best for an NL catcher since Bench won 10 in a row from 1968 to 1977.
Molina's teammate, pitcher
Adam Wainwright
, won his second Gold Glove. They are the second pitcher-catcher combo to win the Gold Glove together more than once. The other is
Kenny Rogers
and Rodriguez, who won as teammates in 2000 and 2006.
Victorino, Phillips win again
Red Sox right fielder Shane Victorino and Reds second baseman
Brandon Phillips
each won their fourth Gold Gloves.
Victorino, who had won three previous times with the Phillies as a center fielder, joined second baseman Dustin Pedroia as Red Sox winners. Victorino finished with a major league-best 23 defensive runs saved in right field, the highest total in any season in his career.
Phillips has won the award four times in six seasons. His four wins are one shy of Hall of Famer Joe Morgan for the most by a Reds second baseman.
New winners becoming a tradition
The corner infield spots in the National League were won by a pair of first-timers: Diamondbacks first baseman Paul Goldschmidt and Rockies third baseman Nolan Arenado.
Goldschmidt is the NL's fifth different winner in the last five years at first base. Arenado is the sixth different winner in six years at the hot corner.
It's been a long time
Some notable droughts were broken with Tuesday's awards. Among them:
Perez became the first Royals catcher to win a Gold Glove since Bob Boone in 1989.
Hosmer became the first Royals first baseman to win a Gold Glove. Hosmer beat out a field that in past years would have been led by
Mark Teixeira
,
Albert Pujols
and
Adrian Gonzalez
. With Teixeira and Pujols injured and Gonzalez now in the National League, the field was wide open at that position.
Machado became the first Orioles third baseman to win a Gold Glove since Brooks Robinson in 1975.
Andrelton Simmons became the first Braves shortstop to win a Gold Glove and the first Braves infielder to win one since Terry Pendleton in 1992.
Carlos Gomez became the first Brewer to win a Gold Glove since Robin Yount in 1982 and the first Brewers outfielder to win one since Sixto Lezcano in 1979. Gomez led the majors with five home run robberies. No other player had more than two.
October, 29, 2013
10/29/13
10:57
AM ET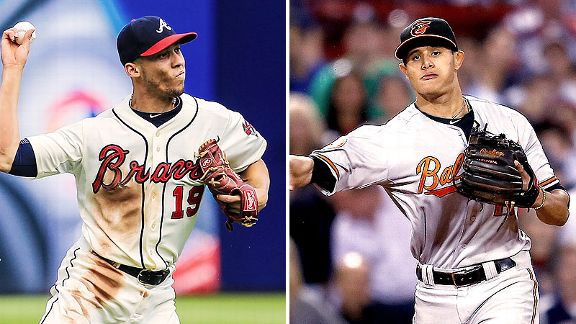 Jim Rogash/Getty ImagesAndrelton Simmons and Manny Machado are among the favorites to win Gold Gloves tonight.
The
Rawlings Gold Glove Awards
will be handed out at 8 p.m. ET on ESPN2. Here are some of the top statistical storylines that Adnan Virk and
Nomar Garciaparra
will be talking about during the broadcast.
A new generation of defensive stars
If the winners match up with the advanced defensive stats, a number of young players will be taking home some hardware.
Of the eight players with at least 20 defensive runs saved at their respective positions, five were in either their first or second major league season and four are finalists (the exception being Mets center fielder
Juan Lagares
).
Braves shortstop
Andrelton Simmons
tied Diamondbacks outfielder
Gerardo Parra
for the major league lead with 41 defensive runs saved, the most by a player in a single season in the 11-year history of the stat.
Second-year third baseman
Manny Machado
of the Orioles was not far behind, leading all players at his position with 35 defensive runs saved; he also led the majors in Web Gems. In the National League, Rockies rookie
Nolan Arenado
led third basemen with 30 defensive runs saved.
Pirates left fielder
Starling Marte
had 20 defensive runs saved, the most for anyone at that position. He'll be competing with past winner
Carlos Gonzalez
of the Rockies and former Rockies utility man,
Eric Young Jr.
of the Mets.
Royals, Diamondbacks best of the best
The Royals and Diamondbacks were the top two teams in defensive runs saved and each had significant individual success, as well.
The Royals have five finalists, three of whom led the American League in defensive runs saved at their respective positions:
Salvador Perez
at catcher,
Lorenzo Cain
in center field and
Alex Gordon
in left field. Their other nominees are first baseman
Eric Hosmer
and shortstop (and Web Gem regular)
Alcides Escobar
.
The Diamondbacks had three players earn finalist honors: Parra, as previously mentioned, tied the record for most defensive runs saved in a season as an outfielder.
Paul Goldschmidt
had the second-most defensive runs saved among first basemen, and
Patrick Corbin
had the most among any pitcher.
Another one for Molina?
Yadier Molina
has won five straight Gold Gloves and will contend with Pirates catcher
Russell Martin
and Dodgers catcher
A.J. Ellis
for a sixth.
Only four catchers have won at least six Gold Gloves --
Ivan Rodriguez
(13), Johnny Bench (10), Bob Boone (seven) and Jim Sundberg (six).
Molina's current streak is the best for an NL catcher since Bench won 10 in a row from 1968 to 1977.
Two other finalists will be vying for their fifth Gold Glove -- Blue Jays pitcher
Mark Buehrle
(who is competing with teammate
R.A. Dickey
and Tigers pitcher
Doug Fister
) and
Adrian Beltre
of the Rangers, who goes up against Machado and
Evan Longoria
.
A new statistical component
Rawlings introduced a new statistical component, SDI (
SABR Defensive Index
), to account for approximately 25 percent of the vote (the rest of the votes are from major league coaches and managers).
The SDI combines five advanced defensive metrics (including the one ESPN uses most frequently,
defensive runs saved
) that evaluate a fielder's ability to convert batted balls into outs and make other plays (such as convert double plays and deter baserunner advancement) relative to others at his position.
September, 6, 2013
9/06/13
2:18
PM ET
Daniel Shirey/Getty ImagesAndrelton Simmons has been super-solid for the Braves this season.
If you were going to pick the NL's Defensive MVP for 2013, much like for the overall award, there is one candidate who stands above the rest.
Braves shortstop
Andrelton Simmons
is going to break the single-season record for most Defensive Runs Saved (definition
here
). He's currently at 38 Defensive Runs Saved. Baseball Info Solutions has charted that stat since 2003 and no player previously finished with more than the 35
Brett Gardner
had in 2010.
Simmons has twice been named Sweet Spot's Defensive Player of the Month and was runner-up for that selection in August. He has more than twice as many runs saved as the next-closest shortstop (
Pedro Florimon
of the
Minnesota Twins
with 16) and has more than three times as many as the nearest NL shortstop had entering Friday (
Clint Barmes
, 11). No other Braves player has more than 16.
What Simmons does best is not just make the difficult play, but make the routine one as well. The left side of the Braves infield has been in vacuum mode all season. Opposing hitters are reaching base only 21.6 percent of the time on ground balls hit to the left of the second-base bag. That's the lowest success rate in the majors. And let's remember what Simmons replaced when he came up last season—Taylor Pastornicky, who had -15 Defensive Runs Saved in only 330 innings.
As we noted: There is a considerable statistical gap between Simmons and the next-best NL defender. That gap exists at one other position of note, third base. Rockies third baseman
Nolan Arenado
would be the runaway NL Defensive Rookie of the Year if such an award existed. His 30 Defensive Runs Saved are 20 more than anyone else in the league.
Arenado
Arenado is one Defensive Run Saved shy of
Baltimore Orioles
third baseman
Manny Machado
for the major league lead at the hot corner. Machado gets a lot of national press for his glovework, but Arenado has been similarly good. He leads all third baseman in the Baseball Info Solutions-tracked "Good Fielding Plays" (think: plays that are Web Gem nominees) and ranks second to Machado in Baseball Tonight with 11 Web Gems (Machado had 16).
There are a number of other players who have had fine defensive seasons on non-contenders and teams that are fading out of contention, most notably
Carlos Gomez
from the
Milwaukee Brewers
and
Gerardo Parra
from the Diamondbacks. The next-highest rated defender among those players on contending teams is
Russell Martin
(whom
Dave Cameron is profiling today
for ESPN Insider).
Martin ranks second among catchers with 14 Defensive Runs Saved, trailing only Wellington Castillo of the
Chicago Cubs
, who has 18. Martin doesn't have quite the arm of
Yadier Molina
(who also has legitimacy with 10 Defensive Runs Saved), but he's having his best year at throwing runners out, nailing 33 of 76 attempting to steal (43 percent) and picking off three others.
Marte
Martin's teammate,
Starling Marte
also could make a case. He leads all leftfielders with 20 Defensive Runs Saved this season, a total that got a nice early boost from a pair of early-season homer robberies. He's rated best in the majors at his position in chasing down balls hit to the deepest part of the ballpark.
The Reds and Dodgers don't have any candidates that would necessarily be standouts in a defensive MVP competition. The Reds top candidate is rightfielder
Jay Bruce
, who has rebounded from a pair of below-average (stat-wise) defensive seasons to lead his team with 14 Defensive Runs Saved (tied for fourth among NL players at that position).
The Dodgers have a host of defenders who rate well, with first baseman
Adrian Gonzalez
ranking best relative to his position (10 Defensive Runs Saved, third-best in the National League). Another player deserving of props: utility man
Nick Punto
, whose 10 Defensive Runs Saved tie
Juan Uribe
, Gonzalez and Puig for the Dodgers lead.
Therein lies the difference been MVP and Defensive MVP. Punto is unlikely to
ever
be mentioned in any MVP conversation at any point.
For more NL MVP info, see
Jerry Crasnick's
article from earlier today.
July, 28, 2013
7/28/13
3:16
PM ET
By
ESPN Stats & Information
| ESPN.com
The
Atlanta Braves
host the
St. Louis Cardinals
on "Sunday Night Baseball" 8 ET on ESPN. Here are five stats to know about tonight's contest:


1.
The Cardinals are hitting .337 with runners in scoring position this season, leading the majors by a wide margin. In fact, they could go hitless in their next 138 at-bats with runners in scoring position and still lead the majors (assuming all other teams' averages stay the same).
If the season ended today, the Cardinals would have the highest batting average with runners in scoring position by any team over the last 50 seasons. Currently, the 1996
Colorado Rockies
have the highest mark over the last 50 years at .311.
The Cardinals have four of the top 10 hitters with runners in scoring position in baseball.
Allen Craig
leads the league at .485,
Matt Carpenter
is fourth,
Yadier Molina
is sixth, and
Carlos Beltran
is ninth.
2.
Craig is putting up MVP-like numbers this season. If the season ended today, his .485 batting average with runners in scoring position would be the highest by any player in the last 40 seasons. The highest during that span is .469 by George Brett in 1980.
In fact, three of the four previous players who have hit .440 or better with runners in scoring position over the last 40 seasons are Hall of Famers (Brett,
Tony Gwynn
in 1997, and Paul Molitor in 1987) and the other (
Ichiro Suzuki
in 2001) is a likely Hall of Famer. Two of those four players -- Brett and Ichiro -- won the MVP award that season.
Despite Craig's clutch hitting, however, he ranks only sixth on the Cardinals in wins above replacement. Carpenter, Molina, Beltran,
Adam Wainwright
and
Shelby Miller
all have a higher WAR this season than Craig.
3.
Miller has a 2.62 ERA in his first 20 career starts, the seventh-lowest ERA all time by a Cardinals pitcher in his first 20 starts.
Miller's fastball has been his key to success this season. He leads the majors in strikeouts with a fastball (91), one ahead of teammate
Lance Lynn
. His average fastball velocity has increased as the season has gone on. It averages 95 mph in July after averaging 92.8 in April.
4.
Andrelton Simmons
is one of the best defensive players in the league. He has 10 more defensive runs saved than any other player in baseball over the last two seasons despite playing at least 600 fewer innings than the two players in second place on that list. He ranks second in DRS this season, one shy of
Carlos Gomez
. Among shortstops, Simmons (25) has nearly double the number of DRS as the next-best player on that list (
Pedro Florimon
, 13).
5.
Kris Medlen
has struggled lately, posting a 5.53 ERA in his last seven starts (2.87 in his first 13 starts this season). Opponents are hitting .324 over Medlen's last seven starts.
April, 28, 2013
4/28/13
3:37
PM ET
Five stats you'll likely hear quite a bit more about on tonight's telecast of the
Atlanta Braves
and
Detroit Tigers
at 8 pm ET on ESPN.
1--
Justin Upton
has 12 home runs in his first 23 games with the Braves. That's two shy of the record for most home runs in April (shared by
Alex Rodriguez
and
Albert Pujols
).
The Elias Sports Bureau notes that the only other player with that many home runs in his first 23 games with a franchise was
Glenallen Hill
(also 12) with the 2000 Yankees after being acquired shortly before the deadline.
Upton has seven two-strike homers this season. He had six in 2012.
The Braves have reaped the benefits of power this season. They are 15-1 in games in which they homer, 0-7 when homerless.
2--
Tigers starter
Doug Fister
(3-0) looks to be the 6th Tigers pitcher in the past 90 years to finish April 4-0 or better. Fister has a 2.10 career ERA in April, the lowest among any active pitcher with at least 90 career innings pitched for the month.
3--
After posting a 6.20 ERA over the first 3 months of the 2012 season, Braves starter
Mike Minor
has turned it around significantly. Including this season, he has a 2.08 ERA since the 2012 All-Star Break. Only teammate
Kris Medlen
(1.50) has a lower ERA among starters in that span.
4--
Miguel Cabrera
is looking to be the third right-handed hitter to win 3 straight batting titles, joining Honus Wagner (four straight from 1906 to 1909) and Rogers Hornsby (1920 to 1925). Since the start of 2008, Cabrera ranks tied for second in the majors in home runs, first in RBI, and second in OPS.
5--
Braves shortstop
Andrelton Simmons
might be the best defensive shortstop in baseball. He played in only 49 games last season, but his defensive impact was so great, he ranked second among SS in Defensive Runs Saved with 19 in only 426 innings.
Simmons is part of a new wave of shortstop prospects hailing from the tiny island of Curacao (pop. 142,180). That's about the population of Dayton, Ohio. He and Didi Gregorious of the
Arizona Diamondbacks
currently have starting jobs.
Three more Curacao-born shortstops (
Jurickson Profar
, Xander Bogaerts and Jonathan Schoop) rank among Keith Law's Top 50 minor league prosepcts.